Foothill faculty administered a survey from the Western Association of Schools and Colleges (WASC) to receive student feedback on the school's atmosphere and curriculum.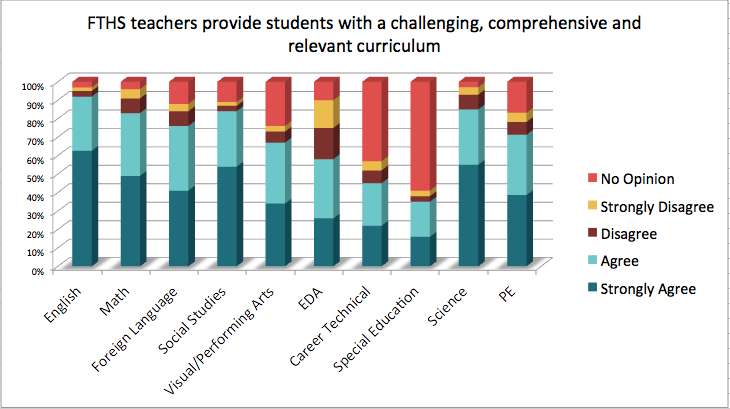 Foothill faculty administered a survey from the Western Association of Schools and Colleges (WASC) to receive student feedback on the school's atmosphere and curriculum.
"One of the things the WASC group likes to see when teams come in to visit is that you get student feedback, and you can do that in a lot of ways. You can do that through putting certain groups of students together or doing student interviews or doing a survey. We felt like we wanted to do a survey this year," Principal Joe Bova said.
The survey took in demographic information, recording the grade, gender, primary language spoken at home, and ethnic background of students.
Foothill has a slight majority of male students, according to the survey results. The survey showed a slight majority of underclassmen.
After recording the various demographics Foothill students fell into, the survey gathered information on Foothill's culture, student habits and enrollment in programs.
Academically, 55 percent of students reported that they were enrolled in at least one AP or honors course. The survey also measured how many people were involved in Foothill's "special programs" such as AVID, Special Education, and measured quantities of English Language Learners and members of the "504 plan."
[soundcloud url="https://api.soundcloud.com/tracks/248451180″ params="color=ff0000&auto_play=false&hide_related=false&show_comments=true&show_user=true&show_reposts=false" width="100%" height="166″ iframe="true" /]
The WASC survey took in information on Foothill students' involvement in extracurriculars. According to the WASC survey, more students participate in athletics than clubs. Others said that they were part of the Speech and Debate team, Foothill's Associated Student Body (ASB) or the drama department.
The percentage of students with reliable internet connection was 97 percent. A 6:1 majority of Foothill students said they regularly checked their grades online. Students were also asked if they regularly stay up to date with their classes through various online resources, such as teacher wikis, Edmodo and Google Classroom. Most students did, with 88 percent saying yes and 12 percent saying no.
Students were asked to evaluate their understanding of school policies and programs, the attendance policy, and graduation requirements; most stating they were well-informed, particularly about graduation requirements.
Along with the above, the WASC survey collected information on student's knowledge of admission requirements for the CSU and UC systems. A slight majority said they were well informed.
The survey asked students if they were informed on the application process for Advanced Placement (AP) and Honors courses and Foothill's BioScience Academy. Less than half said they were well-informed about the application process for AP classes, and fewer than a third classified themselves as well-informed about the BioScience Academy.
Students were then asked to evaluate the usefulness of certain activities and programs at Foothill.
FTHS' Renaissance program was rated by 85 percent of students as "useful" or "very useful." FIRE crew received slightly lower ratings.
Every 15 Minutes, the biennial event to spread awareness for driving under the influence was rated very useful or useful by almost 80 percent of students, although 10 percent had no opinion.
Counselors visiting classroom to give advice to students was seen as very useful by 35 percent of students, 42 percent thought that it was useful, 8 percent thought it was unuseful and 15 percent had no opinion.
School-held college information nights and tutoring/extended hours at the media center were generally considered useful, although for both, about 22 percent had no opinion.
Foothill's daily announcements were identified as very useful by 58 percent of survey takers, 35 as useful, 3 percent stated they were not useful and 4 percent had no opinion.
Teacher wikis were rated as very useful by 74 percent, 19 percent said they were useful, 2 percent stated they were not useful and 5 percent had no opinion.
…..
The next portion of the survey gathered responses on the availability of faculty to meet certain student needs. Almost 50 percent of students strongly agreed that counselors were available to answer questions and provide needed support.
The same question was asked to survey takers about whether or not the principal and assistant principals were available to provide answers and support students; 32 percent said they strongly agreed.
Foothill has four "Dragon Learning Outcomes." These are educational goals that Foothill student should meet by the time they graduate. These four goals are to be a responsible global citizen, have professional and technical skills, become and effective communicator and develop intellectually.
The survey recorded how students felt the Foothill staff helped them in achieving these four "Dragon Outcomes." Students who thought that Foothill staff always helped them in being responsible global citizens were 50 percent of survey takers, while 35 percent thought they helped sometimes.
Foothill staff's support towards professional and technical skills got slightly higher ratings, as did their support of students becoming effective communicators.
The last of the "Dragon Learning Outcomes" was intellectual development. Almost 70 percent of students felt they always have support from faculty towards intellectual development.
The survey then collected data on the efficiency of the classes at Foothill, asking students whether "FTHS teachers provide students with a challenging, comprehensive, and relevant curriculum."
In order of most students who "strongly agree" to least, the ten departments were ranked: English, Science, Social Studies, Math, Foreign Language, Physical Education, the visual and performing arts, Education in the Digital Age, Career Technical, and the special education program. Some of the classes with low "strongly agree" ratings received high "no opinion" ratings.
English teacher Richard Geib doesn't know why English was the highest ranked among students who "strongly agreed," saying that Science and Social Studies were close behind English in ranking. Geib doesn't think that the WASC survey will impact the teaching at Foothill but that the "WASC meetings going on right now might have more of an impact."
Background Photo Credit: Gabrialla Cockerell/The Foothill Dragon Press