BOSTON – With the ability to generate a movement quicker than ever, students across America are constantly seeking out ways to speak out and make a change, but many don't know their rights that come from the First Amendment.
 Free speech activist Mary Beth Tinker brought her "Tinker Tour USA" bus to the Journalism Education Association (JEA) and National Scholastic Press Association (NSPA) convention in Boston this weekend to talk to students about her experience with standing up for her rights and to hear their stories.
On Tour: JEA/NSPA Boston! http://t.co/JLwSvqDkv2

— Tinker Tour (@tinkertour) November 15, 2013
In 1965, Tinker and her brother John, along with several students from her school, wore black armbands with peace signs to school to protest the Vietnam War and advocate for a Christmas truce. When school officials found out about the armband, Tinker was suspended.
[soundcloud url="https://api.soundcloud.com/tracks/120307666″ width="100%" height="166″ iframe="true" /]
The Tinker v. Des Moines Independent Community School District case went to the U.S. Supreme Court where Tinker won. The ruling declared that "it can hardly be argued that either students or teachers shed their constitutional rights to freedom of speech or expression at the schoolhouse gate."
Through her experience, Tinker found that "it's the little small things you can do even though you might be scared and nervous, just use the little bit of courage that you might have and you can make a difference."
 Since then, students' rights have forever been changed, but many high schoolers, especially student journalists, are not allowed to speak out about issues that are controversial, and even, in some cases, issues that administrator's simply don't want published in their school newspaper.
 Tori Ellingsworth, a student at Assumption High School in Louisville, Ky. said that students in the Kentucky Youth Assembly (KYA) try to write bills and often get denied.
 "Our school is a Catholic school, all girls school, and so when we tried to write one [bill] about rape and abortion and stuff like that, the KYA leaders are just like 'No, you can't write that. You can't be presenting that bill,'" she said.
 Shelton High School, a school in Shelton, Conn. that has recently gotten attention for banning a student from their prom, implemented "Gael guidelines," rules for their school which include students wearing a nametag on a lanyard when on campus.
 One student decided to wear his own lanyard and got in trouble. He had to write an essay to the administrator and explain why it was important to wear the school lanyard, but he decided to speak his mind.
 "He did a whole satirical piece […] and basically equated 'Gael guidelines' to the acts of Hitler […] It was not publicized, it was only given back to the administration that he was required to give it back to. He got 10 days of out-of-school suspension for that," Shelton High School journalism advisor Carolyn Finley said.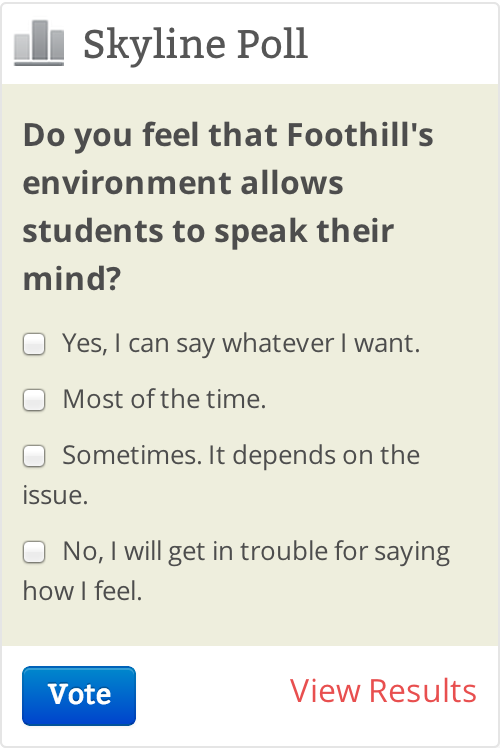 Foothill students are often found fighting for a cause that they feel passionate about. Earlier this year, Syrian students protested American intervention in Syria.
 Other students decided to form a Girl Up club at Foothill that raises money to help girls in other countries get a good education.
 "It feels so good to know that even though we're so far away from them, we can still impact them from here," Girl Up Vice President sophomore Kailey Schuyler said.
 Tinker says that she is happy to hear about students speaking up at Foothill.
 "We don't want more war, we want less war. We need peace. We need a better way of negotiating problems that doesn't involve violence, and we need girls to have their rights, not only in other countries of the world, but right here in the U.S. too. All over the world, girls need rights," she said.
Foothill senior Liam Egan shares his expectation of free speech being upheld in the school environment.
"At a school, the goal shouldn't necessarily be to keep order, but to cultivate intelligent, curious, and (in my mind) outspoken youth. So as that relates to free speech, to repress it is, to me, erroneous in a school environment," he said.
 Student Press Law Center Director Frank LoMonte believes that it's the student's job to speak out about things that they want to change.
 "If the bathrooms are filthy, if the classrooms are overcrowded, moldy, if people are being forced to share computers or textbooks, all of those things are shortcomings that not just the school administration, but the whole school community, the public, needs to know about," he said.
 Almost half a century after Tinker v. Des Moines, students in certain schools, cities, and states are still fighting for their First Amendment rights, but many, like Tinker and LoMonte, are working to completely eradicate the punishment that comes from students speaking their minds.
 "The First Amendment is kind of like the force in 'Star Wars,' the invisible thing that binds the galaxy together," LoMonte said. "The First Amendment is what entitles you to wear a t-shirt with a political message on it. It's what entitles you to pass out leaflets or put things up on the bulletin board or draw the things you want to draw in art class. It really permeates your daily life in school in ways that you may not fully appreciate."
Credit: Aysen Tan/The Foothill Dragon Press
[embedvideo id="79519687″ website="vimeo"]
 Credit: Emily Chacon/The Foothill Dragon Press