Student cosplay: creativity and character (photos)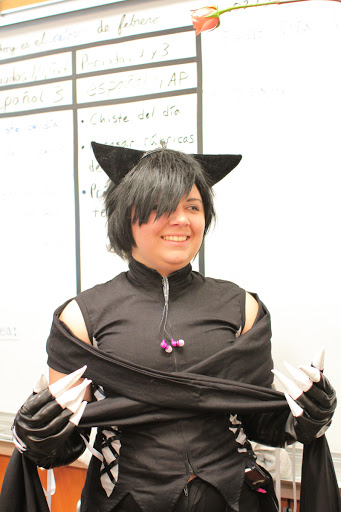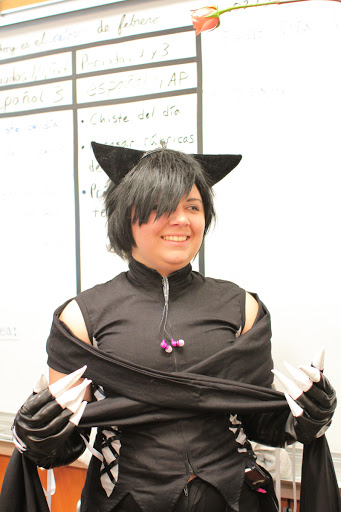 Hair? Check. Contacts? Check. Outfit? Check. Makeup? Check.
This may seem like any girl's ordinary list before going out, but for cosplayers, it's an essential part of their costume.
Cosplay, or "costume play," is when people dress up as their favorite Anime, manga, or video game character, replicating the character from their costume to their personality.
"It's kind of like Halloween in the sense that you're putting on a costume that's not you. You try to be that character as much as you possibly can," sophomore Joseph Perez said.
Originating in Japan, cosplay has found its way to mainstream American culture. Many people attend Anime, pop culture, science fiction, and fantasy conventions to show off their cosplay and meet up in cosplay groups.
For senior Jessica Moore, cosplay is an outlet for her creativity. She started freshman year, creating her own costume after the one she ordered never came in.
"It's fun to be creative and figure things out," Moore said. "I feel really proud of the effort and stuff like that that I put into the costume and see the final product. It's really satisfying."
Perez cosplayed for the first time as Link from the popular video game series "The Legend of Zelda."
"To me it means a way to express myself. I'm not very good at expressing myself normally. When I'm cosplaying, I feel like I really am that character," he said.
Senior Kassia Bell, another avid cosplayer, enjoys both the social and creative aspects of cosplay.
"It's a lot of fun to run around in my own cosplays because you get to pretend to be someone else for a day," she said. "You meet a lot of people and people who recognize your character, so there's an instant connection. I've made a lot of good friends, good buddies."
Bell has been cosplaying for almost her whole life, but first began to get into cosplay of anime characters when she was in eighth grade. Her favorite character to portray is Marie Mjölnir from Soul Eater.
Cosplay costumes vary from simple to elaborate. Time, effort, and money goes into creating detailed, beautiful cosplays.
"Blood, sweat, and tears," Moore said. "You can go over a hundred dollars in a cosplay."
When she first started out, Bell searched through thrift stores to find pieces for her cosplay in order to cut down on cost.
"I try really hard to keep the cost down. I think the one that I have that cost me the most at the moment would have been under $50, and it's because I put the time and effort to make it myself," she said.
On the subject of cosplay at school, Perez feels like Foothill is very supportive.
"Foothill is really accepting of just anything. I'm sure one day, if the whole campus just cosplayed, nobody would care," he said.
Moore believes Foothill's small cosplay community is supportive, but that some of the student body aren't very accepting of it.
"If you're brave enough to do it and be as crazy as you can, it's a lot of fun," she said.
Credit: Josh Ren/The Foothill Dragon Press