New technology enhances learning environment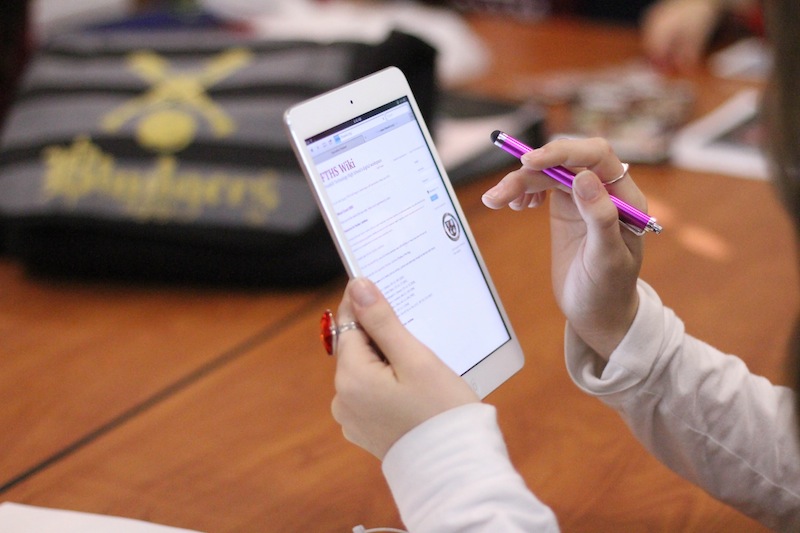 Students and staff tapped into the newest technology last week with the implementation of the iPad Acadamy to their curriculum because of a grant the school received. Many instructors are enjoying the benefits of using these Apple products in their classrooms to give students a more hands-on learning experience during class time.
In her Honors Physiology class, science teacher Mika Anderson feels the iPad Retina she received helps to make class time as efficient as possible.
"I love it! It's just another tool in my arsenal," Anderson said. "I used to have to break students into groups of four to six and go around to teach it individually."
Part of the iPad grant allowed for the purchase of educational apps such as the one used in Honors Physiology that gives a 3D look at all angles of a skeleton. This allows for in-depth views of the bone that can be projected on the screen and annotated by Anderson. Annotating features include highlighting, labeling, zooming, and rotating capabilities.
Senior Chris Hanna finds the new technology incredibly engaging.
"The thing about the iPad is that it is able to present complex information in a fluid and visually attractive way, and the fact that almost all the content on the screen is interactive by touch makes that content much more engaging for students. And, to be honest, iPads are just fun," Hanna said.
But science classes are not the only classes benefiting from the new apps. Students in Spanish, literature, and geography have also experienced it.
Junior James Livingston is enrolled in Adrian Sanchez's Spanish 2 course and has experienced an enhancement in his learning environment as well.
"During the construction of a Spanish story, a student will be selected to illustrate [using the iPads] the different scenes relating to the happenings," Livingston said. "After Sanchez uploads the drawings on the wiki, it helps students refer back to the structures and recall details of the story."
The iPad academy was designed to promote "flexibility, independence, and capability," encouraging both students and staff to embrace the utility of new devices on the market offering two grants: a single iPad Retina in a classroom and multiple iPad Minis in a classroom.
According to Foothill's technology coordinator Melissa Wantz, the academy is "starting small and experimenting" with a set of goals for the three-year application period. Since the launch of the program, the first year goals have already been met with giving out 15 single iPad grants and four multiple iPad grants.
Senior Stephen Mariani is enrolled in two classes that use both the Retina and Minis through apps like "iAnnotate" for Literature and "Socrative" for Government.
"In Lit we use it [iAnnotate] to annotate an AP prompt with the Stylus. Each person goes through and explains what they wrote," Mariani said. "You get collaboration and learn how to annotate effectively."
The overall goal of the program is to achieve a nearly one-to-one ratio of students to devices. This is being encouraged by "BYOD" or "bring your own device," urging students to bring their smart phones and other gadgets that are able to access the educational apps.
Health teacher Kurt Miller embraces using the devices but has not abandoned traditional teaching methods.
"It's a challenge not to use them just for the sake of using them," he said. "I don't use it every class and the students understand that it's a privilege."
With 67 iPads given out this year, the academy has hopes of expanding its program to every classroom on campus with the help of parent donations in years to come.