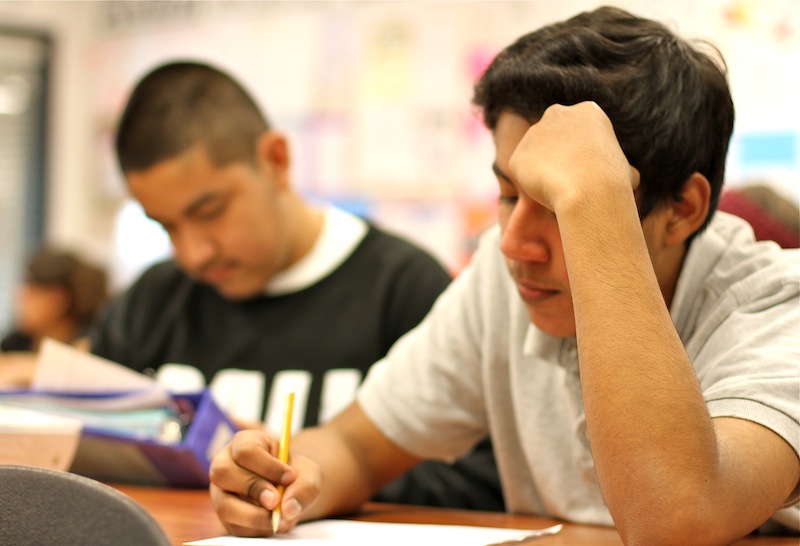 Foothill's freshmen were officially introduced to the new version of the annual Ninth Grade Project on Monday.
After several years of having the ninth graders present an approximately ten-minute speech on various topics concerning the environment, the project has been changed to a student Congress debate-style format with significantly shorter speeches on the topic of obesity and food in America.
"Last year there was a lot on the environment and climate change and focusing on biomes and endangered species. This year it's called 'America Eats,' and the project is focusing on questions from the documentary 'Food Inc,'" said EDA teacher and Ninth Grade Project organizer Kristen Pelfrey.
The freshman class will be preparing three-minute pro and con arguments about topics, and will do so using the student congress debate format.
Foothill teachers and Speech and Debate advisors Anthony Villa and Jennifer Kindred are assisting specifically in helping to organize the student congress rounds themselves.
"The kids in Speech class and in Speech and Debate are going to run the debate. They are going to be the moderators," said Kindred
A standard student congress round has several bills presented to a group of competitors who have been given or have done research on the topics. Competitors then take either the side of the affirmative, or the negation on the bills and present short speeches attempting to prove why the congress should pass or not pass the bill presented. All of the actions are overseen by a moderator.
"The Ninth Grade Project is an altered student congress round where they are actually going to be doing more than the Speech and Debate kids do; they are doing the research, writing the bills, whereas normally they are just handed to them," said Kindred. "The speech team is going to revise the bills so that they are in parliamentary format, then the ninth graders prepare their speeches for the affirmative and negative."
The shortened length of the speaking time for each student has convinced some students that the project is less difficult than last year's.
"I think the shorter speech will make it a lot easier on them, and I don't think that's a good thing," said sophomore Weston Grewe. "Doing one long ten-minute speech prepares you to do a three-minute speech much more easily, and if they are taught to think that a three-minute speech is long, then that won't prepare them for later in life."
Other students think that the reform will motivate the students to try harder.
"I think it's a bit unfair, but you know, they can't be bothered because the amount of kids who didn't even bother with the Ninth Grade Project last year makes me think that maybe this year if they do something that the kids will be more interested in, like food and how it can have consequences on them, they will be more motivated to actually try," said sophomore Wyatt Kufta Kuntz.
Freshman Fidelity Ballmer says that the project, while not necessarily more difficult, allows for more creativity than in previous years.
"It's not something that's incredibly intimidating, and from what I've heard, it doesn't seem as hard, but it also seems like it's more fun this year and is more open-ended as far as what we get to do, and that's more important," said Ballmer.
Sophomore Matt Gonzales, however, thinks that the change is a loss for the ninth graders.
"I actually feel sympathy for them. I think I gained a lot as a speaker, and I feel that I'm more comfortable speaking than I was as a freshman prior to the project. I feel sorry that they won't be able to have a similar experience," said Gonzales.
Pelfrey believes that the argumentative side of the project will cause students to think more and will actually make the project more challenging than previous years.
"You want to be able to argue all points of view when it comes to looking at the issues of an industrialized society, and I think that this project involves higher level thinking about that subject and that makes it more of a logical idea.
"Speaking as a teacher, I think everybody wanted a change," added Pelfrey.