As the Halloween season comes to a close, the dance that students of Foothill Technology High School (Foothill Tech) had been waiting for arrived at last. On Nov. 3, 2023, A Nightmare on Day Road crept its way onto campus from 7 to 9:30 p.m.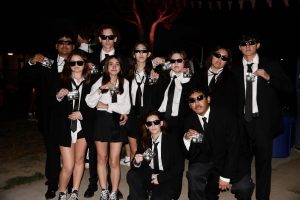 Coordinated by the Associated Student Body (ASB), A Nightmare on Day Road was a success. However, to have a fantastic dance, there had to have been a lot of planning involved. Co-Senior Class Vice President of ASB Angelina Hernandez '24 expanded on that, stating, "I think what we really need to have when we plan a dance is an open mind, because a lot of the time, our ideas are shut down and you just have to be okay about it. You can't dwell on it too much [or else] it won't work." The dance took several weeks to plan, taking into account the amount of time interfered by fall break. 
As a Halloween-themed dance, the school was brimming with all kinds of decorations, some of which include skeletons, spider webs, spooky balloons and a plethora of colored lights. Costumes were encouraged, but not required, and students did not disappoint. Attendees from all over the school district were allowed to come, so dragons could bring more friends from other schools to enjoy the spooky spirit to the fullest.
As the sun set and 7 p.m. rolled around, students of Foothill Tech, Ventura High School and Buena High School began to fill the quad and the dance commenced. A long and crowded line preceded the two sets of tables, where ASB checked students in. It was "more of a blob than a line," according to Sebastian Shumway '27.
After passing through the entrance, students were welcomed by loud, spooky music played by the DJ on the quad's stage. A wide variety of interactive features were present as well, such as a photo booth, video game stands (with games including Mortal Kombat) and a large pit of dancers in front of the DJ. 
Ben Barnett '26 enjoyed the dance, stating, "It's nice to be here with all my friends and just enjoy a night where I don't have to worry about homework." Students also seemed to like the energy surrounding the dance. The mosh pit also seemed to be a hit, packed full of dancing, sweaty and energetic teenagers. 
"I love the mosh pit," Caroline Van der Kooij '26 said, "It's always so fun … it's always crazy … and you just feel like [you're having] the real high school experience." The music pumped up the crowd, which moved in tune with the music. The DJ played a variety of hits, from Taylor Swift to Kendrick Lamar, providing something for everybody.
On the contrary, some believed that the music was a little loud. "I think there should be some more areas for people who may not be the biggest fan of loud music, but still [want to] hang out and celebrate Halloween," Barnett said. Shumway agreed, stating, "It's fun. Loud, but fun." When asked if any improvements could be made, Marlee Conlon '26 believed that the dance should have been scheduled before Halloween, rather than after.
"
"It's nice to be here with all my friends and just enjoy a night where I don't have to worry about homework."
— Ben Barnett '26
"It's nice to have a night where we can just unwind and … just chill, nothing to worry about," Barnett said. Jaelisa Lozano-Rivera '26 thought it was a great showcase of the kind of environment Foothill Tech inhabits, "I think that it … obviously shows … the freshmen … how fun Foothill really is, even though we're a smaller school." All around, students exhibited this carefree attitude as they bobbed up and down in the mosh pit, immersed in the vibrant music playing from the speakers. All the bright costumes worn casted a positive light on the exuberant dance, marking A Nightmare on Day Road a memorable night.
Kathleen Cheng