With the echoes of summer still lingering, the Foothill Technology High School (Foothill Tech) dragons spread their wings once again to begin the 2023-2024 school year on Aug. 23, 2023. 
As students walked onto campus, they were welcomed by a bright red carpet, relating to the theme the Associated Student Body (ASB) chose for the school year, "Lights, Camera, Action!" correlating with movies and Hollywood. Reflected in the decorations, stars with every student's name were located on different walls throughout campus, imitating the Hollywood Walk of Fame, as well as posters of famous movies. 
As the Class of 2024 walked into their final year of school, emotion and excitement emanated from the seniors. Max Rose '24 expressed his feelings for the year, saying, "I wasn't really knowing fully what to expect going into senior year, but so far it's been pretty fun."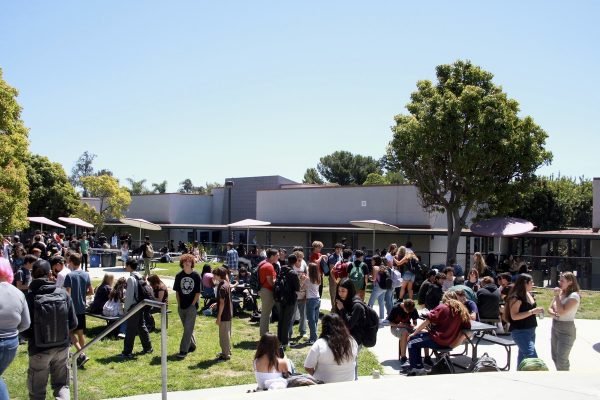 Assistant Principal Katie Tedford also voiced her delight about the new school year. She stated, "We had a great first day of school. We had a lot of kids who were happy to be here. A lot of our freshmen were able to come to orientation, so they knew their way around … There were engaging things going on in our classrooms. I would say it was a success."
Nerves were high as new students navigated their way around campus, and former dragons settled into their schedules and classes, ready for another year at Foothill Tech. Not only was the Class of 2027 new to campus, but the smiling faces of new faculty were seen gracing the hallways. 
Though it was sad to see former teachers leave, new members of the faculty were warmingly welcomed onto campus. Among the new faculty is Rosa Vorba, a new Spanish teacher.  
Vorba expressed that the first day was, "Hectic, but I loved it, it's really amazing," which seemed to be a common opinion around most of Foothill Tech. 
In anticipation for the school year, Vorba explained, "I'm excited about learning from the kids, not only what I teach them, but what they teach me." 
Along with new faculty, a new wellness center was established in the H pod. This space provides students with a calming environment to ease stress and deal with personal issues.
While students settled into their classes, teachers also introduced new guidelines for cellphone and earbud use that have been implemented across the Ventura Unified School District. Many students expressed their discontent with the new protocols set in place. Kaia Kennedy '25 voiced her opinion on the new policy, stating, "I think it's going to be difficult for some students who have relied on their phones to help with their assignments. The new policy will definitely take some time to get used to."
When lunch rolled around, the quad buzzed with students who mingled amidst the backdrop of inviting music. Animated discussions with friends filled the air as students discussed their classes and recounted their summer experiences. 
As the curtains drew to a close on the first day of school, students began to grow more accustomed to their surroundings. The initial unfamiliarity began to fade, replaced by the realization that the new academic year was underway. So, while the spotlight of the first day may have dimmed, the stage is now set for the year ahead.