Track and Field starts season strong at Don Green Invitational and Rincon Races
After weeks of practice and months of anticipation, the Foothill Technology High School (Foothill Tech) track and field season began with two meets. On March 3, Foothill Tech's distance runners competed in the Don Green Invitational (Don Green) at Moorpark High School. On the following day, March 4, the Dragons competed in the Rincon Races (Rincon) at Carpinteria High School (Carpinteria) for sprints, throws and jumps.
Don Green is the largest meet in the country thus far, with almost 50 California high schools competing. A top performance came from Foothill Tech's top runner, Jonah Billings '23, who placed seventh in the boys 3200 meters with a time of 9:16.93, a time that broke the school record in the event and as of this writing ranks 26th at the national level.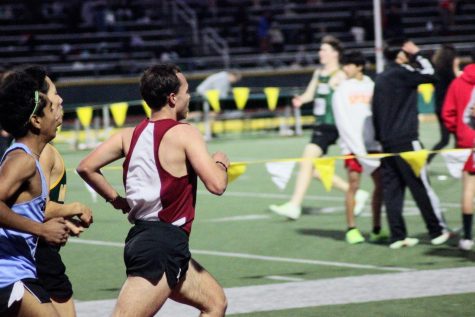 Also in the 3200, Chance Leandro '25 placed 24th (9:58.36) and younger brother Eli Billings '26 placed 55th (10:33.70), both personal records.
In the 1600 meters, Caitlyn O'Neil '23 led the girls in 28th place (5:52.86), closely followed by Kiersten Falat '23 in 30th (5:54.13). Braeden Elliot '24 placed 13th with a personal record of 4:37.79 to lead the boys in the 1600.
"It is so rewarding seeing all the work that we've put in pay off" stated O'Neil when speaking on the team's progress.
The lone field competitor at Don Green for Foothill Tech was Cole Dinkler '23, who placed third in pole vault with a jump of 13-08, a week after coming out on top of all competition at the Thousand Oaks Invitational with a personal record jump of 14-0.
Foothill Tech rounded out the meet with a fourth place in the girls 1200-400-800-1600 distance medley relay. The team of Beatrice Barnes '25, Keera Wallace '26, O'Neil and Falat ran a 14:24.40, good enough to place in the top half of the nine teams competing.
The next morning, March the rest of the team traveled to Carpinteria High School to compete at the Rincon Races. Rescheduled due to rain the weekend before, the competing teams consisted of Foothill Tech, Carpinteria, Fillmore High School and Orcutt Academy Charter.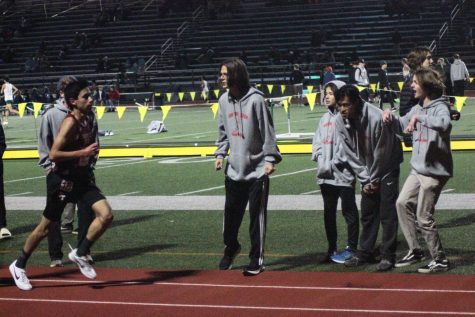 In this relatively small meet, Foothill Tech destroyed the competition, taking first in nearly every event they competed in.
Starting with the 100 meters, both the girls and boys had successful outcomes. Leading the girls were Brooke Pyle '23 who earned first place (13.98), Ashley Crist '23 (14.06) in third place along with Adrianna Paul '23 (14.74) in seventh and Stephanie Botello '24 in ninth (14.90). The boys' had similar results, as Jacob Lombardo '23 placed first and Owen Evans '24 in second. Trailing behind them were Max Ricasata '23 (13.25) in twelfth and Adler Swierkocki '24 (13.25) in thirteenth.
The 200 meters was equally triumphant For the girls, Lauren Kaller '25 finished in first (28.46), Lily Shadden '23 followed in second (29.43) and in third was Crist (29.92). On the boys' side, Lombardo placed first (24.45) and trailing not far behind him were Shawn Gerk '23 in seventh (26.57), Ricasata in eighth (27.38) and Swierkocki placed ninth (27.64).
Charys Pyle '23 swept the competition placing first in both 100m Hurdles (18.32) and 300m hurdles (51.81).
In the boys' 4×100 relay, Gerk, Evans, Lombardo, and Merric Bayless '24 won first place (45.95) while Crist, Pyle, Paul, and Kaller secured second place (54.34) for the girls. However, in the girls 4×400, Kaller, Charys Pyle, Brooke Pyle, and Shadden took home first (4:34.29).
Foothill dominated in high jump, Lily Shadden (5' 2) and Lombardo (5' 8) both securing first.
To finish off the meet, both jumps and throws were consistently victorious, each athlete placing either first or second in every event. For girls discus, Botello placed second (75' 9) and for boys Cody Bondy '24 came in first (110' 0). In the long jump, Bayless placed second (18' 2) for the boys while Pyle won first (15' 4.25) for the girls.
When asked about how these early meets reflect on the team's improvement and  foreshadows the outcome Isabella Efner '25 stated, "I think the rest of the seasons these meets foreshadow how we are all going to progress, each individually as well as the team."