The Holidays come alive at the Foothill Tech winter fest
The winter breeze swept through Foothill Technology High School (Foothill Tech) as the various holiday decorations swayed along with it. Foothill Tech students walked around in various holiday pajamas and had festive attire on, their holiday moods boosted. Planned by the Associated Student Body (ASB), the week of Dec. 13, 2022, the last week of school before winter break was filled with fun themes for students to dress up for and included fun activities during lunch. 
Monday was holiday pajama day. Many students walked around with snowflakes, the Grinch and plaid patterned pajamas that showed their Christmas spirit. During lunch, students were able to write a candy gram to another student that would be delivered to them later in the week. This activity enabled students to send fun letters to one another and spread seasonal cheer. 
Tuesday was Awkward Family photo day. Many students dressed in holiday attire with Santa hats and reindeer headbands. Students were also given the chance to take photos with a backdrop to make their awkward family photo outfit come alive.
Wednesday was Santa's workshop, where students dressed up like elves, Santa Claus or wore festive clothing. Students got a special visit from Santa Claus and got to listen to a story and take pictures with him at lunch. A childhood dream come true! The class of 22' also got a special treat with a coffee bar during break.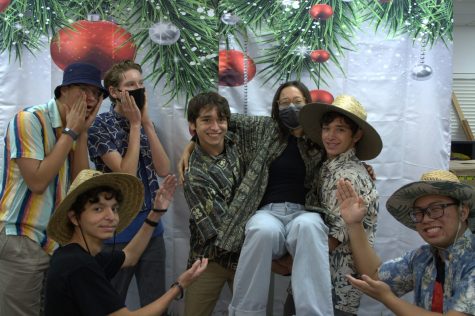 Thursday was ugly holiday sweater day. Students dressed up in fun and crazy sweaters. During lunch, there was a snowball toss and gingerbread house making. 
Finally on Friday was holiday accessory day, including holiday earrings, socks and hats. During lunch, a band called the Barn Burners played, the band consisted of our Foothill Tech teacher, Dan Baker and others. 
Hadyn Hughes '23 said that she, "loved all the spirit days, but my favorite spirit day was the holiday accessories! It was a lot of fun seeing how creative everyone got with their accessories."
Winter week was a special holiday treat for Foothill Tech, students now have their holiday moods kicked off for winter break!