Dragons express creativity in annual Chalk Festival
The annual Chalk Festival at Foothill Technology High School (Foothill Tech) commenced on Aug. 28, 2021 and ran through Aug. 29. Throughout the festival, art students could be seen roaming the halls with chalk and pastel-stained hands, clothing and faces. From outside the school cafeteria, to the walkway in the quad, students were able to showcase their imagination and creativity with their chalk masterpieces. 
Participant Eli White '23 describes the purpose of the festival is, "to bring students into art and display different artists who haven't really been seen."
"The best part and purpose of the Chalk Festival is being able to see everyone's different art styles and even multiple different types of art but also being able to draw your own art," describes Kimberly Lots '24, "it's very diverse and that is the most important part."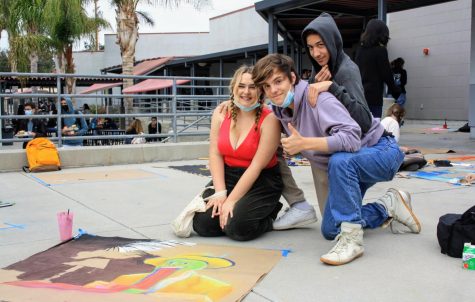 "The purpose of the chalk festival is to get the students' creative spirit and put it into giving back to the teachers or putting it out on school and even more importantly showing your dragon spirit," said Lots. 
Some of the art pieces created by students depicted animals, the environment, movie characters and even a few that represented equality in different ways. 
Foothill Tech art teacher, Justin Frazier said that, "having the students outside and letting the school see what the students are doing is great." 
Nathan Turner '24 added that the Chalk Festival, "is definitely all about students giving back to the community and campus but much more in a creative way." 
"It also allows artists to express their creativity but in a way that others can appreciate the artwork and be able for the artists and others to enjoy," Turner continues.
The last time the Chalk Festival took place was before the COVID-19 pandemic, in 2019 and the event was ruined by weather, and the art pieces were destroyed by the rain. This year there weren't any complications and nothing stopped the artists from participating. 
Frazier lastly adds, "this Chalk Festival came out incredible and I am beyond proud and happy for all the students who participated and in general how things turned out, I couldn't be happier!"