Government center hosts 9/11 commemoration (27 photos)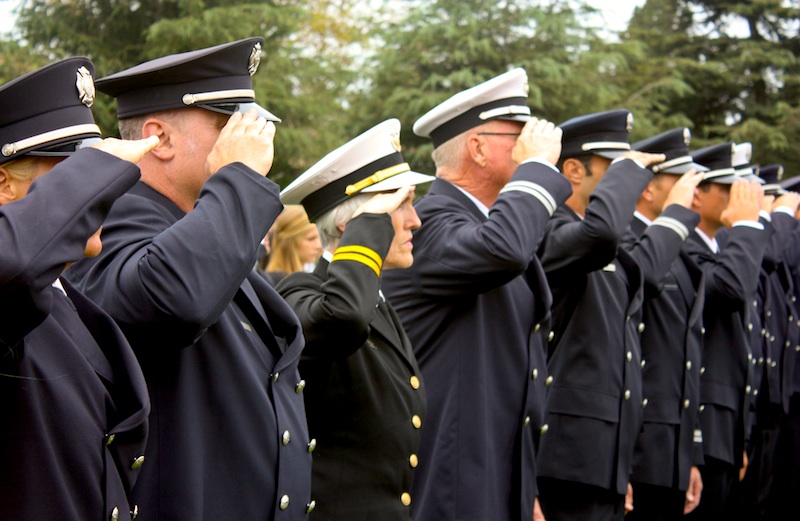 The atmosphere became somber as a multitude of police officers, firefighters, military personnel, students, and families visited the Ventura County Government Center today to observe the tenth anniversary of September 11, 2001.
Master of Ceremony Colonel Lou Danner began the memorial by reminding those present of the terrorist attacks that happened ten years ago.
Onlookers bowed their heads respectfully as they recalled the events at the World Trade Center, the Pentagon, and Flight 93 in Pennsylvania.
"It was an ominous spirit," Danner said, "it looked, felt, and even smelled like a war zone."
All present took a moment to honor the 343 firefighters, 58 law enforcement officers, and 55 military personnel who perished in 9/11.
A wave of patriotism swept over the crowd as the Military Color Guard, the Law Enforcement Color Guard, and the Fire Color Guard raised the flags while the Air Naitonal Guard Band of the Southwest played the national anthem. Everyone remained standing as Chaplain John Parra spoke.
"[This was] a day that forever changed our nation, a day that forever changed the world," Parra said. "Lord, help us remember what it means to be American."
Shortly after the band's rendition of "America the Beautiful," Chief Bob Roper stepped up to the podium.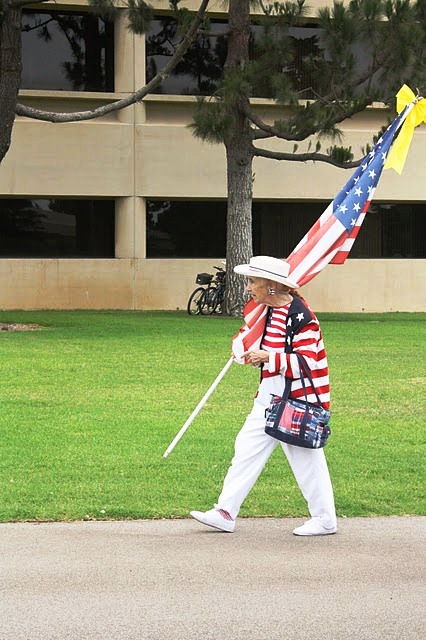 "All of us have mental images of what happened that terrible day ten years ago," Roper began. "We must not remember them with sadness, we must remember them with pride…we often say, 'We will never forget,' but I prefer to say, 'I will always remember.'"
Sheriff Geoff Dean also shared a few words about his views on 9/11.
"When tragedy strikes us, it's our nature to demand an explanation. There is evil in the world. Terrible things happen, for reasons that defy understanding…All of us remember and honor those we lost [and] I encourage you to stand with me and believe that good will always endure and prevail over evil," Dean finished.
Supervisor Linda Parks then led the bell ceremony which honored the memories of the fallen 9/11 heroes, which was immediately followed by the song "Amazing Grace" performed by Bill Boetticher. Chaplain Bud Robinson led the benediction and moment of silence for the heroes of 9/11.
The memorial came to an end with Captain Ron Nelson and Master Sergeant Gerald Lockwood's rendition of "Taps." The planned air squad fly-over was cancelled for the day.
Ventura student Linsey Tice vaguely recalls the events of September 2001.
"I don't remember a lot because I was six…[but] I think it's really significant that they put on a memorial to honor the people who died," Tice said.
Trevor Lima of the Ventura County Fire Department said he was proud to have been a part of the 9/11 memorial, remembering some of what happened ten years ago.
"I remember the whole school was sad, there were a lot of tears, and it was quiet," Lima recalled.
Foothill alumni Alexandra Zinik and David White also shared some of their thoughts about the memorial.
"I wanted to pay my respects to my fellow Americans," Zinik said.
"My father's a policeman and my brother's a merchant marine, so I felt [that] out of respect for them, I should come," White said.
The tenth anniversary of 9/11 made a strong impact on the country and even to those who are not from the United States.
"The stories that have run this weekend have been gut-wrenching. I'm not American but I am human, and I am always touched by the grace and community, and angered by the hate and callousness," Foothill English and psychology teacher Melanie "Captain" Lindsey said. "I just hope we can continue to stand together as members of the human race and do right by each other."
Dragon Press Assistant Editor in Chief Rachel Crane contributed to the reporting of this article.
Credit: Allison Clark, Rachel Crane, Bridget Parrino and Caitlin Trude for The Foothill Dragon Press.