While gun violence grows

more common

by the hour, students nationwide are taking a stance and fighting back

. Sparked by the devastating Parkland, Fla.

shooting, a group of students from the Marjory Stoneman Douglas High School have started a

revolution.

These students have created guidelines that Hannah Yale '20 is using to organize two different walkouts for Foothill

.
"There is an epidemic of gun violence in this country," Yale stated. "The US has more school shootings

annually

than any other country. We are walking out because this issue affects us. It affects everybody."
Yale believes that even though most students are too young to vote, "that doesn't mean we're too young to make a difference." She hopes the walkouts will raise awareness about the issue of gun violence in America.
The first walkout will occur on March 14, 2018 beginning at 10 a.m. It will last for 17 minutes to honor the 17 lives lost in the Parkland shooting

.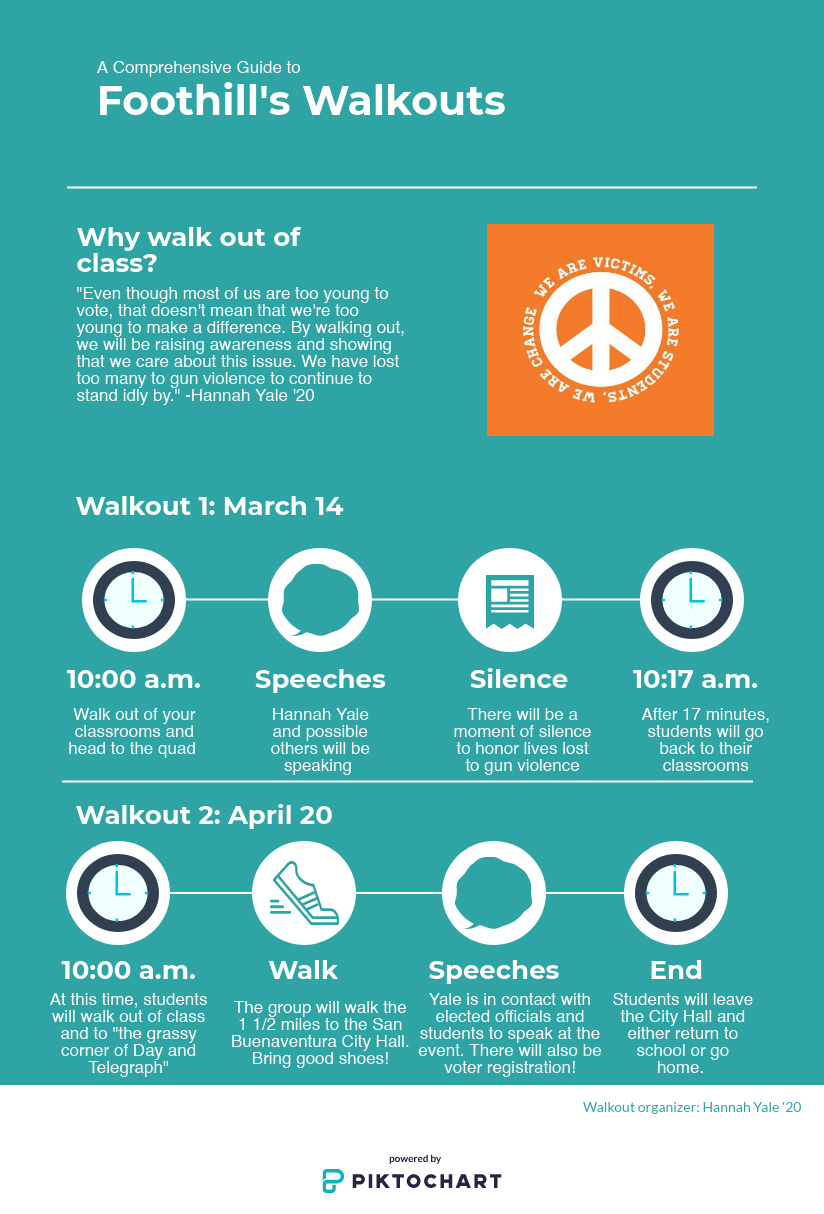 Students will gather in the quad to hear a short speech from student and walkout organizer Yale. According to Yale, there will be "a moment of silence for those we have lost."

The purpose of this walkout is to stand in solidarity with student who advocate for gun control around the world

.

Principal Joe Bova confirmed that "as long as students stay on campus" there will be no repercussions for students who choose to

participate

.
April 20, 2018 will be 19th anniversary of the Columbine shooting, which Yale called "the first drop of water in what is now an ocean on school shootings

." There is a second walkout planned for this day.

Foothill students will have the chance to

participate

in a walkout that is being facilitated throughout the nation

.
Students will leave their classes at 10 a.m. and meet up "on the grassy corner of Day and Telegraph," said Yale. Then, students will begin the march to the San Buenaventura City Hall.

Though the complete schedule is not yet decided, there will likely be speeches from different students

.

Yale said she is "currently in contact with local members of government as potential speakers

." She also said there will be voter registration set up.

This walkout provides a chance for Foothill students to take part in a nationwide event while still making change in the community

.
The intent of walking all the way to City Hall is to show representatives that students are serious about demanding gun control

.

Students walking out won't return to school for the rest of the day, and some serious students around the nation have decided to walk out of school and not return until Con

gress passes harsher laws surrounding gun control

.
Students planning to

participate

in this particular walkout are subject to the same consequences they would be had they walked out of class and not returned on any normal day

.

The school considers any absences not due to illness, appointments, death, court or religion unexcused

. It is up to each student to decide whether the walkout is worth it to them.
Yale states with confidence that "this is bigger than an unexcused absence or missing a lecture

. This problem is bigger than

all of

us, and if we don't do anything to change it, it's going to stay exactly the same."