Speech and Debate team places into octafinals at Stanford Invitational
What is the Cuban Embargo? What influence does the Oregon rent control ban have? What is life? All interesting and controversial questions, ones that might have been thrown at a Foothill Speech and Debate member while they attended the annual invitational tournament held at Stanford University.
Of the 19 members of the Foothill Speech and Debate team who attended this competition on Saturday Feb. 11 and Feb. 12, 13 participated in debates on campus and six participated in individual speech events at the Santa Clara Marriott.
Foothill students participated in four of the six different categories of debates that were available at the tournament: Lincoln Douglas, Parliamentary, Public Forum and Individual Event.
[soundcloud url="https://api.soundcloud.com/tracks/307600790″ params="color=de2020&auto_play=false&hide_related=false&show_comments=true&show_user=true&show_reposts=false" width="100%" height="166″ iframe="true" /]
In Lincoln Douglas and Individual Event, students compete individually, while in Parliamentary Debate and Public Forum, debaters participate in teams of two.
The first topic for Parliamentary debaters regarded the removal of the Oregon ban on rent control, and the second topic discussed whether all Democratic senators should filibuster the nomination of Neil Gorsuch as the new Supreme Court justice.
Courtney Corbett '17 and her partner CJ Haberbush '17 were on the negation side for the ban of the rent control, meaning that they were arguing that the ban should stay in effect. For the second round, Corbett and Haberbush ran their topic as a value debate, because the word "should" in the statement indicates that morality is involved.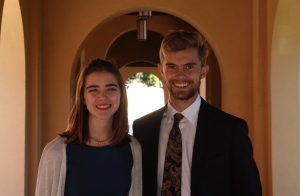 The two chose the value of "national health by Democratic standards" and utilized it to prove that Gorsuch is "morally and fundamentally against Democratic ideals," therefore it is a moral obligation of the Democratic senators to filibuster him. 
"We feel like we did relatively well," Corbett said. "CJ and I were confident about it, and we work really well together."
Foothill students also participated in Public Forum debates as well. Like in Lincoln Douglas debates, students in Public Forum analyzed only one topic for the entirety of the tournament, which regarded the trade sanction on Cuba. For each round, the participants were selected to either justify whether the embargo should be lifted or if it should be kept in place.
Ryan Sequeira '19, a Junior Varsity Public Forum debater, commented on his experience in this type of debate. He said, "I was a little nervous in the beginning, […] but as the debate continued, I slowly gained momentum and we really held a good argument against the team."
[soundcloud url="https://api.soundcloud.com/tracks/307602992″ params="color=c11616&auto_play=false&hide_related=false&show_comments=true&show_user=true&show_reposts=false" width="100%" height="166″ iframe="true" /]
Many other members also felt as though they did not reach their full potential in the first round.
"The first round is always super rough," varsity Public Forum debater Maizie Anders '18 noted. With her partner Eva Shumaker '18, she feels that "we definitely could have read through each other's speeches, […] and in connecting pieces in the debate, we could have made them better."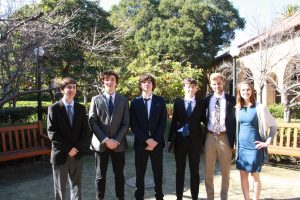 There were up to six different rounds for each of the competitors, depending upon type of debate, as well as their score in previous rounds. All varsity debaters must participate in six rounds – five for junior varsity – to determine whether they "break," or if they obtained a higher score than their opponent in the majority of their preliminary rounds.
Varsity teams would definitely break if they had a record of 6-0 or 5-1, or they could break if they had a record of 4-2 or 3-3 with additional good speaker points. Junior varsity teams would break if they had a record of 5-0 or 4-1, and they could break with a 3-2 record with good speaker points.
Speech and Debate President Isaac Goldstein '17, who is varsity Parliamentary debater, believed that he and his partner Ryan Moore '18 did quite well in their rounds. The team broke with a record of 5-1 and finished as double octafinalists with a record of 5-2.
[soundcloud url="https://api.soundcloud.com/tracks/307604264″ params="color=de3030&auto_play=false&hide_related=false&show_comments=true&show_user=true&show_reposts=false" width="100%" height="166″ iframe="true" /]
"I'm very happy with how we've done as a team," Goldstein remarked. "I'm also fairly happy with how the team has done in general. We have had two of our teams break, and I think performance has been good all around."
Corbett and Haberbush initially broke with a record of 4-2. They continued competing until they ended with a record of 4-3 and were crowned triple octafinalists.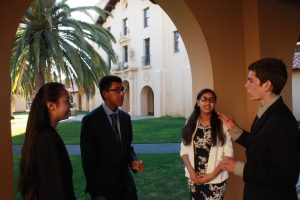 There were even participants from different countries that flew to Stanford for this tournament, including from places such as Korea and Shanghai.
Several students from the National High School Debate League of China participated in this event. "Your opponents become a lot stronger because they are native speakers," one of the students remarked. "You can have debates with Americans, which is very exciting!"
Overall, Foothill students feel they did well during this debate, and that this experience will help them prepare for upcoming State Qualifiers in March.
"I personally think I did very well and I think I'm very prepared for State Qualifiers," Speech Captain Sydney Wilkov '18 commented. "[Everyone] bonded, and it was really great!"
Editor's Note: CJ Haberbush and Ryan Moore are staffers on the Foothill Dragon Press. Neither one was involved in the writing or editing of this article.
`