Girls' water polo dominates in first home game of the season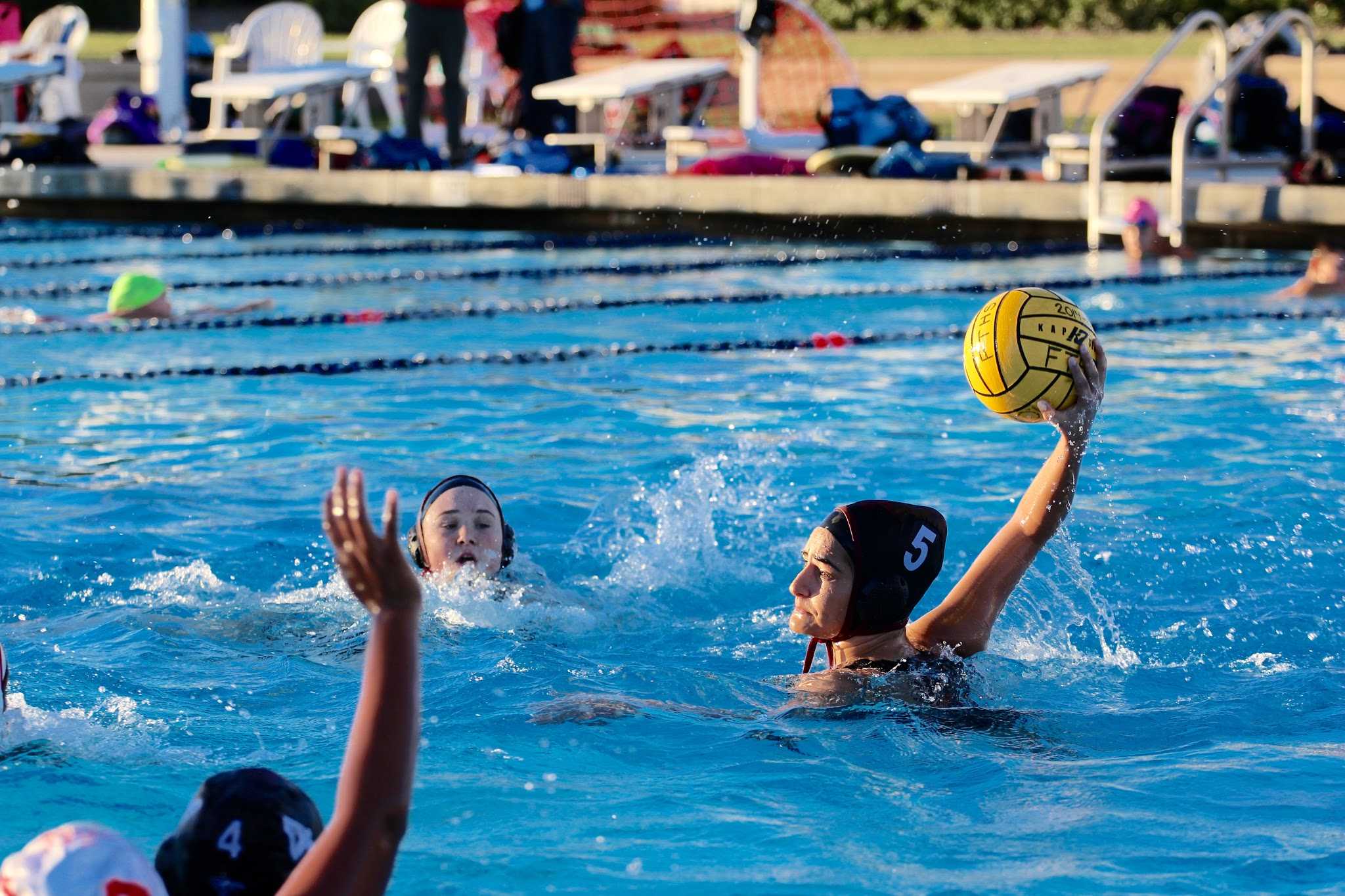 [dropcap size=dropcap]S[/dropcap]houts of excitement echoed on the pool deck of the Ventura Aquatics Center, signaling the start of the first home game for the girls' water polo team  against Hueneme High School. Foothill defeated Hueneme with a final score of 18-7.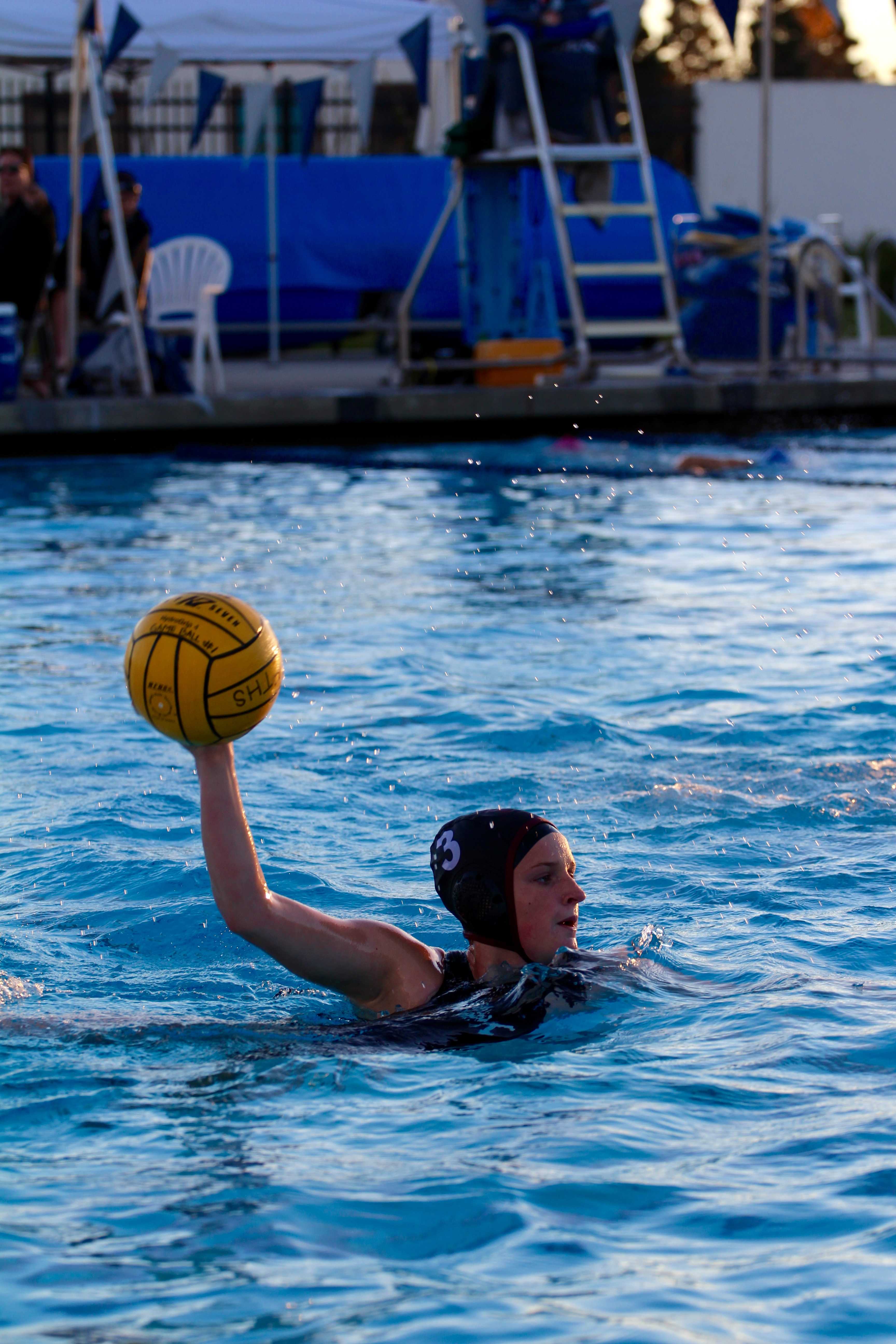 In the beginning play of the first quarter, senior and field player Ariana Singer scored the first goal of the game. Sophomore and player Lezly Plahn scored the second goal of the game within the next thirty seconds.
A Hueneme player was ejected from the game later in the quarter, which is when a player is taken out of the game for 20 seconds for playing too roughly. Foothill did not score within the 20 second penalty. In response, Hueneme scored two goals, tying the game at 2-2. Plahn scored three more times; junior Vanessa Villalpando scored once; and senior Annie Sinclair also scored one goal with 28 seconds left of the seven-minute quarter.
Within the first minute of the second quarter, Villalpando was ejected from the game for twenty seconds. Plahn scored three more times and Sinclair scored once.
In the final thirty seconds of the quarter, Hueneme scored one more time. Freshman Jocelyn Thorp scored in retaliation, with three seconds left before the quarter ended, which brought the score up to 15-3.
With the sun beginning to set behind the gates of the Aquatic Center, Foothill started off strong in the third quarter. In the first 45 seconds of the quarter, sophomore player Victoria (Mozell) Ford scored her first goal ever, adding it to Foothill's dominating score. Hueneme scored twice more, ending the quarter with a score of 16-5.
In the final quarter of the game, Hueneme scored the first goal with six minutes, thirty seconds left on the clock and scored again two minutes later. Villalpando scored again, which was her third goal of the game. As the game drew closer to an end,  Foothill tried to score again, but the shot was blocked by Hueneme. In the last twenty seconds of the game, Plahn scored the final goal, ending the game with a final score of 18-7 in Foothill's favor.
Coach Samantha Ebberson attributed the win to how hard the players trained and believed everyone had a part in the success .
"They all had their own little moments of shining that just made me proud and just made me really happy to be their coach," said Ebberson. "[They all] did phenomenal. They did more than I could ever have imagined."
Assistant Coach Mike Giles agreed with Ebberson, saying that "the girls played outstanding" and that the game "was a great start [to] the season."
Athletics Director Emily Stevens said that the team looked like "a well-oiled machine."
"They communicate really well and they cheer each other on and […] they were trying to  assist players who haven't scored so that they could get a shot to make a goal," said Stevens.
[soundcloud url="https://api.soundcloud.com/tracks/184917089″ params="color=ff5500&auto_play=false&hide_related=false&show_comments=true&show_user=true&show_reposts=false" width="100%" height="166″ iframe="true" /]
Ebberson believed that the girls came together, which really helped them succeed.
"As the game went on, you just saw [the girls] start to melt into one team, and thats exactly how you want the team," said Ebberson.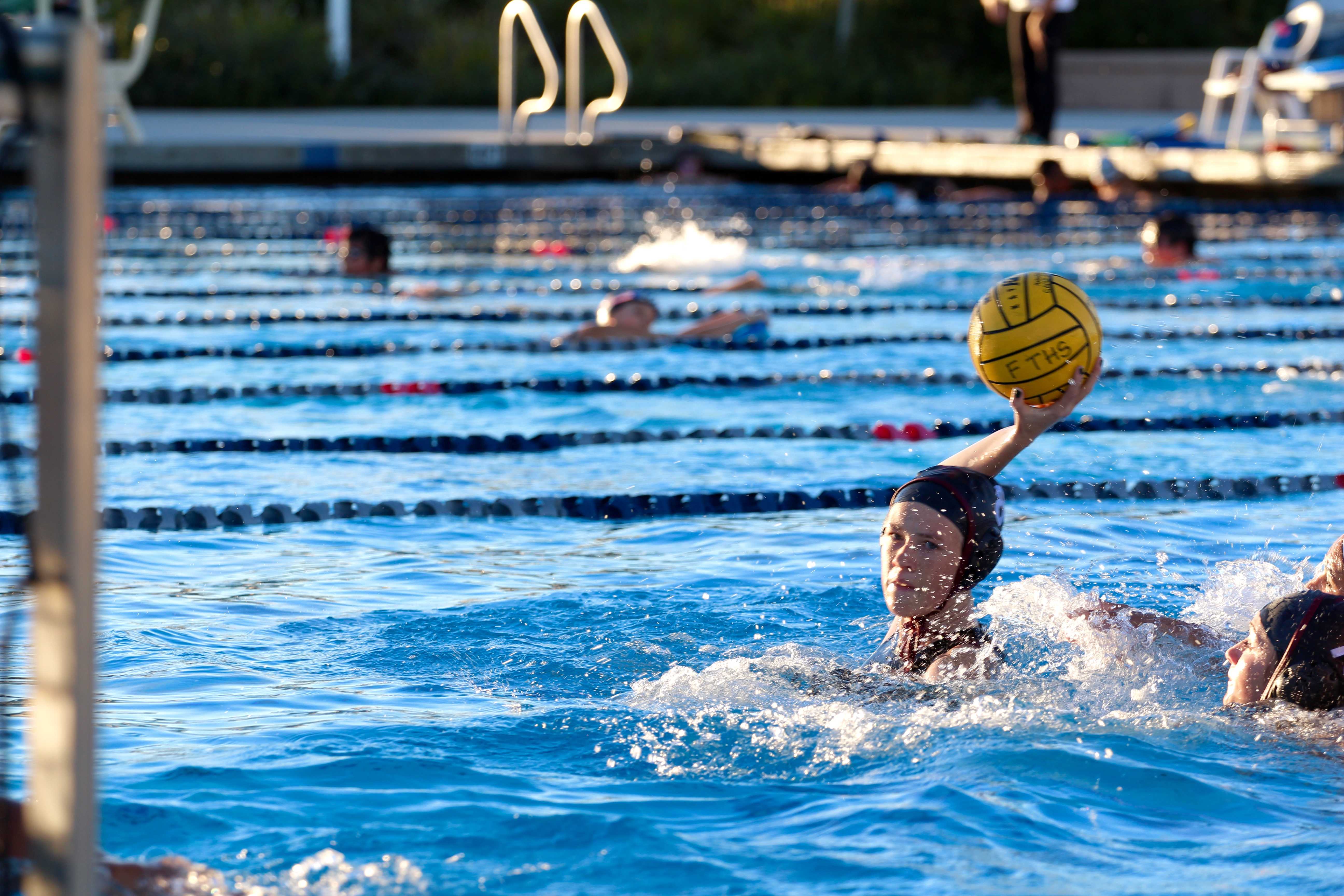 Ebberson believes that despite the win, the team still has a lot of room for improvement.
"We do need to do a lot more, defense wise, which is mostly communicating to know who we are covering. Just simple things like that," said Ebberson. "It's more of getting to know each other and working with each other."
Principal Joe Bova, who also attended the game, agreed that the team could improve on communication.
"It looks like they haven't played together for long, so they can improve on running their plays and sets," said Bova. "I can see a little miscommunication out there, but that is something that they will work on each game and get better at."
Plahn believes that if Foothill works on shooting, they will be even more successful.
"There [were] a few [goals] that we missed and I think we need to work on that. Getting a little more ball control and not dropping it will help us score more," said Plahn.
The girls' water polo team plays two more games against Villanova Preparatory School and Malibu High School this week and will participate in a tournament over the weekend.
Ebberson believes that Foothill will get even better with more competition.
"[We need to] just go out there and improve each day. To keep pushing, no matter if it is a win or a loss," said Ebberson. "It's experience and I just want them to go out there and get as much experience possible."
……………………
…………………………….
Background Photo Credit: Kazu Koba/The Foothill Dragon Press