When life gives you state regulations, have a Lemon Festival
On Friday, yellow-clad students tossed pies, ate lemon themed snacks, and had their faces painted as a DJ played music in the quad at the annual Renaissance Carnival with a twist: the Lemon Festival.
"The lemon festival is this semester's Renaissance Rally, the theme was kind of a spin-off of 'when life gives you lemons, make lemonade' so we're doing 'when life gives you lemons have a lemon festival,'" said ASB Renaissance co-event director and sophomore Courtney Corbett.
The lemon festival included many activities such as a water balloon toss, face painting, photo booths, pie throwing at targets, titled 'Shoot an arrow at the lemon,' and more.
"It think it's really cool that everyone seems to have a positive attitude at the fact that ASB is working within very strict constraints," said ASB advisor Melanie "Captain" Lindsey
The festival also included many lemon themed snacks and snow cones, which you could get with tickets.
For sophomores, juniors, and seniors, tickets were earned based on their Renaissance level.
"It was based on your Renaissance level, so platinum got 20 tickets with a Renaissance card all the way down to red level which was five tickets," ASB advisor Melanie "Captain" Lindsey said.
Freshmen, on the other hand, could not get Renaissance tickets this quarter, because of the different middle schools they came from. Grading them on the same scale would be unfair Lindsey explained.
"The freshmen who aren't on Renaissance or the students that didn't make Renaissance, the teachers had extra tickets for and if you turned in all your homework that week, or you got 100 percent on a test, they could give you extra tickets so you could still enjoy the festival even though you hadn't made Renaissance," Corbett said.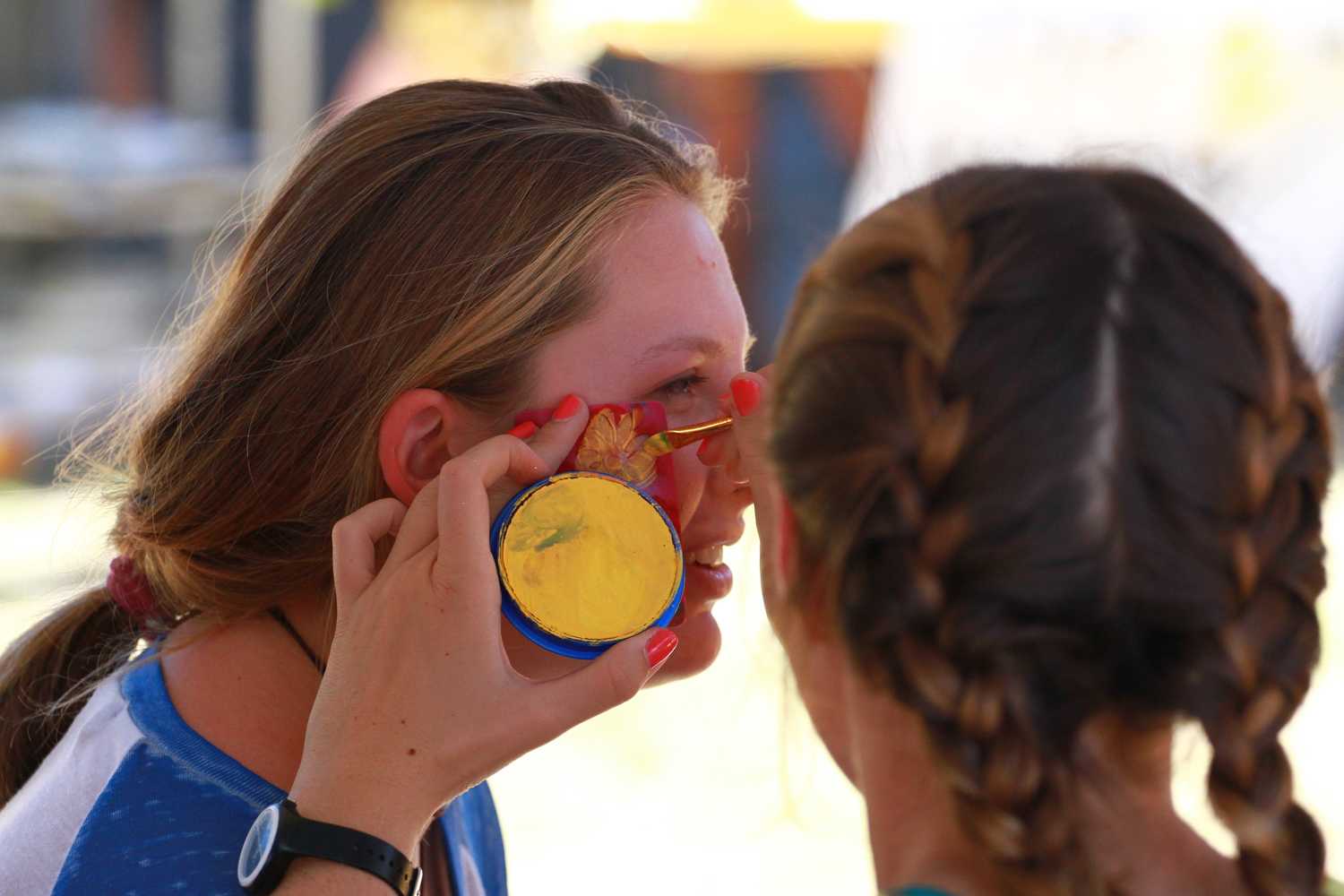 This year, because of new state regulations , ASB had to think outside the box and decide on an idea that would still be as fun, while obeying the regulations.
"There's a loss prevention list that exists that tells you what activities you are allowed to do and not do on a campus," Lindsey said.
"There's a red list which an 'absolutely you may not do them,' a yellow list which means you need extra insurance like the rock wall […] and the green list is a list of activities that we are allowed to do. So, activities that previously used to be at the Renaissance carnival are no longer permitted on a school campus."
Some significant activities that were no longer permitted included the dunk tank, the bungee run, and all the jolly jumpers.
Despite these changes, ASB worked hard to pull together an event that many students enjoyed.
"I am enjoying the lemon festival. As a senior I've seen a bunch of Renaissance rallies before this, but I think […] the lemon theme is really interesting because there's a lot of food you can make and it's a hot day. It's cute, I like it," senior Alexia Khodanian said.
Sophomore Suvee Ranasinghe said that she liked this Renaissance carnival better than the old ones.
"I think just having a solid theme is a lot better than what they did last year, where they had jolly jumpers, and it was kind of just all over the place whereas having one theme makes it better," she said.
Freshman wished that they could have participated more, but enjoyed the festival nonetheless.
"I think it's kind of a bummer […] that they're not letting the freshmen participate in getting extra tickets for our GPA […] but I'd say it's pretty good and I'm having a lot of fun," freshman Sean Ward said.
[soundcloud url="https://api.soundcloud.com/tracks/170635140″ params="color=ff5500&auto_play=false&hide_related=false&show_comments=true&show_user=true&show_reposts=false" width="100%" height="166″ iframe="true" /]
Many students said the Renaissance carnival was a fun activity, but it also helped inspire students to work harder in school.
Ward said that he was going to make sure to work harder to get a higher GPA so he could continue to participate in the Renaissance events.
"It think it's really cool that everyone seems to have a positive attitude at the fact that ASB is working within very strict constraints and it hasn't felt like kids are blaming ASB, as much as I expected them to. Because it's not ASB's fault, we don't have a choice about this," Lindsey said.
"We could do absolutely nothing, or we could do something with the restrictions. And, so, we chose to do something within the restrictions, and I think kids really are understanding that, which is cool."
………………………..
Background Photo Credit: Johnathan Carriger/The Foothill Dragon Press