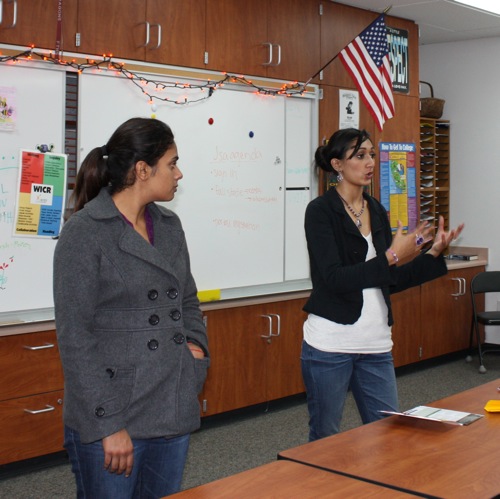 Political apathy and low voter turnout may be the norm for America, but one club on campus is looking to make political interest a top priority for students.
Junior Statesmen of America, or JSA, is a new club on campus this year that holds meetings on Wednesays in F-109. Much like the Political Action and Awareness club that meets on Fridays, they hold political debates, including Wednesday's "Meg Whitman vs. Jerry Brown".
However, due to low turnout, the club only gave the topic a cursory discussion before moving on to the topic of the Fall State event.
That is the major difference between JSA and PAAC – the JSA club attends two conferences over the course of the school year full of debate events, PAAC is an entirely on-campus political discussion. Club president Kaval Ali and vice president Sukhpreet Bains cited a lack of information and failure to differentiate between the two similar clubs as a reason for the low turnout for the debate.
Club advisor Karen Rodrigues spoke to the Dragon Press about what the club stands for. "It's a group of young people who are bipartisan and desire to learn about leadership, and to be actively involved in leadership."
"PAAC doesn't go to conferences. We do debate, political action, and we hold mock Senate. Schools all over SoCal attend the convention [Fall State] and it's a really fun event, you meet a lot of students," Ali explained.
The convention's events also have a similarity to Debate tournaments, though they are more strictly focused on political issues affecting America.
Ali continued, "It's a great way to explore majors before college. Like, I'm considering majoring in PoliSci, and this is a good way for me to test it out before I go, so I don't waste my time in college."
Bains was also quick to point out that the organization JSA is nationally recognized, and participation looks good on college applications, potentially enticing for any upperclassmen feeling the crunch of admissions.
However, Bains was clear that students should gain "political knowledge mostly. Making people be aware of government for the future. We can't vote now, or most of us can't, but we'll be able to make a difference in the future and it's important to be educated."
JSA will continue to meet in F-109 on Wednesdays at lunch for all those who are interested in learning more about their organization and events.