Still a weirdo: KT Tunstall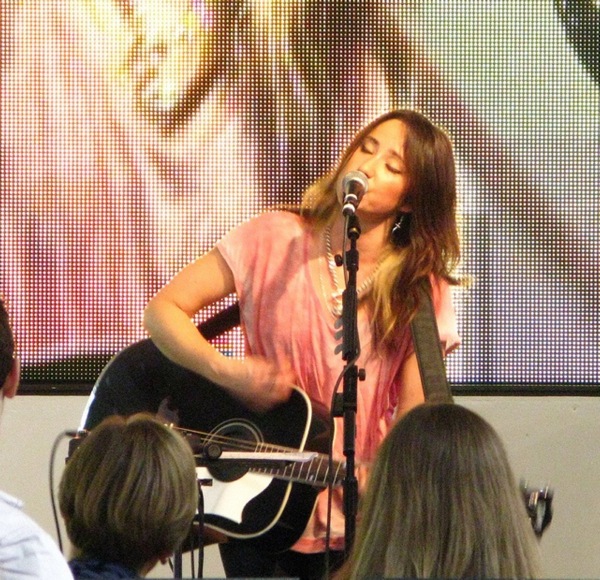 Caitlin Hurst
October 14, 2010
Hang on for a minute...we're trying to find some more stories you might like.
With fast paced earthy vocals, KT Tunstall's new album "Tiger Suit" will undoubtedly please fans of old and create new followers.
Tunstall's new album, released Tuesday, October 5 in the U.S, delivers a new style of music she dubbed "Nature Techno."
"Tiger Suit" features eleven new songs, such as "Fade Like a Shadow," which beautifully matches an upbeat acoustic rhythm with her organic voice. Her faster songs are well balanced with slower songs like "The Entertainer," in which she uses peaceful melodies paired with meaningful lyrics.
Songs such as "(Still a) Weirdo" use lyrics that perfectly match her earthy spirit. She harmonizes vocals – "I was going to be a treetop a sea, a boat, a rock of ages" – with her classic acoustic sound and hand claps.
I have never been a huge fan of Tunstall's work, but I was pleasantly surprised with her latest album. It seems that she has successfully combined pop-dance music with an earthy, indie style of lyrics and vocals.
Her new album has been long anticipated by Tunstall's many fans; it has been three years since her last, "Drastic Fantastic."
Tunstall's older songs may have made her a popular artist, but her previous albums sound a bit bland in comparison with songs from Tiger Suit. One of her biggest hits "Black Horse and the Cherry Tree," is far out done by her new album.
Fans on her online forums expressed mostly positive feelings about "Tiger Suit." An online poll showed the song "Lost" was most widely liked by Tunstall followers. "Come On, Get In" and "Glamour Puss" received the fewest amount of votes.
Tunstall has planned tour dates all over the UK in October, as well as several concerts in the US. She has three planned concerts in California in November, located in San Francisco, Hollywood and San Diego. Die hard Tunstall fans from all over California will surely flock to these events.
As a charismatic woman, Tunstall lights up any stage in her live performances. Her fun songs and sassy styles make her a true performer; it would definitely be a treat to see her new songs live.