Wrap-Up: Boys' tennis crushes St. Bonaventure 17-1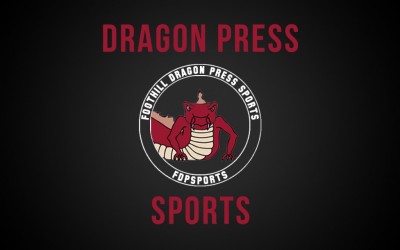 Mallery Kinnun
April 19, 2015
Foothill's boys' tennis team demolished St. Bonaventure High School on Wednesday afternoon with a final score of 17-1. The tennis match took place on the Ventura College courts, the home site for the Dragons.
Coach Brad McClain, who also coached the girls' tennis team in the fall, said that "the team came out strong from the start."
Sophomore CJ Haberbush, senior Josh Ren, and freshman Peter Jespersen, the three singles players for Foothill, won all of their matches and did not let their opponents score more than three out of the six available points in a set.
Doubles teams comprised of sophomores Dominic DuMont and Noah Colby, and Richard Soprano and Kris Hendrickson also went undefeated in their matches.
As McClain said, "[the] team as a whole got the job done."
McClain also complimented the boys and commended their camaraderie.
"I think they are a very nice group of young men and they are tight with each other […] that must be an FTHS trait with the student body," he said.
Although McClain admires their character, he said that they still have a "long way to go."
"We need to improve on our serving and consistency. That being said, several of our players are pretty green when it comes to competition. Only way to learn is on the court match play," McClain said.
April is a busy time for the boys' tennis team, they "basically have three matches a week," McClain explained, "but that's okay."
The spring season has begun and McClain is pleased that his Foothill players earned their "first win of the season."