Olivia Sabedra '06: "Work hard, it'll pay off"
Olivia Sabedra '06 has fond memories full of young, vibrant teachers, dance classes and friends who were her complements. Sabedra, a 2006 alumna, was drawn to Foothill mainly for its size. After attending a small Catholic school for nine years, the small size of the Foothill campus was very attractive to her.
As a dancer, Sabedra loved the time she spent in the Foothill dance classes. With friends and a teacher she had grown up with, it "felt like home." She remembers the excitement  of occasionally putting on performances for the rest of the school and having a place she felt like she belonged.
Sabedra had a mixture of friends in high school, some friends she had gone to Catholic school with and others that she met in high school. She remembers that some of the friends she made were "a bit wilder" than her.
"I think opposites kind of attract with friends sometimes," Sabedra said as she recalled one of her best friends who was "very opposite" of her.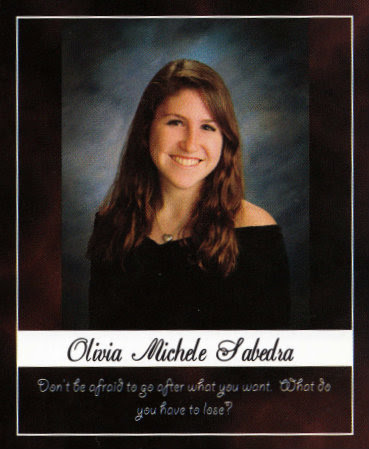 Throughout her high school years, Sabedra considered herself to be "a little bit of everything." She worked hard in school, but wasn't a nerd and she had friends, but didn't really ever do anything too crazy. "I was shyer than I am now. I loved high school, but I feel like I have been my most natural self post-high school," Sabedra said.
After graduating, Sabedra spent a few years studying at Ventura College before taking a semester abroad in Europe. While Sabedra wishes she could have graduated with her class, she does not regret traveling because it helped her learn about the world. After her travels abroad, Sabedra moved to Minnesota to attend college where she got a Bachelor's degree in Marketing Communications with a minor in Mass Communications. She graduated college in 2012.
Sabedra's intention was to use her major to go into broadcasting because that was what she enjoyed in college, but after a couple jobs at coffee shops in Ventura Sabedra got a job producing for KUYT. The job was a good experience, but made Sabedra realize she did not like broadcasting in the real world.
"If you ever feel like you don't know what you're doing with you, it's fine if it takes you a while." Sabedra said.
Sabedra's two favorite teachers, Jason Dinkler and Captain Lindsey, are still teaching at Foothill. She credits them with teaching her how to write well, which she considers to be an important skill. "Learn to write well and to speak well and you will sound as intelligent as you are," she advised. She also recommended taking advantage of the many group projects at Foothill and using them as an opportunity to learn how to work with others, because "life and work are one big group project."
She recalls that many of the things she did with her friends for fun and the technology they used is now obsolete. "You guys probably haven't even done that!" she exclaimed, while remembering how she and her friends would use AOL instant messenger to communicate.  
Looking back, Sabedra remembers that the teachers at Foothill were not only young, but loved what they did. She does not remember a teacher she had that she did not like. She thinks that having young, passionate teachers is a special experience, but not one you always recognize when you are in high school.
If Sabedra could offer high schoolers any advice, it would be to travel and see places other than where they grew up and to work hard. "Make the most of your four years, it really does matter. All the things your parents tell you are probably right, which is so annoying, but it's true. Just work hard, it'll pay off," she said.