Adam Erickson '05: Advising students to "live long and prosper"
Hang on for a minute...we're trying to find some more stories you might like.
Foothill alumnus Adam Erickson's adoration for Star Trek has followed him from his graduating class of 2005 up until today, and it's also what helped him connect with arguably his favorite teacher, who inspired him to be a teacher today.
During his junior year at Foothill, Erickson and a couple of his friends founded the short-lived Fencing Club. The club met in the Black Box once a week to practice multiple styles of fencing, but the club died down after about a year.
The students were surprised Principal Joe Bova allowed to club to meet in the first place, due to the fact they had weapons on campus. Erickson fondly recalls the students' ecstatic response to the allowance of the club: "'I can't believe we actually have swords on campus! Why is this happening? Why are we allowed to do this?'"
One of the things Erickson enjoyed more during his high school experience was his time in the Associated Student Body (ASB). He thought it was extremely beneficial to spend time with your friends in a class where you're constantly "constantly having to struggle through event creation and brainstorming."
Erickson especially enjoyed group ASB activities such as the Camp Ramah trips and ASB sleepovers. His favorite memory from ASB was of an enjoyable, yet eerie, game of sardines he played sometime from midnight to 2 a.m. on Foothill's campus during an ASB sleepover; it was a strange feeling "walking around in the complete dark" while "everyone in the school gradually disappears." Erickson revelled in these type of team-building events; he thought "getting to know people on a different level is really fun."
Although Erickson believes himself to have been quiet and nerdy in high school, teaching has forced him into becoming a more outgoing person.
Now a history and science teacher at Rio Vista Middle School in Oxnard, CA, Erickson owes his teaching career to Foothill teachers Richard Geib and Melanie "Captain" Lindsey.
Erickson felt an immediate connection with Lindsey, as they are both very fond of the Star Trek series. Lindsey is Erickson's inspiration for his personality as a teacher. "Her humor was just amazing," but "students didn't dare misbehave in her class." With a smile, he recalled occasions where Lindsey poured water on a student's head and threw a book down on sleeping student's desk.
Geib's intelligence gives him a persona which instills the idea that he knows "seemingly everything," according to Erickson. Erickson aspires to be able to teach history as vivaciously as Geib, bringing the subject matter to life and truly connecting with his students.
Erickson's main wish for high schoolers everywhere is to "take a deep breath" and appreciate how much life has to offer. Laughing, Erickson said he wishes he would've taken his advice just once in high school and gone to a party instead of "playing video games all night with my nerdy friends."
He thinks it's unhealthy to get too caught up in schoolwork (as he so often did), because in a few years, what is stressful to someone right now w
ill be long forgotten in the past. Erickson "likes people to make memories and to have fun."
Erickson now lives with his wife of a year and a half. Similar to Erickson, she teaches AP European History. In their free time, they enjoy camping and spending time in nature.
About the Writer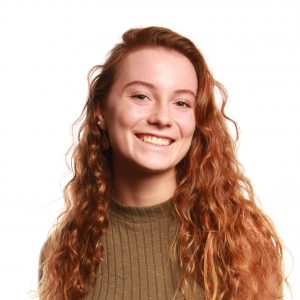 Jocelyn Brossia, Editor-in-Chief
Advocate of subtitles, proper sex education, and the Oxford comma