In August of 2004, the fifth freshman class in the history of Foothill was welcomed into the school for the beginning of the new school year. Among these newcomers was Christopher Tull, who was "pretty excited" to attend Foothill.
Tull, a member of the future Class of 2008, expected that his upcoming years at Foothill would be heavily focused on academics."I expected the academics to be a larger part," he said. "But I also expected the technology to be a pretty big part of it."
During his high school years, Tull took various AP courses at Foothill. One class that he felt to be extremely influential was AP Calculus AB led by Anthony Villa, a former Foothill teacher. According to Tull, the math class was the "first one that he actually enjoyed."
"Before that, it was always just like 'Math is just a thing that I have to do,'" he said. "But that was when I was like 'Woah, math is cool!'"
Tull would go on to major in math at California State University Channel Islands, which he mentioned would never had been possible without the guidance of Villa. However, the class that impacted him the most were those in the BioScience program, directed by Wendi Butler. He stated that the program was "definitely useful" and made a difference in his life. "I felt like we were doing things that were real," he said. "It gave me real skills that I could use in my life."He also credited Butler for "helping his interest in science grow."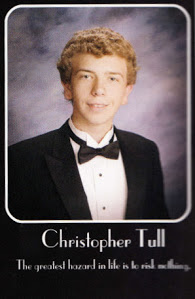 As well as BioScience, Tull also spent a significant amount of his time as a member of the Buena marching band. He expressed that his experience with the band was "great" and that it felt "like a big family."
"It definitely requires a lot of discipline to go out there night after night even if it's freezing cold," he said. "But it was good, I had a blast."
In retrospect, Tull believes that he had certain strengths and weaknesses regarding education.
"I've always been a really strong test taker and good at memorizing things," he said. "My weakness was I'm not very organized, and at the time I was pretty scattered."
Tull's hobbies as a high school student included "a lot of video games" and reading. He continued by saying that he was really "big into reading sci-fi" novels.
He said that his Foothill experience was full of good memories, such as "hanging out with friends" or attending the yearly Air Guitar festivities. However, there were some aspects of his high school life that he wished would have been different.
"I wasn't the most confident person back in the day," Tull said. "And I definitely would have changed trying to get out of my bubble more, getting out of my comfort zone."
He mentioned that this aspect of his life was "something that I really didn't grow into until college."
Of the four years at Foothill, Tull said that his senior year was "the best one of all."
"You're more comfortable, like you know all the ins and the outs, and you're older than all the other people," he said. "You're king of the school sort of, not literally."
Tull explained his feelings to be "uncertain" when he walked up onto the stage at graduation in 2008, signaling the end of his high school career.
"Just like glad to be done, but also uncertain about what would come next. College was like this black box of mystery," he said.
[soundcloud url="https://api.soundcloud.com/tracks/311643175″ params="color=ff5500&auto_play=false&hide_related=false&show_comments=true&show_user=true&show_reposts=false" width="100%" height="166″ iframe="true" /]
As previously mentioned, Tull continued his academic career at CSUCI, which was extremely different from Foothill in some dimensions. However, he said that he "felt a lot of similarities" between the two schools."When I first got to CI, it was only eight years old or so at the time, and like Foothill, it was pretty small and rapidly growing," Tull explained.
He also noted that he felt a similar sense of the personal student-teacher connection at Channel Islands. "In a lot of my classes I would have about 15 people in my class, so you get a lot of one-on-one time with your professors," he said.
Although Tull felt that his first semester of college "kicked his butt a little bit," he believed that Foothill did an excellent job preparing him in some areas.
"In some regards, I felt like Foothill really prepared me, like especially in my English classes and stuff," he said. "I felt like I was a more capable writer than some of the other people in my classes."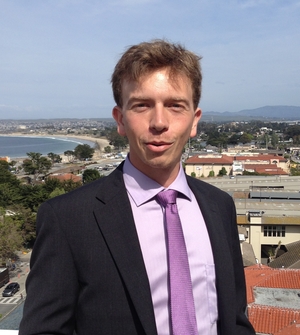 At CSUCI, there was an opportunity for the students of the college that seemed like a once-in-a-lifetime experience: a trip to study abroad for one year in Germany. Tull jumped on the opportunity and never regretted it, saying that "it ended up being one of the most valuable years of my life."
"Honestly, I just came out of my shell, met a ton of awesome people and traveled all over," he said.
His time in Germany consisted of studying "a lot of German, German language and culture," as well as "a few computer science classes."
Following his years at Channel Islands, Tull attended NYU (New York University) for graduate school, where he ended his academic career and started his new profession as a data scientist. Although he couldn't recall a specific moment where he realized his desire to be a data scientist, Tull always "knew that I wanted to be involved in science."
As a young child, Tull originally wanted to be a paleontologist, but the aspirations didn't last long. "I wanted to be a paleontologist because I thought that paleontologists would be out catching dinosaurs or something," Tull said with a laugh. "And then I learned that they mostly just dig around in dirt."
He also took interest in marine biology, a career choice that intrigued him and led him to the BioScience academy."I wanted to be a marine biologist, and that one stuck with me for a long time," Tull explained. "I really thought that I was going to go down the biology route."
Tull finally settled to be a data scientist, mostly because he "really enjoyed" programming. "I took a computer science class and actually really enjoyed that," he said. "I felt like I was building things instead of just filling out worksheets."
Currently, Tull works for the California Data Collaborative, a non-profit organization that works with local governments and water utilities.
A typical day in his profession can consist of two modes: a programming mode and a mode that resembles the role of a secretary."One mode is if I'm actually programming something, then I'll usually just spend the whole day on that," Tull said. "So it's a lot of programming, documenting code, and working in GIS software, which is geographic information systems."
He explained the other role to consist mostly of "taking calls," among other things."I'll hack on something for two hours and have to take a call," he said. "And honestly I don't like it as much because it messes with my flow, instead of being able to zone in."In his time as a data scientist, Tull has worked on many projects but he mentioned a current project that he is "very proud of."
"I'm still working on a tool to help staff at water utilities to anticipate the impact of them shifting their water rates, so each household has a water connection," he said. "And the process of how they determine how much they charge people for water is not a super straight forward process, there are a lot of laws controlling how much they can charge."
He continued by saying that he is "really proud of that" because he is now leading the project.
"That was something that I really built from the ground up," Tull said.
[soundcloud url="https://api.soundcloud.com/tracks/311642072″ params="color=ff5500&auto_play=false&hide_related=false&show_comments=true&show_user=true&show_reposts=false" width="100%" height="166″ iframe="true" /]
His current lifestyle consists of hiking, reading and biking, among other things.
"I love hiking, and I started biking not too long ago," Tull said. "And I've always loved to read ever since I was a kid."
Some of his favorite hiking spots include Arroyo Verde Park in Ventura and Sycamore Canyon near Malibu.
Regarding his passion for reading, Tull said that he's "loved to read ever since I was a kid." But in his adult life, he has veered away from the science fiction department and entered the realm of nonfiction to assist him in his profession.
"A lot of my reading is directed towards learning new skills that apply to my job," he explained. "And that's a lot of it nowadays because I really like what I do, so I want to be the best that I can be at it."
Looking towards the future, Tull stated that he doesn't have "any grand career ambitions," but he is focused on making a positive impact on the world.
For data science, there are tons of jobs that pay a lot of money," he said. "But I was really drawn to work with a non-profit because I feel that I have a more direct impact on people's lives. So honestly, as long as I can keep doing that, I'll be pretty happy."
He also mentioned his ambition to explore Machu Picchu one day with his newlywed wife and the child that they are expecting.
Regarding the future of high school students, the 27-year-old didn't hesitate to offer advice from his experiences. He emphasized that "you don't have to feel super prepared for college."
"I got to college and I figured it out as I went." Tull added. "I'm still figuring out life as I'm going."
Most importantly, he encouraged high school students to "keep your eyes open" every day.
"If there's an opportunity that presents itself that seems good, then take it," he said.
Currently, Tull lives in Oxnard, CA, with his newlywed wife, and he is "very optimistic" for the future and what it brings.