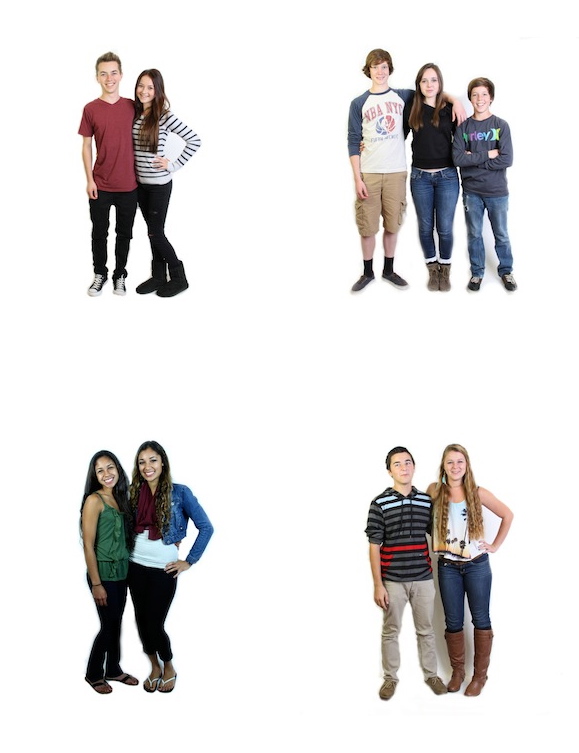 People often hear the complaint, "I'm stuck in my sibling's shadow." However, some siblings manage to stand out as unique individuals, and one way they do that is by what they wear.
Senior Marnie Vaughan always looks put together. People will see her sporting a fashionable dress with a cute jean jacket. Her sophomore brother, Nick, can be seen wearing cargo pants, flannels, and a hat. Their younger brother Michael tends to dress more like a skater wearing brands such as Hurley.
Nick describes Marnie's style as "Hipster but with a twist."
"Nick and Marnie both have good and unique styles. Nick wants to have the best style of us, but Marnie obviously has the best style," Michael said.
Juniors Emily and Carson Graves are fraternal twins. Carson tends to wear stripes with a nice pair of jeans or shorts. Emily loves wearing dresses and boots. You'll always catch her with earrings, whether they're dangly or studs.
Emily described Carson's style with a laugh, "Carson seems really put together, but in the mornings he isn't. All he ever wears is stripes!"
Carson said that Emily's style is like Paris, France, meets Southern California. When Emily heard Carson's answer she rolled her eyes. Carson and Emily both agreed that Emily has the better style of the two.
Klio Irby is a freshman, and her sister Kayalin Irby is a junior. Klio can usually be found wearing a boot cut style jean with a cute tank top or shirt. Kayalin manages to pull off the sweatpants, sweatshirt, and Uggs look better than most girls can.
Klio thinks that her sister's style is very artsy and unique but she's glad that she has her own different style. Even though they dress differently they share each other's wardrobe. 

"Usually this doesn't cause a problem… But sometimes we forget to ask if it's okay and then things get bad,"  Klio said.
"I think anything looks good on my little sister because I think she's the cutest. She definitely has better style than me because I'm too tired to ever dress myself in anything other than sweats and sweatshirts," Kayalin said.
Caleb Bigler is a junior and his sister Kiana Bigler is a freshman. Caleb wears nice fitting jeans with a V-neck and a stylish pair of shoes. Kiana can be found wearing a flowy shirt with a stylish scarf.
Both Kiana and Caleb think that the other's style is very "modern." Caleb said that he loves it when his sister wears color because she usually wears greys and blacks. He thinks colors look good on her. Kiana said that she would love to steal Caleb's Ray Bans, she's so jealous of them. She's also jealous of Caleb's shoes, "Caleb's shoes are way better than mine, it's not fair!"
Although some of these siblings don't always want to share clothes or get along, they all admire the others' style.
Credit: Lauren Pedersen/The Foothill Dragon Press