Wrap-Up: Foothill girls' varsity volleyball team triumphs over Fillmore 3-0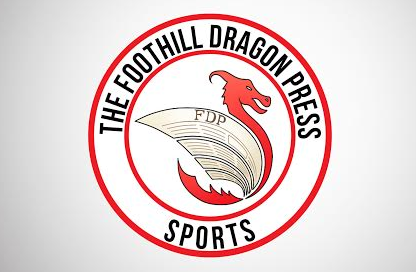 Kathryn Brandi
October 16, 2015
On Thursday night, the Foothill girls' varsity volleyball team defeated Fillmore High School at a home match at Cabrillo Middle School. The Dragons won with an overall score of 3-0 and individual set scores of 25-21, 25-8, and 25-16.
Coach Chip Tarleton felt that the team struggled with applying the things taught in practice to the game.  
"We still have moments where we don't play the way we've trained in the practice gym and at the level we have played at before," Tarleton said.
Tarleton thought that "with a little prodding, [the team] eventually [overcame their] laziness and [got] the job done."
Sophomore and varsity player Taryn Savard believed that the team had "weak points" throughout the game.
"There were many weak points during the match that we will definitely be working on over practice. Our energy level and our trust in each other was definitely a weakness during the match. There was also many unforced errors such as passes onto the net and miss hits," she said.
Savard felt that the team recognized their challenges and tried to fix them.
"Once we realized that in order to win, we needed to overcome these challenges placed before us, we fought really hard and did well," said Savard.
She thought that the team played "really well on keeping [their] serves in" and has improved since the beginning of the season.
Tarleton believes that the team has improved throughout this season just as they did last year. He feels that although the team is young, they "have not backed down."
"This has actually been a process that started back at the beginning of last season. All of theses players are still very young, some age-wise and others competitive-wise. They have not backed down one inch from the challenges I've presented them with," said Tarleton.
The team will be taking a "little time off" for fall break. Tarleton feels that the team "will come back refreshed and ready to continue the process to finish League [and] play strong and continue on a high note for Foothill's [volleyball teams'] first venture into the CIF playoffs."
The Dragons have eight wins and one loss in Frontier League and twelve wins and ten losses overall.