After Trudy Arriaga's departure from the Superintendent position in Ventura Unified, Michael Babb stepped in to fill the vacant position. Well experienced in the education and leadership department, Babb "didn't think twice" before applying to Ventura Unified.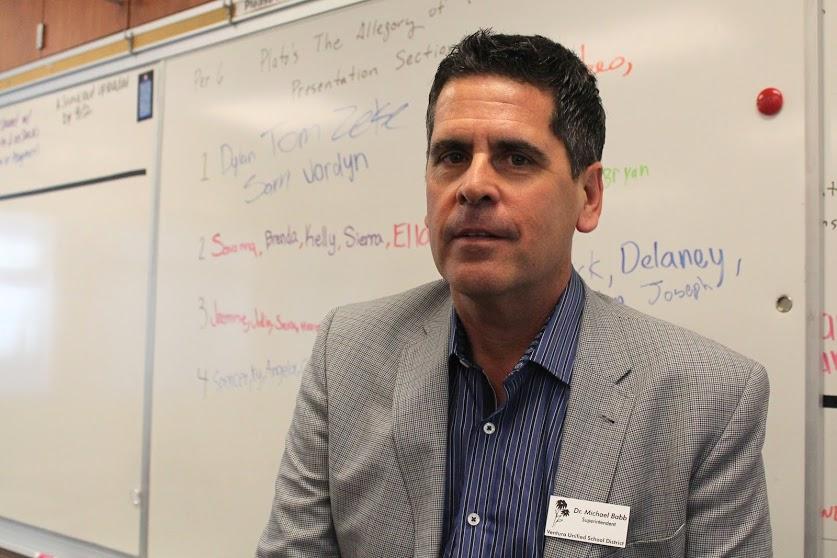 After Trudy Arriaga's departure from the superintendent position in Ventura Unified, Michael Babb stepped in to fill the vacant position.
Experienced in the education and leadership department, Babb "didn't think twice" before applying to Ventura Unified.
"I genuinely loved the district and really wanted to serve it," he said.
Babb attended California State University, Sacramento, majoring in English and minoring in journalism. He has always been a fan of literary arts such as English, journalism, and creative writing, so it only seemed natural for him to major in that area. Later on, he earned a doctorate at University of California, Los Angeles in Educational Leadership.
Babb kick off his teaching career at Gardena High School, but soon moved on to teaching schools at different grade levels in various areas such as San Francisco, Sonoma County, and Spain. He taught English in Santander, Spain to children and adults.
"It's great around the coast and there's all kinds of different interesting things to do and see," Babb said. "There are great beaches. There are ferries that go to England from there and there's just a lot of culture in Santander. It's a really wonderful place to live for a year."
In 2001, Babb moved to Ventura where he became the principal at E.P. Foster Elementary School. He then moved on to working at the Ventura County Office of Education as the director of the Curriculum and Instruction department, as well as teaching Educational Leadership at Cal State University, Channel Islands. Before coming to Ventura Unified, Babb's was the superintendent for the Mesa Union School District for three years.
Executive Assistant to the Superintendent Martha Macias described Babb as a caring and kind individual with a genuine care for the students.
"It was obvious to me that his return to Ventura Unified as superintendent was where he ultimately wanted to be," she said.
Administrative specialist Kristie Wallace shares the same views as Macias and sees Babb as a positive person who "thinks the best of everyone and of their intentions."
"He also has a good balance of serious along with humorous. The job of the superintendent is a big one and can really get to you, so keeping your sense of humor close to your side is important," Wallace said.
With a vast understanding of education and leadership, Babb said that "inquisitiveness" is what it takes to be successful academically.
[soundcloud url="https://api.soundcloud.com/tracks/224638215″ params="color=ff5500&auto_play=false&hide_related=false&show_comments=true&show_user=true&show_reposts=false" width="100%" height="166″ iframe="true" /]
Besides his passion in education and learning, Babb also enjoys sports such as running. He said that it clears his head and keeps him "physically active and mentally alive." He has participated in over 50 marathons and counting.
"My goal was to do 50 by my 50th birthday, and I ran my 50th marathon in my hometown of San Francisco a week before my 50th birthday," he said.
"Everybody can run marathons. I'm not made to run. It's all just heart and pushing yourself," he continued.
In some ways, "pushing yourself" not only applies to playing sports, but also to achieving goals. And one goal Babb hopes students achieve success in finding their "voice."
"I want them to have an understanding of the world around them and be able to set goals for themselves for a continued lifetime of investigations," Babb said.
He continued on to advise students to also "play nice" in life.
"This is a society and schools are expected, and we are expected as well, to not only promote academic goals but also goals in interacting with other people," he said.
"It's a really important aspect of the world now and to the future, and I want people to come out of here with an ability to work with a lot of different kinds of people in a lot of different kinds of situations."
"To be able to advocate, to explain, to understand, I think are the keys to world peace and for continued existence as a species," he continued. "So again, play nice."