5 DIYs to fight the frost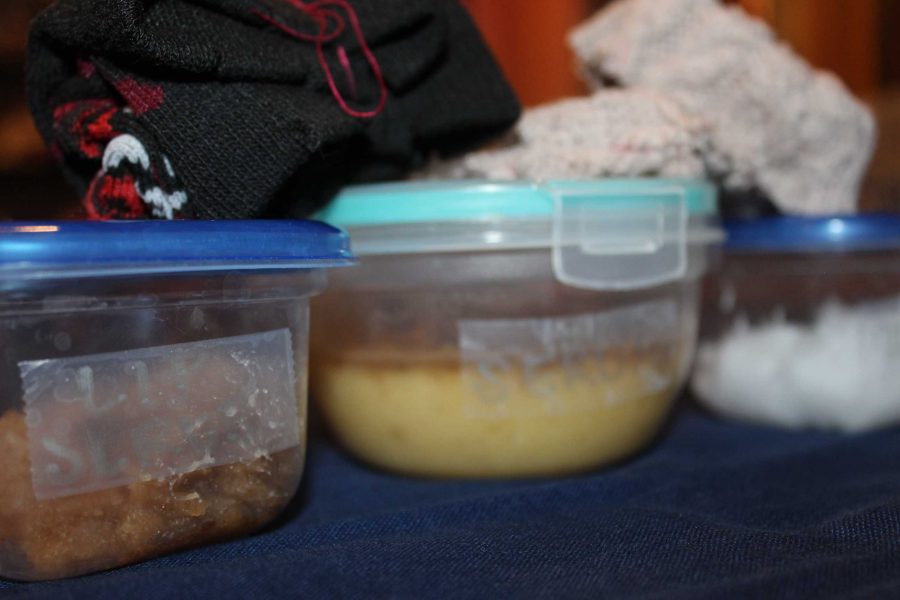 Abby Sourwine
January 28, 2018
Cold weather: great for fashion, great for holiday festivities, but for your hygiene? Not so much. In these times of chapped lips, dry skin and frizzy hair, treat yo'self to these easy-to-make products, all designed to keep you looking fresh as a spring daisy, even through the bitter winter.
Our first cold weather culprit is chapped lips. They can be annoying, or even painful, but they are avoidable! Use this three-ingredient brown sugar lip scrub to get off all that dead skin and leave your lips pink and plump.
What you need
2 tbsp. Brown sugar

1 tbsp. Coconut oil (hard, not melted)

1 tbsp. Honey
What to do
Mix coconut oil and honey together in a small bowl. It should look smooth and sticky.

Add the brown sugar. Mix until it's all combined.
How To Use
Use your finger to apply a small amount to your lips. Rub with your finger. When you're done you can either rinse it off with water or lick it off – it's yummy!
When the weather gets chilly, the hair gets frizzy; or at least, that's the case for many. Use this hair mask to keep your hair shiny and tame. Plus, it's tropical banana scent can bring you daydreams of a summer island vacation.
What you need
1 banana

1 tbsp. Olive oil
What to do
Mash the banana with the olive oil until there aren't any chunks left.
How to Use
Apply to the ends of your hair and let sit for about thirty minutes. During this time you can put your hair into a bun or ponytail, or you can leave it down.

Rinse it out with water and a small amount of shampoo – just to get the banana out.
If you've got leftover aloe vera from your days of basking in the sun, winter is actually the perfect time to put it to use! It's soothing properties make it ideal for nearly every type of skin, whether you're acne-prone, fighting aging lines, or covering up stretch marks. Adding coconut oil just compounds that moisturization to really pack a punch, but if you're skin is naturally on the oily side, try applying aloe vera gel directly.
What you need
2 tbsp. Aloe vera

2 tbsp. Coconut oil (hard, not melted)

5 drops of lavender essential oil (optional)
What to do
Blend all ingredients in a blender or food processor until smooth.

Store in a glass jar in the fridge or another cool place.
How to use
Apply to your hands, feet, or any other area that's getting a little dry from the weather.
When it gets cold, your hands and feet feel it first, so, why not put socks on both? Keeping your hands warm can prove helpful in keeping the rest of your body warm and, thus, better suited to fight off illness. Give these cute and functional fingerless gloves a try when you're looking for warmth with an edge.
What you need
A long sock

Needle (optional)

Thread (optional)

Scissors
What to do
Cut a sock horizontally just past the heel part

Measure two inches from the top of the sock and cut a slit for your thumb

Optional Step: Sew a "hem" on the bottom of the sock and the thumb hole
How to Use
Put on your hands and stay warm!
Scrunchies were an iconic part of the '80s, but they are making a huge comeback and can be seen all around school. Not only are they fashionable, but they also help to prevent breakage when used in place of hair ties or rubber bands. If you've got an old sweater to get rid of, or if you want to crop-top your way through winter, give this sweater-themed scrunchie a try.
What you need
Knit Sweater

Rubber band

Scissors

Needle

Pins

Thread
What to do
Cut about a 3 inch strip from the bottom of a sweater

Wrap the strip around a rubber band to see how long it needs to be. Then cut to length.

Use pins to cover the rubber band with the fabric.

Sew the ends together with a needle and thread
How to Use
Wrap around your hair like you would a normal hair tie
The winter season can be hectic, with holidays, seeing family, traveling, and (dare I say it?) finals week, but your hygiene shouldn't take a hit because of it. Keeping yourself looking and feeling good can make almost any situation less stressful. So, the next time your cheeks look a little rosy, your lips feel a little chapped, or your hair just won't stay calm, know that there is a quick fix using household items, and put these DIYs to the test!