Like father like son: Mike and Nathaniel Russell
In a thriving Track and Field program at Foothill, the pole vaulting event has directed its attention to a young man soaring through the air while his father watches from down below.
Under the coaching of his father Mike Russell, Nathaniel Russell '18 has taken pole vaulting to a whole new level for the Dragons, setting and breaking his own records repeatedly.
As a freshman in his own high school days, Mike Russell saw some vaulters at his school and thought "this looks pretty fun" and decided to give it a shot. "It took me a couple weeks to get over seven feet" he said and went on to describe his records for each year, including 9'6″ as a freshman, 10'6" as a sophomore, 12'6" as a junior and his personal best in high school was 13'6", his senior year.
Mike Russell went to the University of California at Santa Barbara and pole vaulted there, where he cleared 16 feet, "so [Nathaniel has] a little way to go still," he said, winking at his son.
As a junior, Nathaniel Russell has already jumped 14'1", setting the meet record at the Tiger Invitational.
Nathaniel Russell opened the season by winning the Rincon Relays with a height of 12'8", followed by a second-place finish at the Tri-County meet, where he got up to 13'0".
Freshman year, Nathaniel Russell decided to try it out because "it was one of those things that had always seemed fun."
"Most of my life I had a real enjoyment for heights and stuff like that," he said. "I did lots of rock-climbing earlier, so then when I got to highschool and heard that I got to run with a stick and fly through the air, it sounded like a pretty good idea."
[soundcloud url="https://api.soundcloud.com/tracks/319847884″ params="color=ff5500&auto_play=false&hide_related=false&show_comments=true&show_user=true&show_reposts=false" width="100%" height="166″ iframe="true" /]
"I gave it a try and immediately clicked with it, so it was fun," he continued.
After the Tri-County meet, Nathaniel Russell won the Malibu Invitational with a vault height of 12'9". He then tied his personal record at the Santa Barbara Relays with 13'0", taking home third place.
"We have [at Foothill] a nice set-up for vaulting and jumping, and it's empowered us to do pretty well," Nathaniel Russell said.
At his next meet, the "No Foolin Invitational," he smashed his record by a foot, pole vaulting for 14'0" and winning the meet.
Then at the Tiger Invitational, Nathaniel Russell vaulted higher again, going for 14'1", achieving first place and another personal best, marking him as third best in all of Ventura County and 24th best for all of California Interscholastic Federation (CIF) Southern Section. The mark of 14'1" also set the meet record for the "Tiger Invitational."
Nathaniel Russell followed up this performance with a height of 13'9" and a first place finish at the Russell (no family affiliation) Cup.
And while Nathaniel Russell has mainly stood out for pole vaulting under his father's command, he has proven to be "an all around athlete," as teammate Clayton Brossia '18 said.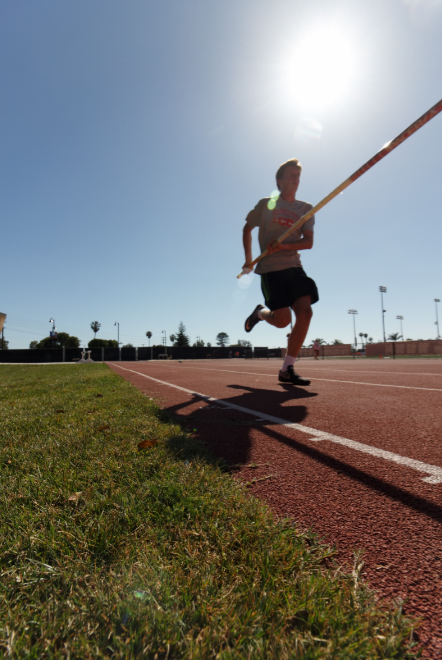 "Everyone on the team kind of specializes in one event, but Nathaniel can do everything. He does the hurdles, does pole vault, does high jump, so he's a huge part of the team," Brossia said. "He gets everybody around him to pole vault to better heights, same with high jump and hurdles. He really likes helping out."
Brossia and Mike Russell both agree that Nathaniel Russell has a future in pole vaulting ahead of him. "I think Nathaniel could definitely pole vault in college and I feel like he could win CIF," Brossia said. "He's that good. He's insanely talented."
Mike Russell thinks his son will have "a good career in vaulting" and that "if he chooses to, when he goes away depending on the college he chooses, he'll be able to compete at certain division levels, and he could be a pretty high vaulter […] a lot better than I did."
"He likes flying through the air, so it's easy to coach him. He's a student of the sport, he figures out what he has to do and implements it," he added.
Nathaniel Russell thinks that having his dad as a coach helps because he gets "very consistent advice" from a person who he understands and who understands him.
Nathaniel Russell strives to vault 14'6" and place in the top two of the CIF Championships.
When asked who is better at pole vault, Mike Russell smiled and nodded his head at his son. "[Nathaniel]'s got the potential but he's not there quite yet," he said.
With two more years of CIF in store, there will be no surprises if he brings home some hardware. If he hasn't broken it record by next year, he might be in for a little family competition, gunning for his father's record of 16' in college.
Only time will tell, but this athlete is special, and he is putting his own spin on the old saying: like father, like son (but a little bit better).