Natasha Urban: Irish dancing enthusiast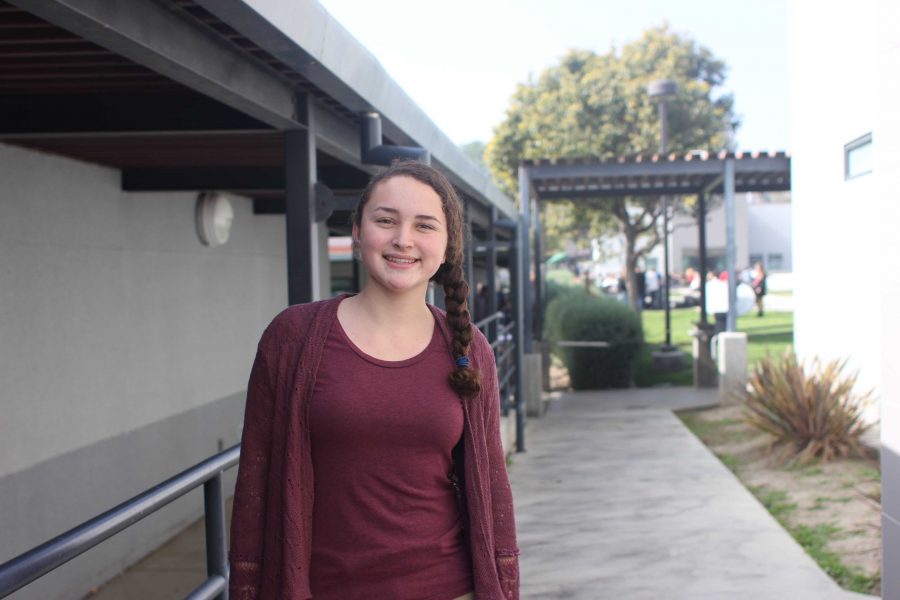 Emily Kinnaman
February 18, 2015
Most student athletes play soccer, tennis, or swim; but sophomore Natasha Urban's sport is something a little more out of the ordinary. Urban does Irish dancing, a traditional kind of dancing with quick footwork and almost no upper body movement.
There are two types of shoes used for different dances: soft shoes and hard shoes. Beginners start with soft shoes and then progress up to hard shoes.
"The hard shoes, the ones that are most recognizable, they make all the noise," Urban said. "And then the soft shoes are more like ballet shoes and it's more graceful."
"Personally, I prefer using hard shoes," she added. "They're more rhythmical and I like making more noise with them."
Dancing with hard shoes is comparable to tap dancing.
Urban started Irish dancing in third grade, and hopes to continue through high school.
"I honestly have no idea [why I decided to do it]," she said. "When I was little, I saw dancers at a festival, they were Irish dancing. I was like three at the time and I went up on stage after they had finished dancing and I started to mimic their dancing, and that's how I got interested in it."
[soundcloud url="https://api.soundcloud.com/tracks/190614958″ params="color=ff5500&auto_play=false&hide_related=false&show_comments=true&show_user=true&show_reposts=false" width="100%" height="166″ iframe="true" /]
Urban attends lessons at Claddagh Dance Studio, the only Irish dance studio in Ventura. Several other Claddagh dance schools are located throughout California. Within each dance studio, there are different levels; Urban is at the preliminary championship level with about 15 other dancers.
Urban has dancing competitions every few months, most of which are local. Once a year, her team competes in regionals which are further away. Last year, regionals were in Utah and this year they will be held in Arizona. Higher level dancers from Urban's studio also went to Ireland to compete a few years ago. Although Urban herself didn't visit Ireland, she hopes to go someday.
"It's interesting because our school, it's based in Ventura, and a few years ago we beat an Irish dancing school from Ireland," she said. "So it was fun to beat them at their own style in their own country."
Dance practices for Urban are typically three to four days a week for an hour and a half. During regional season, from September to November, however, Urban's weekend practices can be six hours.
Despite the large time commitment, Urban enjoys learning and performing Irish dances.
"I get confidence from it, and I have the ability to stand up in front of a crowd and speak without getting stage fright," she said.
"And I've met a lot of new people through dancing," she added, saying that many of her teammates are some of her best friends.
Sophomore Taylor Snell, a friend of Urban's who did Irish dancing in the past, is very supportive of Urban's sport.
"I just thought that it was so cool that she found a sport that's so interesting like that," Snell said. "I think the costumes are really cool, and the shoes that they have to wear [are also cool]."
Another of Urban's friend, sophomore Clare Knutson, admires the uniqueness of Irish dancing.
"I think that it's something that not a lot of people do, so it sets [Urban] apart from other people," she said.
"I was surprised to learn everything that goes into it. It's really, really detailed and I didn't know that," Knutson added. "You have to get up hours earlier; you have to do your hair, you have to put on makeup, you have expensive dresses and shoes. And it's incredibly detailed."
Part of the "uniform" for Irish dancing is a dress. For team dances, dancers wear identical "class dresses." Higher level dancers get solo dresses for solo dances, which have unique designs.
"I personally like fire patterns [on my dresses]," Urban said. "Mine is red and black."
Another part of outfits for Irish dancing is a wig.
"Even if you have really curly hair you still have to wear a wig because there's a certain type of curl, like Irish curl, that you have to have, and wigs make it easier," Urban said.
"After a while [the costume] gets uncomfortable, but while you're dancing you don't really pay attention to it," Urban added.
For Urban, the benefits of Irish dancing far outweigh the negatives.
"It's never fun to go home extremely sore, potentially bleeding sometimes, but it's all for the better," she said.
"[I like] the rhythm, and I love the amount of choreography," she added. "[…] I personally love the synchronization of it."
Cover Photo Credit: Jessie Snyder/The Foothill Dragon Press