Raising a guide dog: a hard but rewarding experience
There are approximately 285 million visually impaired and blind people in the world; I had the opportunity to help one of them.
Last year, I raised a puppy for Guide Dogs of America (GDA), an organization that provides service dogs to those who are blind or visually impaired, for free. The cost means that there must be volunteers, and I was one of them. And like other Foothill students that were volunteers for GDA, I would experience frustration and fun while training my puppy.
In June 2013, I picked up my puppy, Paige. She was a golden retriever-labrador mix, and eight weeks old; you can imagine how cute she was. Immediately, my heart melted. Still, I thought in the back of my mind, she's not yours to keep. I knew that in about a year and half, I would have to give her back to the organization, where she would then undergo formal training.
Paige came home with me and was like any other puppy; she loved biting, chewing, playing, and sleeping. My hands and arms were covered with scratches those first months.
"Still, I thought in the back of my mind, she's not yours to keep," said sophomore Emily Kinnaman.
That was the hardest time. Although I didn't ever have to worry about teaching Paige complicated guide work (which is taught at formal training), it was my responsibility to teach her basic commands and overall good behavior. And as a puppy, she was far from what I'd hoped for.
Other student volunteers could relate to my experience. Senior Andrew Perez also felt some frustration when training his guide puppy, Phoebe.
 "Towards the start, it was kind of rough because you get them as a puppy so the puppy stage isn't [easy]," he said.
Paige usually didn't listen when I called her, or asked her to sit or stay. This was frustrating, because I knew what she eventually had to do, and I didn't see any progress on her part. 
"You kind of have to be mean to [the dog] in situations and it's kind of not the most pleasant thing," said senior Andrew Perez.
I had to learn to not allow the frustration at Paige to last. I had to realize that she was only a puppy, and I was doing my best. Perez said he felt the same way too.
"You have to be really strict with the dog, so you always have to be like constantly making sure it's doing what it's supposed to do, and you can't do things that normal dogs can do," Perez said.
"So you kind of have to be mean to it in situations and it's kind of not the most pleasant thing."
But as Paige became more mature and didn't require so much energy, she became a normal member of my family. She came everywhere with me: school, stores, restaurants, even Disneyland.
Before getting Paige, I had been so excited to take a dog with me everywhere. But when I actually did, it wasn't like I expected. Her behavior out of the house was never perfect, often far from it. 
Another volunteer, sophomore Clare Knutson, is currently raising her puppy, Jazzlyn. She said that maintaining control over her dog is difficult and can relate with my experiences.
"You can't just like walk into the store and get a bottle of water," Knutson said. "There's always going to be someone coming up and asking you questions, asking if they can pet the dog. It's hard to stay patient and remember that these dogs don't speak English and they're puppies, they're still learning."
"Probably in restaurants [is the hardest place with Jazzlyn]. There's so many people and there's so many food smells and [Jazzlyn] wants to socialize with everybody and she wants to eat the food. But she does a really good job of showing a lot of self-control," Knutson added.
[soundcloud url="https://api.soundcloud.com/tracks/185781102″ params="color=ff5500&auto_play=false&hide_related=false&show_comments=true&show_user=true&show_reposts=false" width="100%" height="166″ iframe="true" /]
So training a guide dog was far more work than I had expected; it was a lot of responsibility to care for and train Paige daily. Still, it was rewarding and often fun work.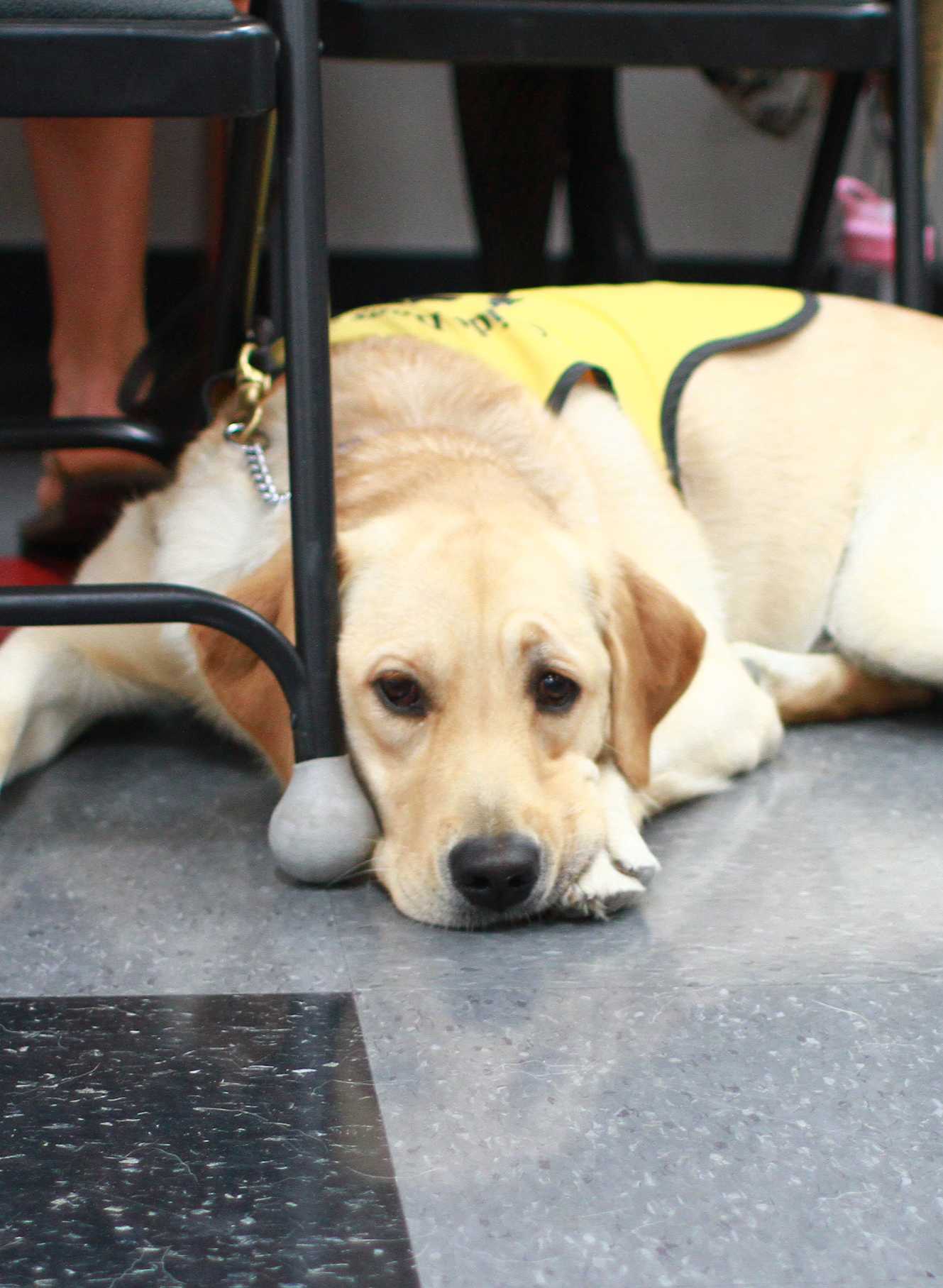 But no matter how well you train your puppy, it's really difficult for a puppy-in-training to become a guide dog. The puppy has to have good health, a good temperament, excellent behavior, and enough energy to work all day. To have all of these things in one dog is so unusual that roughly half of puppies-in-training become guide dogs, according to GDA.
"They have to pass a huge test, they have to pass a medical exam, and then they have to be calm in different situations, and then they have to be able to work effectively in harness," Knutson said.
As I was training Paige, I was unsure of whether she would even have the potential to pass. She had a lot of energy and loved going places, but also could be rebellious and too independent.
Junior Becca Nelson, who raised a puppy named Nick, experienced behavior like Paige's with her dog.
"[Nick] was super energetic and he would eat the carpet in my teachers' classrooms, he would rip off the rubber pieces of the chairs, he would be super bad," she said.  "So he went to formal training and he stayed there for two months, and then [GDA] called me and told me that he had failed due to his energetic behavior."
After about 14 months with Paige, I had to give her back. My family and I took her to GDA's facilities, where I put her with her roommate in the kennel that was to be her new home.
Many other people leaving their dogs were crying, understandably, but for some reason, I wasn't. Although I loved Paige, she had been so much work that it was somewhat of a relief to no longer have her. I had so long anticipated giving her back that it didn't feel sudden or shocking. And I knew that she was going to have a wonderful time living with lots of other dogs and always doing activities.
"when I found out that he had failed, that's when I got really emotional," said junior Becca Nelson about her puppy, Nick.
Although I have the option to keep Paige as a pet if she fails formal training, I genuinely want her to become a guide dog. I've come to realize that she could be the perfect dog to assist a blind person; her energy and independence are great traits for a guide dog.
Like me, Nelson didn't feel heartbroken about turning her dog in, and truly wanted him to pass.
"I was kind of on the fence, actually, when I turned [Nick] in for formal training," she said. "I wasn't emotional, but then when I found out that he had failed, that's when I got really emotional because I had wanted him to pass so bad and then he was, I wouldn't say a disappointment, but [a] dropout. And that's a little upsetting because of how much time and effort you put into them."
Although Nelson was hesitant at first, she and her family decided to keep her dog.
Perez also kept his puppy-in-training Phoebe because she became a breeder for GDA.
"I really wanted her to pass, and I knew it would be sad, but I'm really glad that we get to keep her now because she's a really good dog," he said.
As for me, I'm unsure as to whether Paige would rejoin my family if she doesn't pass. I just hope that she will pass, so I won't even have to make that decision.
"It's just amazing how dogs can do everything that a person with vision can do," said junior Becca Wilson.
Regardless of whether Paige becomes a guide dog or not, I am grateful for the experience of raising a puppy-in-training. Not only did I learn more about the blind community and the problems they face, I also learned how to be more responsible, patient, and persistent, among countless other things.
Nelson also appreciated the experience as well.
"I think it taught me a lot more about responsibility. And I never realized the means of blind people, I don't know, when you hear about a blind person, you don't think about everything that they actually need help with," she said.
"And in training this guide dog, you're like, 'wow, they have to be like perfect. They can't have any flaws whatsoever.' And it's just amazing how dogs can do everything that a person with vision can do. I just find that absolutely extraordinary."
Although I've gotten a few small updates from the organization about Paige's progress, I don't know when I'll know the final results. I hope she'll pass. Raising a guide dog was hard work, but fun and rewarding as well. I will remember my experience forever.
 Background Photo Credit: Sarah Kagan/The Foothill Dragon Press