Thacher defeats girls tennis team in home match (12 photos)
The girls' tennis team experienced their second major loss against Thacher High School during their last home match at Ventura College on Thursday with a final score of 15-3.
"We did the best we could, we just weren't good enough, that's all," said coach Brad McClain. 
"Today is a clear example of what happens when a good team goes up against a team that's number one in [Southern California's] Division V," he said.
Singles players sophomore Anna-Kate Levesque and senior Lea Menesklou managed to each win one of their sets. Levesque ended her last set by winning 6-4.
McClain highlighted how well Menesklou played against a good singles player from Thacher. She "shut out" her opponent, winning the set 6-0. Doubles
team senior Chrystal Guzman and sophomore Laina Feath also received praise from McClain for winning a tough tie breaker in their last set. They beat Thacher's doubles team by one game, winning the set 7-6.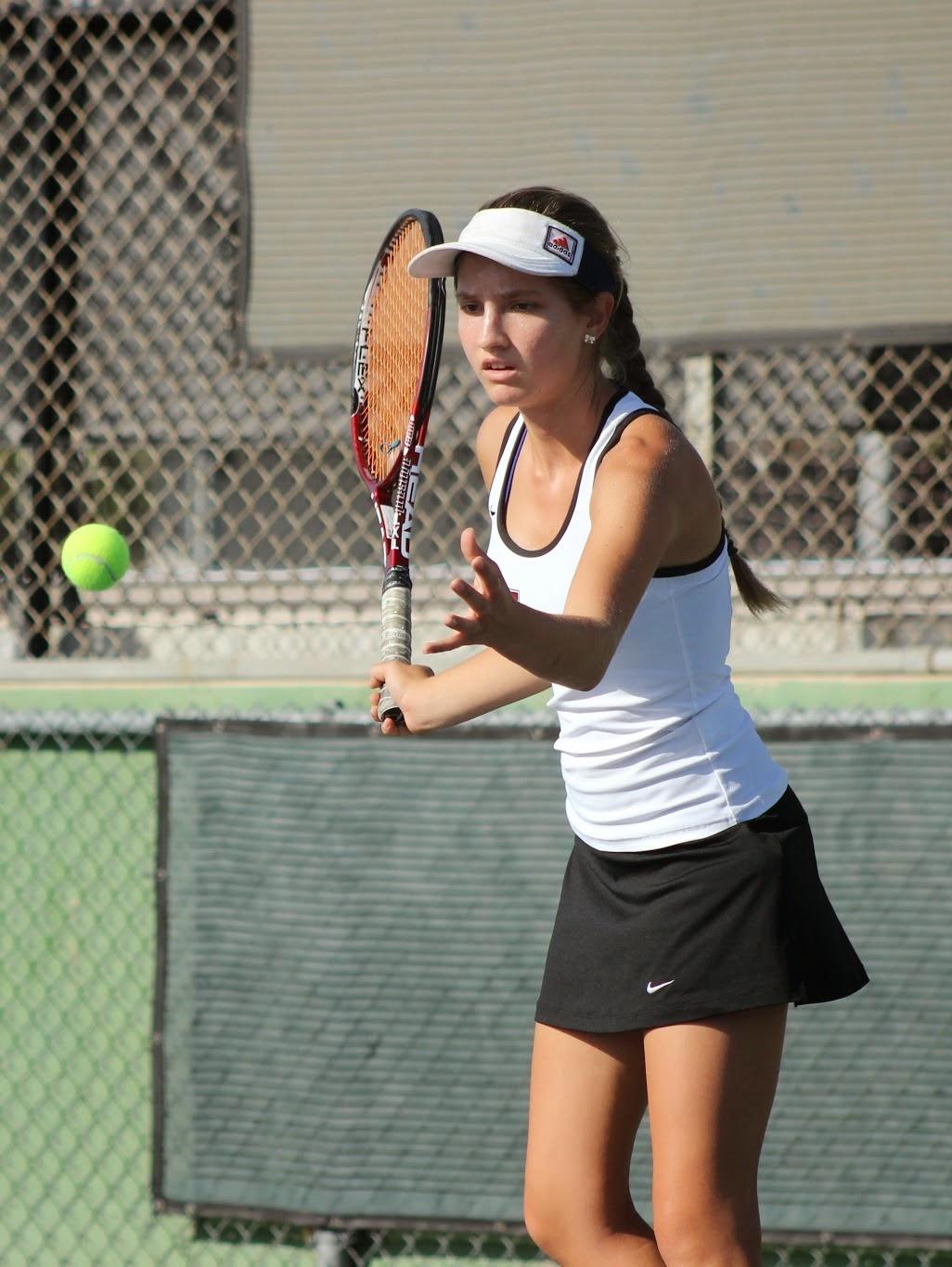 Once the last set had finished, both teams cheered for their opponents and filed into a line to shake hands with the opposing players.
After the match, the girls were disappointed, but also very optimistic about the experience the match gave them.
"Our team was doing really well and had a lot of victories but we didn't do very well today," doubles player junior Karina Cole said.
Cole felt that Thacher was a very strong team but it was fun to play them because Foothill has "never had this tough of an opponent [before]."
The players enjoyed how Thacher pushed them to play harder than previous teams had. "Even though we've won in the past, it's not as much fun because [other teams are] not as good," said Enkela Qoshlli. "These guys, they're a real challenge and it's fun."
Even Qoshlli's younger sister, Olga, a sixth grader at Cabrillo Middle School and future Foothill student, thought that "they put their best effort into it" and that "the challenge was good for them."
Thursday's loss does not finish off the season. The girls are now officially competing in playoffs with an overall record of 10 wins and three losses and a league record of nine wins and two losses. This will be the first set of playoffs that Foothill's sports have ever participated in and the players are extremely excited.
[soundcloud url="https://api.soundcloud.com/tracks/172531023″ params="color=d35312&auto_play=false&hide_related=false&show_comments=true&show_user=true&show_reposts=false" width="100%" height="166″ iframe="true" /]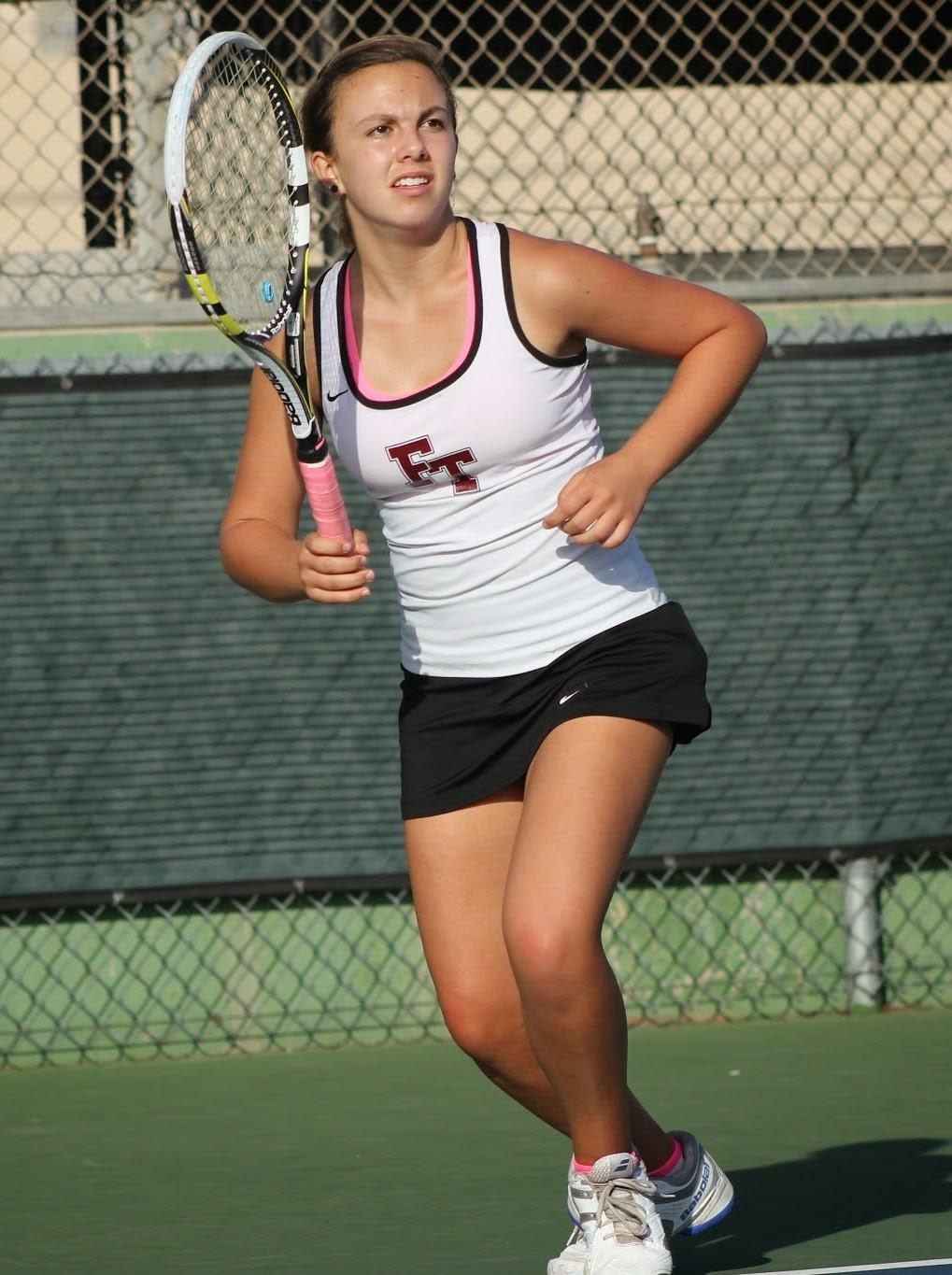 Cole mentioned that she is "a little bit nervous," but thinks that "they'll be really excited to have the opportunity to go."
McClain was also excited that the girls made it to the playoffs, considering that only four teams make the playoffs.
"My hope would be that finishing second place, we might get a home match for the first round of the playoffs but I really have no idea," said McClain.
There was much excitement on the subject of playoffs and McClain spoke about how far the team has come from the beginning of the season.
"We've improved our serving, we've improved our return of serve, and we've improved our rallying," said McClain. He added that the team also "had to learn how to support each other [and to] stay and cheer for your teammates that are out there fighting."
The defeat of Foothill by Thacher was a disappointment for the team, but they are not finished yet. Playoffs will be the factor to decide if the girls' tennis team will be the first to bring home a Foothill trophy.
The date of the match is yet to be decided.
 Backgroud photo credit: Rachel Horiuchi/The Foothill Dragon Press