New assistant principal Ron Briggs brings spark to Foothill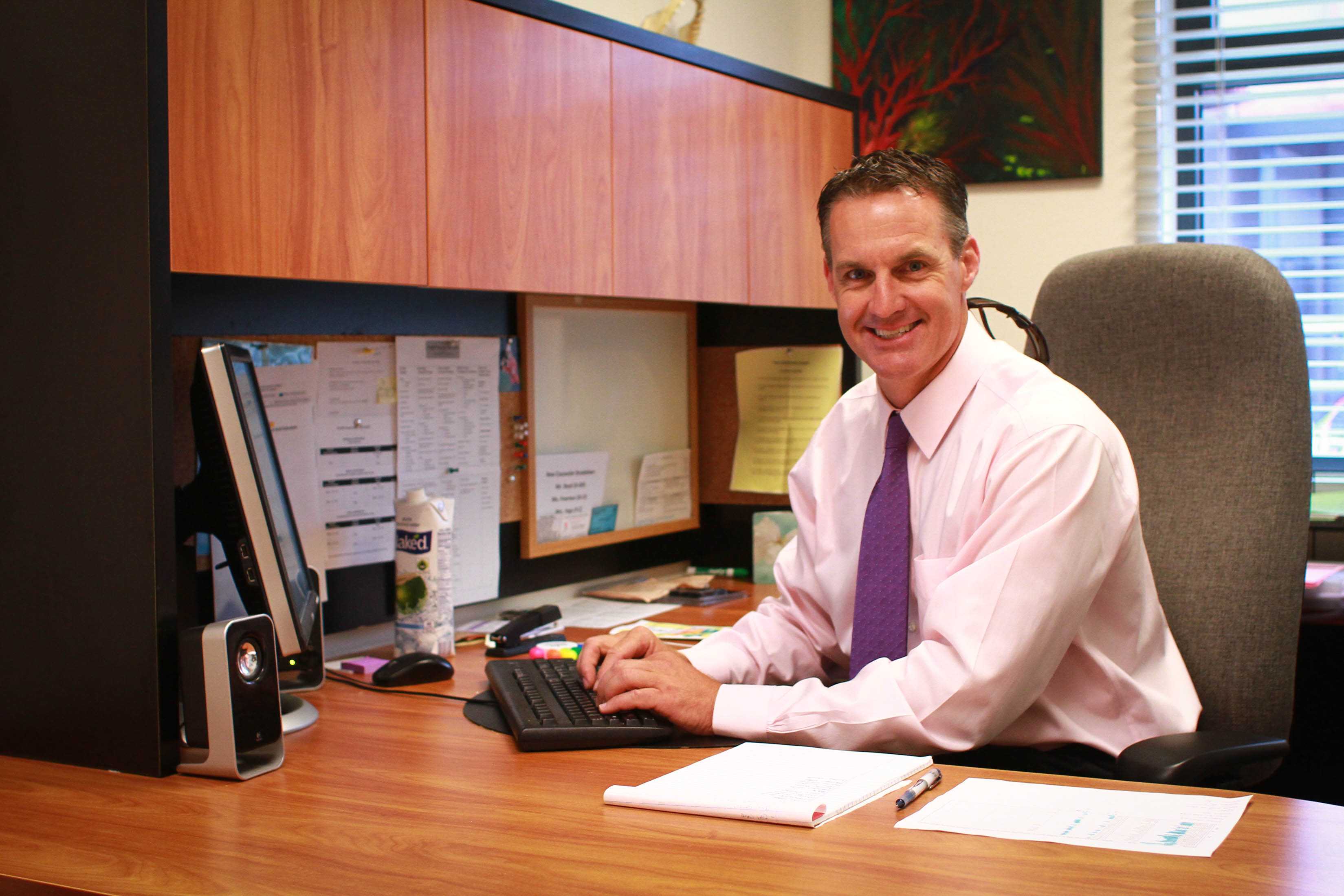 Editor's Note: Ron Briggs taught at Frontier High School for one year and at Hueneme High School for 16 years. He offered to coach water polo at Foothill but was informed that could not be assistant principal and a coach at the same time. This article was edited Sept. 19, 2014, 9 a.m. 
Whether it's practicing Brazilian Jiu-Jitsu or teaching ecology to a group of high schoolers, Foothill's newest assistant principal Ron Briggs has done it all.
After graduating high school, Briggs attended University of California, Santa Barbara and double majored in philosophy and environmental science. What interested Briggs about this particular pair of majors was the curiosity of how everything worked.
"I was always very curious and I think that's what helps for students to be curious about stuff. In science classes, it just answered all my questions about how things work […] I think that's why I love science so much," he said.
Briggs's original goal after college was to attend environmental law school. However, after taking an environmental education class and teaching ecology and environmental law for two weeks at a high school, he found a new passion. Briggs decided to wait a year on law school and instead, become a substitute teacher.
"I was going to try [teaching] for just a couple of years and then go back to law school, but I just never went back because I liked teaching so much," he said.
In between his substituting jobs, Briggs worked a number of different jobs such as commercial fishing and selling used cars and insurance. However, he was soon offered his first full-time teaching job at Hueneme High School.
In pursuit of his new dream, Briggs went on to become a science teacher and football coach at Hueneme High School for 16 years and later, taught at Frontier High School for one year. 
When Briggs decided to go into administration and heard about Foothill's opening assistant principal position, he was drawn to the school because of the high academic expectations and level of excellence.
"Not only is this one of the top high schools in the nation," he said, "that means the students are some of the top students in the nation and so that identity and culture are what have been created. And it has to be sustained, you can't ease up, so you have to keep pushing harder and harder to keep that ranking and to maybe get that ranking even higher."
[soundcloud url="https://api.soundcloud.com/tracks/165490882″ params="color=ff5500&auto_play=false&hide_related=false&show_comments=true&show_user=true&show_reposts=false" width="100%" height="166″ iframe="true" /]
"My first impression of Mr. Briggs was that he's approachable, friendly and really loves students," said assistant principal Katie Tedford.
Before hiring him, Foothill's principal Joe Bova coached with Briggs.
"He was always calm and really supportive of the athletes he was working with," said Bova.
Briggs also liked the size of the school and the small number of students.
"The thing that I liked about this school is the small size and I didn't want to go back to a large, comprehensive school yet, with two to three thousand students. When I was at Frontier High School, we had about 500 students. So I liked smaller schools and smaller staff, kids aren't usually anonymous," he said.
Briggs offered to coach girls water polo at Foothill, but was later informed he could not be an assistant principal and coach at the same time. 
"There are a lot of things I have to learn, so once I've learned more and have gotten more comfortable in the job, maybe I can help out with swimming or water polo," he said.
Despite his busy schedule, Briggs still finds time for surfing, mountain biking, kick boxing, and taking people out on his boat for commercial fishing. He also enjoys listening to old bands like Jane's Addiction and Modest Mouse.
Briggs looks forward to seeing students meet Foothill's high expectations and having their hard work pay off.
"I'm most excited about seeing the growth of the students and seeing how their hard work and curiosity and grit and determination pay off in the end and how it's going to give them a sense of satisfaction and confidence," he said.