Jump on the bandwagon with this year's festival fashion (9 photos)
Credit: Josh Ren/The Foothill Dragon Press
Every year Coachella kicks off the festival season with its multitude of people who are wearing the best festival fashion. Music lovers all over can be seen sporting distressed band T-shirts paired with denim cut offs and completed with a crown of flowers worn in their hair. However, the uniqueness of individual style comes together at these events.
The love of music and camaraderie contributes to the free-spirited style that festival-goers channel into their looks. This year's Coachella 2014 fashion pays tribute to the '90s. Flower crowns and stacked bracelets will continue to be all the rage at these events, but unlike previous years, trends such as acid washed denim and crop tops have resurfaced. Looks made popular by "Saved by the Bell" and bands of the '90s like Nirvana are resurfacing with a 21st-century spin.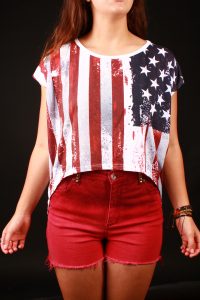 For example, high-waisted bottoms have become extremely popular this year. By adding embellishments and distressing some areas, it gives them a modern twist to go along with today's style. Also tying a button up flannel around the waist has become increasingly popular. Try adding this trend to a fitted outfit or even a loose crop top. Wearing a flannel as an accessory is a great way to add pizazz to an outfit, while still maintaining a 'laid-back' look.
It is apparent that styles of the '90s are making a rapid comeback. A wardrobe update is likely to follow the purchase of a festival ticket. Items such as fringed bikini tops and high-waisted shorts add a festival vibe to any outfit.
Whatever festival or music event you are planning to attend between now and into the summer, make a statement with old school crochet tops and flowy maxi skirts. The crochet adds texture while the maxi skirt balances texture with softness, creating an indie look.
Tribal prints and bright colors have also been popular trends of this year's festival fashion. Tribal prints are definitely a festival must if you want to make your look pop. Ranging in colors and styles, tribal print can be seen incorporated into every type of clothing, making it easy to incorporate into any look.
This year especially, pastels are a fashion necessity. The great thing about wearing pastels is that they their soft hues will brighten up a look. Pastels are the genius pairing of soft and pretty with a burst of color.
Although the previously listed trends above are primarily for females, there is a distinct male festival fashion look this year that happens to be influenced by a more urban and grunge styles. These styles are back with baggy shirts, bold texts, flannels, and combat boots. Even athletic garb such as sweats can be casually paired with Nike Air Jordans.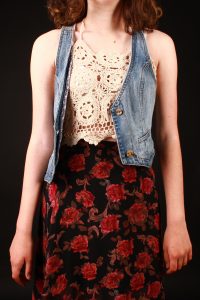 Instead of sporting the basic man tank that is often worn to these events, think about wearing your favorite team's basketball jersey. Basically the same idea, but a jersey creates a much cooler look as opposed to a boring tank and it can be used as a conversational piece, which is perfect for events like these where meeting new people is inevitable.
Also, recent hat trends have turned a classic baseball cap into a fresh new accessory. This unisex piece ranges from being labeled with brand names like RVCA, Hurley, and Volcom all the way to patterned caps that are complete with cheeky messages. Wearing a hat keeps the sun away from your face and is a subtle way to express one's individuality.
Since the festival season is such a massive phenomenon right now, get your summer look ready by getting inspiration from events such as Coachella. Take bohemian and hippie- inspired outfits and incorporate little pieces into your wardrobe to make them your own. Fun-loving tees topped off with quirky accessories that are inspired by your fave artist is a surefire way to get into the festival spirit.
Background Photo Credit: Josh Ren/The Foothill Dragon Press