Top ten Oscar dresses wow Twitter fans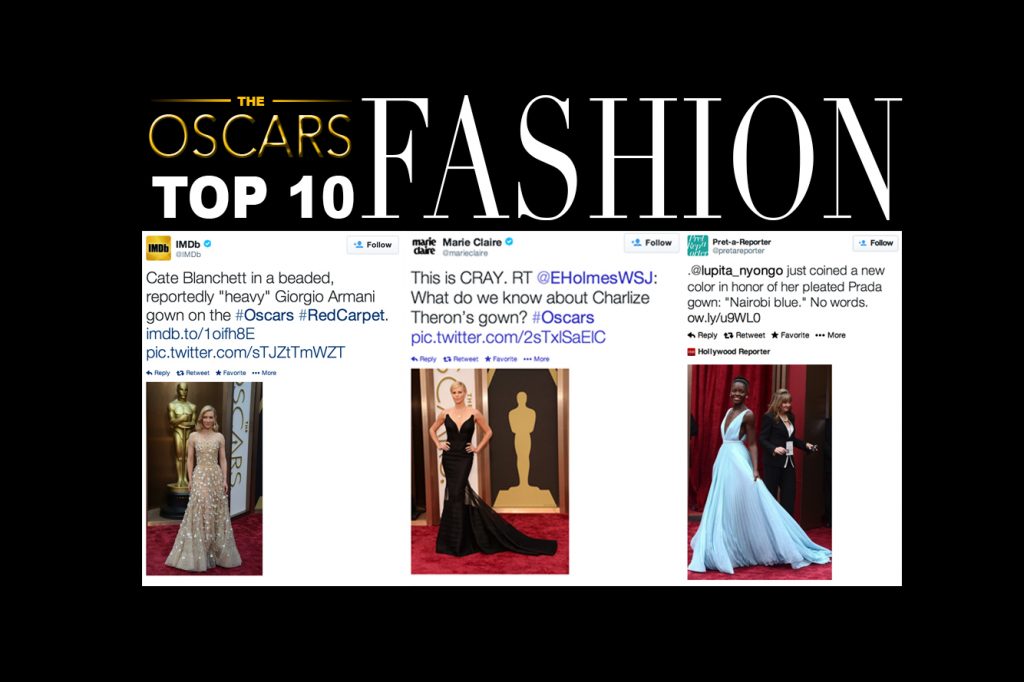 Talk of Dazzling Dresses bedazzles the Twittersphere
Dozens of Hollywood stars posed in their beautiful gowns on the red carpet for the 86th annual Academy Awards. Here are the Dragon Press's top ten fashion picks for this year and the reactions they inspired on Twitter.
10. Anne Hathaway
Anne Hathaway kept things simple and edgy in her embellished black floor-length Gucci dress. Her armor-like top was perfectly paired with the sleek black skirt. The beautiful embellishments and Neil Jane jewels sparkled, but because of the simplicity of the dress, Hathaway is ranked at number ten.
Anne Hathaway in embellished Gucci black dress. Yay or nay? #Oscars #Oscars2014 #GraziaOscars pic.twitter.com/zIX4MipVl2

— GRAZIA Indonesia (@graziaindonesia) March 3, 2014
9. Anna Kendrick
Anna Kendrick wore a beautiful J. Mendel gown. Kendrick showed some skin with the sheer bodice and slit leg, while also being modest with the draping and neck-line. The midriff detailing pulled the ensemble together with the intricate retro maroon pattern that went perfect with her Rauwolf clutch. Though Kendrick looked wonderful in this gown, it seemed a little casual for the red carpet, placing her at number nine on our top ten list.
In love with @AnnaKendrick47's #Oscars dress. See the unexpected back here: http://t.co/eOTDtVpuZy pic.twitter.com/F6lq1MSKBb

— PopCrush (@PopCrush) March 3, 2014

8. Jennifer Lawrence
Though Jennifer took a tumble during event, she looked like a summer's day in her orange Dior gown. Jennifer took a risk with a bright color and because of it, caused a lot of harsh attention and people saying that it was not "Oscar attire."  The dress fit her figure perfectly and the details on her hips added to the ensemble quite nicely.
This is the before…watch the hilarious after of J. Law's latest red-carpet FAIL: http://t.co/yNq3mOSAwK pic.twitter.com/UyYGN49k6q

— ELLE Magazine (US) (@ELLEmagazine) March 3, 2014
7. Emma Watson
The Harry Potter star looked quite adult in her sheer, metallic Vera Wang Collection gown. Her choice of sleek half-up, half-down hair and old-glamour makeup went quite well together, especially the red lipstick, which really popped against the gray base color of the gown. The construction of the gown was incredible and fell perfectly on Watson's body, which earned her place of number seven on our list.
Loved @EmWatson's classy look at the #Oscars. http://t.co/ovXK7y7jVk pic.twitter.com/TrPzjp7Ibb

— PopCrush (@PopCrush) March 3, 2014
6. Sandra Bullock
Sandra Bullock, a Best Actress nominee, looked dazzling in the strapless navy blue Alexander McQueen gown. The dress was beautifully draped and the navy blue fit perfectly with her skin tone. Her hair looked glamorous with beautiful waves on one side. Her dress was a classic Oscar dress, perfect for her body type and age.
Sandra Bullock in Alexander McQueen is quite ravishing. #oscars #fashion pic.twitter.com/axRUamq3GL

— Elizabeth Wellington (@EWellingtonPHL) March 3, 2014
5. Angelina Jolie
Jolie looked ravishing in her sparkling Elie Saab couture dress. The dangling silver embroidery all over the dress was flashy, yet not over the top. The cinched waistline showed off her beautiful figure, making her look amazing. Jolie pulled off a dress with a lot going on with grace, so she ranks right in the middle of our list at number five.
So beautiful #AngelinaJolie #Oscars2014 pic.twitter.com/pbaAuAIOUB

— Kristin Allen (@kristinallenart) March 3, 2014
4. Amy Adams
Adams looked flawless in her dark navy Gucci dress. It was simple yet elegant, and was constructed so beautifully that it looked like the dress was made for her. The simple folding on the bust and right hip added a beautifully subtle detail. Adams nailed navy on the red carpet. The incredible construction and solid color helped earn her place as number four.
Amy Adams hits the #Oscars #redcarpet in Gucci Couture. What do you think of her sleek look? http://t.co/yGQunlwPbl pic.twitter.com/3O48KtJmRI

— Harper's Bazaar (@harpersbazaarus) March 3, 2014
3. Charlize Theron
Theron stunned in her black Dior dress. The bust of the dress was remarkably well done and she pulled off a wonderful train without being consumed by it. Theron always looks amazing, and this stunning dress did her absolute justice with the long train and intricate bust.
This is CRAY. RT @EHolmesWSJ: What do we know about Charlize Theron's gown? #Oscars pic.twitter.com/2sTxlSaElC

— Marie Claire (@marieclaire) March 3, 2014
2. Cate Blanchett
The Best Actress winner for her performance in "Blue Jasmine" dazzled onstage while she accepted her award. The intricately designed embellishments were dispersed so elegantly and created a beautiful effect on stage. Though it was a simple nude color, the construction and beading on the dress made this dress almost the absolute winner.
Cate Blanchett in a beaded, reportedly "heavy" Giorgio Armani gown on the #Oscars #RedCarpet. http://t.co/Zk5kdIXE6V pic.twitter.com/sTJZtTmWZT

— IMDb (@IMDb) March 3, 2014
1. Lupita Nyong'o
Lupita was absolutely breathtaking as she accepted her Best Supporting Actress award in her Nairobi Blue dress. Though the dress was very low-cut, she still looked modest in her gown. Lupita helped design this custom-made Prada dress and was inspired by champagne bubbles (if you look closely on the pleats you can see them). The actress looked so elegant in the beautifully pleated dress, and was an absolute dream in the floor-length gown, earning the top spot of No. 1 on our Top ten Oscar dresses of 2014.
.@lupita_nyongo just coined a new color in honor of her pleated Prada gown: "Nairobi blue." No words. http://t.co/mpKE5Uglhv

— Hollywood Reporter Style (@thrstyle) March 3, 2014