With spring soon approaching, finding cute and expensive sun dresses is an obstacle many women go through. This obstacle can be simply solved with a good eye and choice of thrift store. Dresses are an article of clothing many women find to be a staple for their spring wardrobe. These necessities can be bought for under $10 if you know where to look, from the classic "little black dress," to a retro '50s dress perfect for a summer day, finding one of a kind dresses under $10 at local thrift stores can be quick and easy.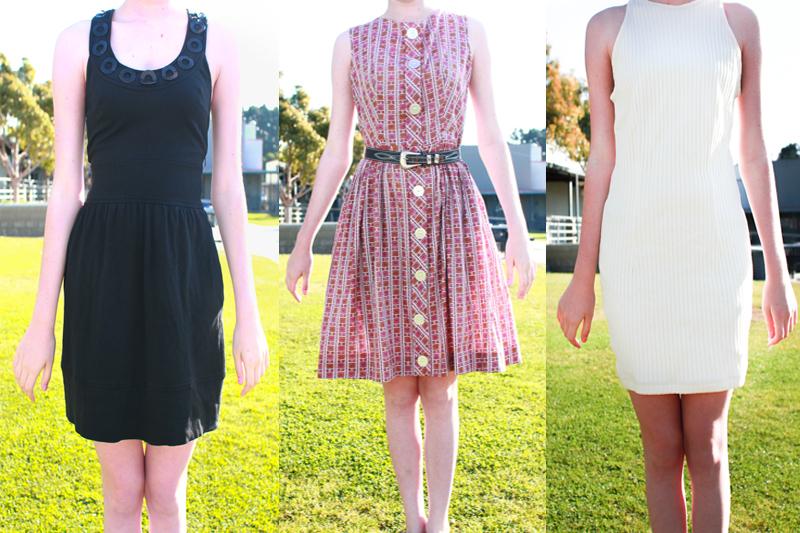 The "little black dress" with leather circles at the collar is perfect for a casual school day look but can also be transformed into the perfect job interview ensemble with a pair of black tights and a blazer. The '50s-esque vintage pink-patterned dress is perfect for a hot California day and looks great paired with a belt and a pair of oxfords. Lastly, the white cotton halter top is definitely one of a kind dress that not many have. It would be great paired with a turtleneck and tights for chilly days. All three dresses were found at The Arc Foundation Thrift Store, each under $5.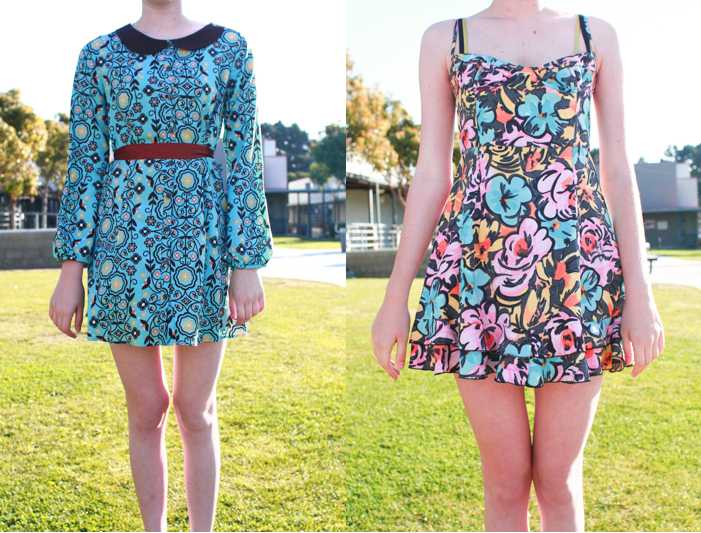 Buffalo Exchange is a buy, sell and trade repurposed clothing store that specializes in vintage and urban clothing at decent prices. Many dresses at Buffalo Exchange are sold brand new, with the tags still on them, including the dresses shown. The baby blue and brown-patterned dress is great for a party or school because it's comfortable, yet cute, and its retro pattern and shape make it unique. Lastly, the multicolored TigerLily baby doll dress's bright pattern and cut make it perfect for pairing with your favorite swimwear on the beach.
Cash for clothes daily! Clean out your closet with Buffalo Exchange. pic.twitter.com/MWdLOISWuF

— Buffalo Exchange (@buffaloexchange) February 20, 2014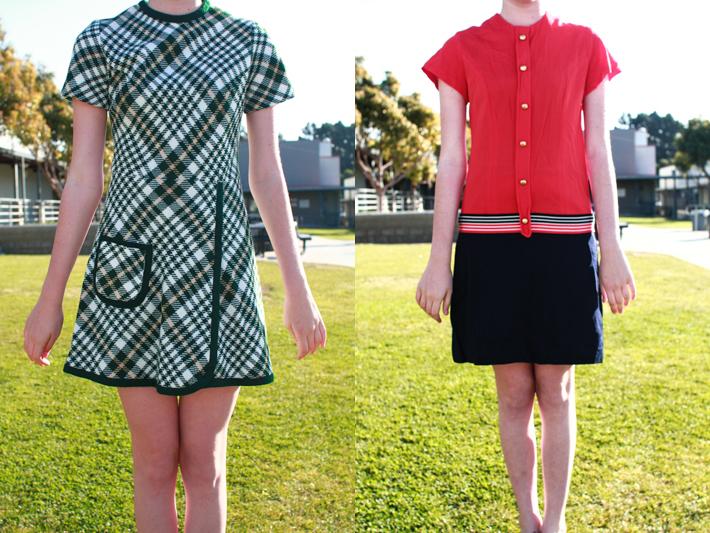 Bold, funky pieces can be found at almost any local thrift store. This homemade green and white plaid dress was found at the Goodwill of Ventura on Borchard Blvd. This dress is great for a dinner party or a day out with friends, bringing a little retro vibe your look. If you really want to make a statement (and a loud one at that) this orange and navy scooter dress is perfect. Sold at The Arc Foundation Thrift Store on Main Street for $2, its vintage tags and gold buttons are still intact, and was most likely a woman's uniform in the '60s. Wearing this dress may draw attention to yourself, but owning your individuality will make it all worth it.
An even easier way to find inexpensive pieces is during sales at local stores. Every Wednesday, The Arc Foundation Thrift Store downtown has a weekly "three-for-one" sale, where you can pick three specially tagged items and get them all for the price of the most expensive item. This can turn simple shopping into a scavenger hunt. Buffalo Exchange has an annual "Dollar Day" sale in April, where a large portion of their clothing is one dollar and all proceeds go to the Humane Society of Ventura County. It's an awesome sale that is great on your wallet but is also for a great cause, and usually causes a long line.
Finding dresses under $10 is easy if you're willing to do a little hunting. Thrift stores, sales, and the internet are all great places to find amazing, unique, and cheap clothes.