Fall fashion trends: the fleeting and the forever (13 photos)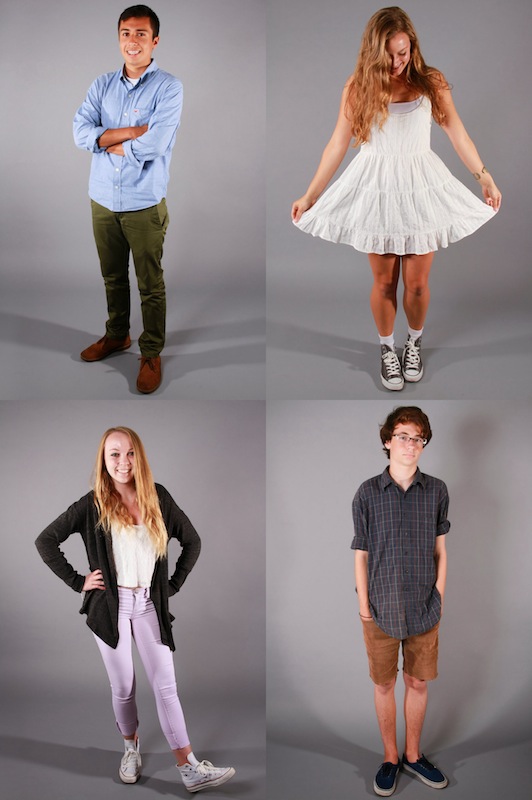 Like the seasons, trends are constantly changing. There are several fashion trends at Foothill that are growing in popularity, but will they withstand the test of time?
Brandy Melville, a brand of clothing that is trendy, feminine, and features a wide variety of cropped shirts and prints, is arguably the most noticeable trend at Foothill. High-top converse, cuffed pants, rings, and the "hipster" look is also very popular right now.
"I've probably seen like 20 girls just at our school who are wearing it [Brandy Melville] and they have certain prints that are really popular like the daisy prints. If you see that print it's Brandy," junior Paris Dosch said.
Brandy Melville will probably last through the whole school year. It has clothing that appeals to most teenage girls, because it has different prints, fits, and styles that flatter different body types and are irresistible to high school students.
Senior Brittney Peterson had a lot to say about the prevalent fashion trends at Foothill.
"Definitely for girls Brandy Melville, a lot of tees with writing on them, and high skirts, and for guys, I see guys with cuffed pants a lot. And man tanks are always in," she said.
Rings are an American staple, and they will stay in fashion for a very long time.
"Midi-rings are really in right now… I see a bunch of jeweled rings, like big ones," freshman Alli Shields said.
Cuffed pants and high-top converse will stay in fashion because they both compliment each other, and are an easy way to change up an outfit. The "hipster" look is beginning to fade in popularity because it has been overdone and is no longer seen as genuine.
We'll see where these fall fashion trends take us. Will they fade out as quickly as they became a statement or will we see them inhabiting teenagers' closets for a while?
Credit: Aysen Tan/The Foothill Dragon Press