In the Every 15 Minutes simulation, senior Lauren Dalmatoff played the role of Michael Vaughan's tutor, and was being driven home by him when a drunk driver caused a head-on collision. Because Dalmatoff had forgotten to equip her seatbelt, she was flung out of the windshield. As paramedics arrived on the scene, she was immediately classified 'deceased.'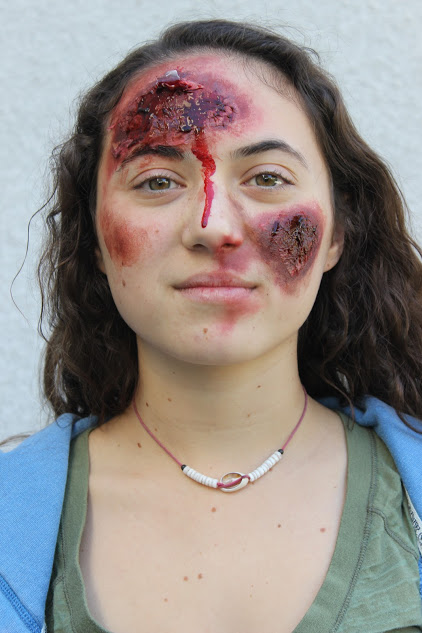 In the Every 15 Minutes simulation, senior Lauren Dalmatoff played the role of Michael Vaughan's tutor, and was being driven home by him when a drunk driver caused a head-on collision. Because Dalmatoff had forgotten to equip her seatbelt, she was flung out of the windshield. As paramedics arrived on the scene, she was immediately classified 'deceased.'
Dalmatoff has been Associated Student Body's treasurer for two years, a competitive figure skater, a performative dancer, and a Bioscience Academy student, and considers herself to be productive. Because of what she has seen in people around her, she felt that her strong understanding of the consequences of decisions would be of use in Every 15 Minutes.
"I had seen a lot of people not taking driving seriously. I've been driving for a little bit over a year now- I see people just making poor choices, and I know I feel I have a strong sense of how that could affect me and affect people around me," Dalmatoff said. "I just wanted to take this opportunity to promote safe driving, and promote awareness of how impactful every choice could be."
[soundcloud url="https://api.soundcloud.com/tracks/235999497″ params="color=ff5500&auto_play=false&hide_related=false&show_comments=true&show_user=true&show_reposts=false" width="100%" height="166″ iframe="true" /]
"Luckily, I haven't lost anyone or had anyone injured, but — I've seen close," she said.
When Dalmatoff volunteered for Every 15 Minutes, she didn't intend to be laying on the roof of a car as the Dead on Arrival.
"I had originally said I did not want to because I have to be put in a body bag, […], but Duffy asked me and I said yes," Dalmatoff said. "I don't really know how to put [my feelings] into words. Definitely nervous, and I'm excited to be a part of the message, and to have my chance to kind of say what I feel."
During the simulation, Dalmatoff was apprehensive, but remained still while acting out her role.
"[I felt] mostly scared, and it was just kind of like everything has been building up. There was a lot of fear and anxiety over the unknown of it actually happening," Dalmatoff said. "Hearing Kevin and hearing Michael, and hearing all the people around me, and then just thinking that everyone that I love is around me watching it, […] [I felt] mostly fear and sadness. Is there even a word for it?"
Some of the unknown, such as how she would be transported by the coroner, also contributed to her fear.
When Dalmatoff was placed in the coroner's vehicle she felt "every emotion imaginable," commenting that she felt "scared" and "exhausted" and overall "very overwhelming and emotional."
As the DOA, Dalmatoff was pronounced dead right away.
"I was classified as deceased right away," Dalmatoff said. "I knew they would rip [the triage tag] off to where it said deceased on my wrist, and it was like a moment of 'woah.' It's not real, but it's happening right now."
Many of her friends and classmates were affected by the simulation, each missing her, despite understanding that she is alive.
"I feel really heartbroken and sad. I don't know how to explain it. I can't really put into words how much I miss her just watching that," senior Bailey Liljekvist said. "Big loss, big loss to Foothill, big loss to her family and friends."
[soundcloud url="https://api.soundcloud.com/tracks/235999552″ params="color=ff5500&auto_play=false&hide_related=false&show_comments=true&show_user=true&show_reposts=false" width="100%" height="166″ iframe="true" /]
"Out of words that I'm allowed to say to a teenager: It sucks. I hate it. I absolutely hate the whole idea that she's gone," ASB advisor Melanie "Captain" Lindsey said.
Had the simulation's events actually transpired, many lives would be affected by Dalmatoff's passing.
"I think [her family] will be affected tremendously. It's a hard thing to grasp," Liljekvist said. "I would say that I am deeply sorry for their loss and thank [them] for blessing me with Lauren and all the time I got to spend with her."
After staying the night at Foothill, Dalmatoff attended her own funeral the next day, finding emotion where she didn't expect to.
"I was expecting it to be more emotional in different places," Dalmatoff said. "I didn't expect walking past that corner with Kevin who had also died and surrounded by everyone and seeing my body on the car on that huge screen, and that really took my breath away."
Asia Moore's eulogy also evoked emotion.
"[I] definitely felt sad and I would say I felt kind of like, there was a lot that she was saying that I was not ready to give up, all of those things about me, all of the experiences and memories, it was kind of like, 'I'm not done with that,'" Dalmatoff said.
Overall, Dalmatoff felt that the simulation has made her want to show others the importance of decisions.
"A lot people already know, but I'm definitely against underage drinking and I just think that there's so much else that can go wrong in life, I just don't see the point in adding something that can harm yourself or harm other people around you," Dalmatoff said. "I do have a strong sense of how important decisions are, and I think this just made it a lot stronger, and made me really want to show the people I love and tell everyone how important it is."
"If I had died, I would want everyone to just remember how short life can be and how important every interaction we have together is, you never know when your last words are going to happen, you'll never know when the last interaction you have with someone is, so just I would want everyone to kind of look at life in a different way, step out of 'What clothes am I going to wear,' 'How does my hair look,' 'Oh, do I have the iPhone 12 or whatever,' and just kind of recognize how important we all are."