.
[dropcap size=dropcap]A[/dropcap]lthough the blood was fake, the crash was staged, and the "dead" were still alive, the effects of Thursday's Every 15 Minutes were too real for some.
"It is never a good thing to hear your sister is dead," junior Carson Graves said after it was announced his sister, Emily Graves, had passed on.
Every 15 Minutes is a program that aims to raise awareness of the dangers of drunk driving.
Every other year, Foothill partners with the Ventura community to stage a crash scene in front of the school complete with law enforcement, two wrecked vehicles, and student actors. This is the third time Foothill has participated in the event.
"The first year it was pretty low scale but now we do the full program," principal Joe Bova said. "It makes a big impact on kids to see people they know [involved in the crash]."
"We try to make it as real as possible so we can get the point across and prevent them from drunk driving," medical examiner James Baroni said.
Beginning at 8 a.m. Thursday morning, two students were pronounced dead every fifteen minutes leading up to the initial simulation at 10:45 a.m.
The first students to be announced dead were juniors Blake Silva and Victoria Bonds.
Bonds hopes that the program impacts students.
"A lot of people don't take it seriously because it's fake, but you have to think, what if this was my last day with these people? Or my last day period? You have to think carefully before you get in that car," she said.
Other "living dead" were juniors Tyler Cobian, Angel Mayorga, Bridget Coonan, Daysi Perez, Paris Trollope, Kayalin Akens-Irby, Camille Werner, David Birdwell, Emily Graves, Andrew Nyzynk, Shannon Thirion, and Karina Schink and seniors Mallory Woertink, Memo Mederos, Anissa Robles, Amanda Torres, Christian Reed, and David Hernandez.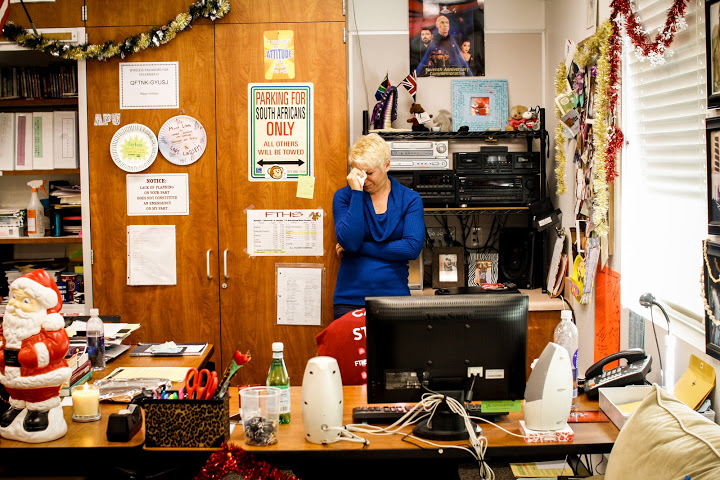 After their names were called, a California Highway Patrol officer would visit the "dead" students classroom, read their obituary, and place a rose on their empty desk.
"It is always a tragedy when someone dies in a traffic collision, but even more so when a young person dies," CHP officer Steve Reid said. "If this were real, [the living dead] aren't coming back and they aren't the only victims. There are parents, loved ones, friends, and classmates."
Before the juniors and seniors witnessed the simulation, they watched a video of a party scene created by the CAPS team. The video depicted risky behavior and set the stage for the crash scene.
As students filed into their seats they saw classmate Carly Camarillo lying across the hood of one of the crashed vehicles with junior Austin Takeda in the driver's seat.
Takeda was interrogated by the police and confessed to texting behind the wheel. He was also suspected to be under the influence of alcohol.
In the second vehicle, seniors Marnie Vaughan and Stephen Mariani, both visibly injured, were attended to by police and firemen. Mariani was put on a stretcher and taken to the Ventura County Medical Center while firefighters removed the top of Vaughan and Mariani's vehicle. Vaughan was then placed on a stretcher and taken to the hospital as well.
"It put into perspective how much I really love my sister and what it would be like if she was gone," sophomore Nick Vaughan, Marnie Vaughan's brother, said.
Meanwhile, Takeda was given a series of tests from an officer to assess his blood alcohol content.
According to his breathalyzer test, Takeda's blood alcohol level was .14 and he was arrested for a felony DUI. The legal limit for a person over the age of 21 is .08, but because Takeda is a minor any amount alcohol is illegal.
Brian Kremer, an engineer paramedic, hopes this program will cause students to second guess bad decisions.
"I hope they will wait until they are 21 to drink, but I know that is not the case for all of them so I just want them to have a designated driver," Kremer said.
After Takeda was arrested, the medical examiner arrived and placed Camarillo in a body bag.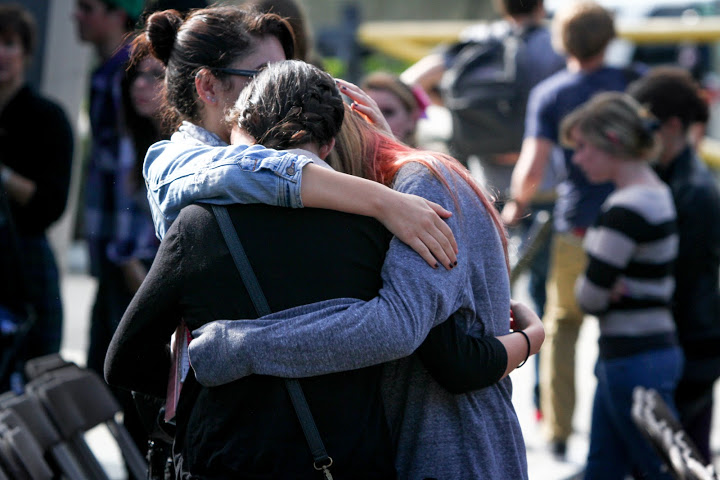 The coroner's exit was followed by a short speech from Bova and the students were dismissed.
The "living dead" and actors were transported in a bus to VCMC where they arrived in time to witness Marnie Vaughan's "death." Vaughan's mother was deeply moved by the hospital scene.
"I was really worried about her. I knew that she wasn't acting, at that point I knew that she was being serious," Marnie Vaughan said about her mother.
After Mariani and Takeda were medically cleared, the "living dead" and the actors were transported to the Ventura City Police Station. At the station Takeda was booked by Officer Tony Gomez and the students were given a tour of the holding cells.
The students' last stop was the Ventura County Government Center where Takeda was "put on trial." 
The judge for the simulated trial, Jessica Giguere, charged Takeda with second degree murder and gave him 15 years to life in prison, the highest sentence available.
The students were then taken back to the school where they were to spend the night. They were not allowed to contact any friends or family as a way of emphasizing their absence.
Students were not the only audience. Teachers and staff felt the effects of this program as well.
"From a personal standpoint, my husband lost his mother in almost the same exact situation," science teacher Mika Anderson said.
Although not everyone felt this event made lasting impacts on students lifestyles.
"It's a good thought, but ridiculous and overdone," junior Spencer Herson said.
"[It didn't really impact me because] I didn't really know any of them, but if I knew them, I guess it could," freshman Tara Do said. 
Editor's note: Features editor Kienna Kulzer also contributed to the reporting of this article.
Credit: Bethany Fankhauser & Aysen Tan/The Foothill Dragon Press
Credit: Aysen Tan & Jackson Tovar/The Foothill Dragon Press
Background photo: Senior Marnie Vaughan, who played the part of a critically injured victim in the simulation, is pulled out of a vehicle by firemen. Credit: Aysen Tan/The Foothill Dragon Press