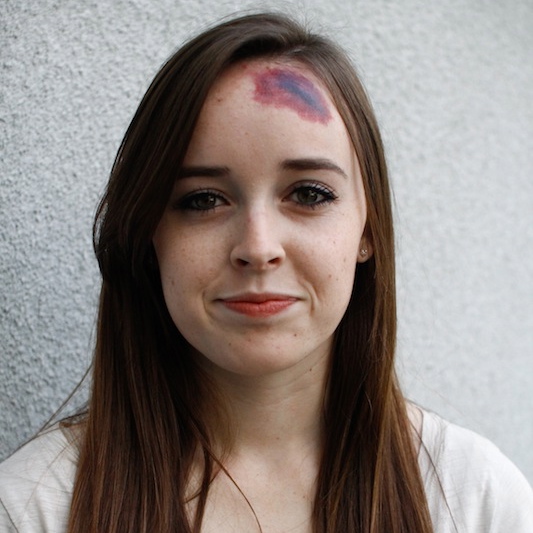 Although she's been busy participating in speech and debate and PAAC, applying to college, and maintaining her grades, senior Marnie Vaughan was insistent upon participating in Every 15 Minutes because of her strong beliefs in preventing drinking and driving.
"I decided to take part in it initially because I feel so passionately about not drinking and driving, so it only reaffirmed how I felt before, and made me all the more cautious," Vaughan said. "I think that being an active participant in an event that is against drinking and driving is really important. I was just really lucky to be picked, so I thought 'why not?' "
When she was assigned the part, Vaughan wanted to check with her parents first, knowing it would affect them more than her.
"I knew it was a lot; I knew that being one of the people that dies is a lot to take on. I think the biggest issue was making sure it was okay with my parents. It is a big deal for them to have to act like I am not alive anymore, but I was fine with it," she said.
Before the day of the car crash scene, Vaughan was nervous, but not about the actual simulation. It was her "funeral" the next day that was making her anxious.
"As far as the actual simulation, I think everything will go as planned," she said Thursday morning before the scene was set. "We have very qualified people taking care of the whole thing. I'd be lying if I said I wasn't nervous, just because it is kind of a big deal, and I sort of have to attend my own funeral the next day. I am scared to see what it will be like for my friends to read my eulogy."
At Vaughan's "funeral" senior Annabelle Warren read her eulogy. 
"I was perfectly fine until Annabelle read my eulogy. I had no idea what it was going to be like and it was really hard to hear, but it was beautifully written," Vaughan said.  "I was really appreciative to have a friend that did that for me."
Vaughan hoped that it would be realistic and show the students that "this happens on a daily basis, and we're not exempt from it."
"I've never have been drunk driving; I've never been in a car with someone who was drunk.  So I don't know what it's like, but it made me realize that I have done well so far and that I would never ever do it in the future," she said.