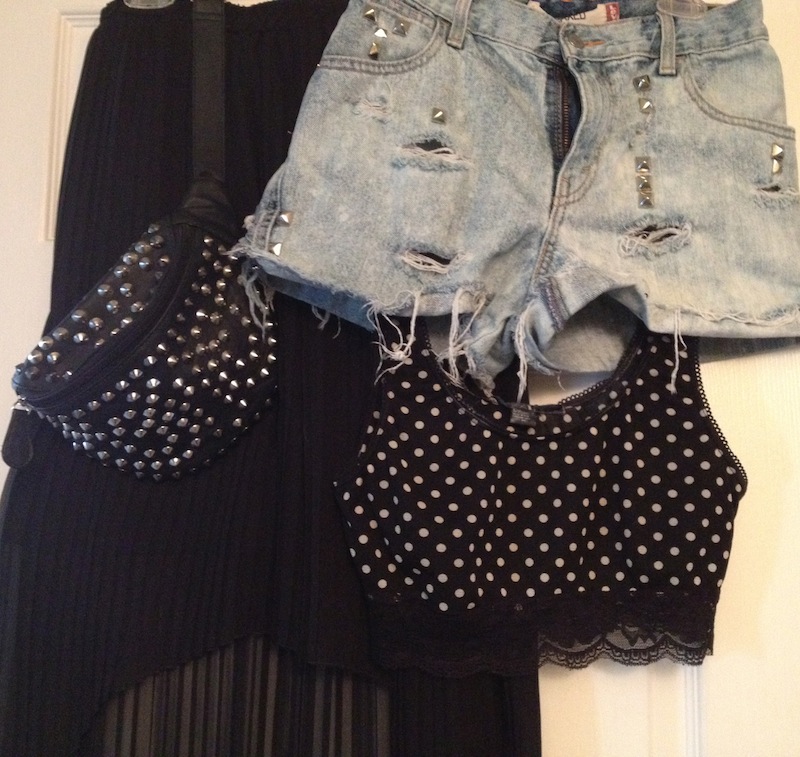 Festival season is upon us, and Coachella's first weekend has just finished. I had the life changing opportunity of attending this year, and after watching the amazing shows and scouring the venue each day for the fashion statements, I can narrow down four of the most popular trends. Whether you have the privilege of attending one of these incredible events or are going to a nearby concert sometime in the future, here are the four latest fashions that can take your outfit to the next level.
Statement #1: High-waisted Levi's shorts
Every girl and their mom wore classic Levi's high-waisted shorts to Coachella. These shorts are the staple of any festival that sports warm weather. Two out of the three days I wore my own remixed versions of the classic pant. Friday I wore light blue ones with variously placed silver studs, and Saturday I wore black shorts that also had dispersed studs, both of which I found on the unique website Etsy. These are only two of multiple crazy styles; I saw girls with tie-dyed, colored, fully studded, and acid-washed high-waisted shorts. Pair these with a bra top, a tucked in tank, crop top or button down breezy blouse.
Statement #2: The reinvented fanny pack
Fanny packs are often considered the classic nerdy accessory, but the newly styled ones rock. Multiple girls at Coachella wore black studded fanny packs. These hardcore accessories looked fabulous and held everything without the hassle of carrying around a purse or looking dorky with a green, fashion faux-pas fanny pack.
Statement #3: The high-low skirt
Long skirts were frequent at this festival, and even more frequent were skirts that were short in the front but elongated in the back. These skirts were often black, but my favorite one had a vintage feel with little patterned palm trees on it. A tucked in tank is the way to go with this popular and flattering skirt.
Statement #4: Bra tops
At Coachella, the daytime is normally scorching hot, unlike this year which surprisingly brought rain. Therefore, many girls preferred to simply wear bar tops, also called bandeaus. This look can be bold, but they look great with high-waited shorts. My favorite bra top look was donned by singer Grace Potter. She wore high waisted leather shorts and a tribal patterned bra top with straps. She wore a sheer black cover up that was long-sleeved, thigh-length, fringed and ended at the calves over her outfit. You could still clearly see everything underneath the sheer black, yet I enjoyed the modesty it created.
These four styles sum up Coachella 2012 festival fashion, but you don't have to be going to a festival to use these ideas. A concert in Ventura or Los Angeles suffices for an excuse to rock out with a studded fanny pack or flow with a changing length skirt.