Wrap-Up: Cross country races at Mt. SAC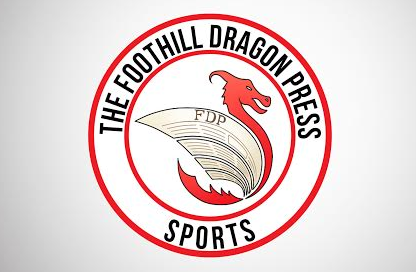 Rugile Pekinas
October 29, 2015
The cross country team raced at the world's largest cross country invitational at Mt. San Antonio College (SAC) for the second time last Friday, and now ranks first place in the TCAA league.
Freshman Sophie Kirkegaard was the first to finish for Foothill in the Division IV and V girls' race, coming in eighth out of 181 runners with a time of 21:38.
The first Dragon across the finish in the boys' freshman Division IV and V race was freshman Henry Pick. Pick took second place out of a total of 209 racers, with a time of 17:31 for the three-mile course.
In the boys' sophomore race, Trey Caswell finished second with a time of 17:24 while Chris Kuchta finished fourth and Alec Llamas finished ninth with times of 17:48 and 18:15, respectively. They raced a total of 196 runners.
Sophomores Olivia Burton and Maizie Anders took sixth and eighth place, respectively, in the girls' sophomore Division IV and V race. Burton's time of 21:30 and Anders' time of 21:36 placed them both in the top 10 out of 169 runners.
In the girls' Division IV and V junior varsity race, senior Bryce Kulzer was the first Foothill runner to finish, taking 24th place out of 149 runners with a time of 24:07.
Junior Justin Adams finished first for Foothill in the boys' junior varsity race, coming in 24th place out of 78 runners with a time of 19:29.
In the boys' Division IV and V junior varsity national championships, four Foothill runners finished in the top 15, with junior Dan Thow leading the pack in eighth place with a time of 18:02. Juniors Brodie Shore, Jonah Bufford and Joshua Ramirez took 10th, 11th and 12th places, respectively.
With a time of 20:08, freshman Lauren Kearney finished in 20th place in the Division IV girls' sweepstakes out of 85 competitors. Junior Raquel Tadeo came a close second with a time of 20:17 in 23rd place.
In the boys' sweepstakes, senior Moses Bojorquez broke Foothill's record by finishing first out of 93 runners with a time of 15:15 while junior Jared Rodriguez trailed a close third with a time of 15:49.
To Head Coach Ken Reeves, Bojorquez was one of the standout runners.
"He [Bojorquez] won the Division IV sweepstakes race," Reeves said, "a first for the Dragons."
Bojorquez's initial reaction was shock when he realized he had won.
"I couldn't believe that I won the race […] Then I turned around and was happy to see Jared Rodriguez coming fast through the finish line," he said.
Bojorquez credits his hard work and dedication throughout the season in helping him gain this achievement.
"It was such a great accomplishment, I have been training my hardest all this season and it was nice to see it all come together," he said.
Though she was proud of her teammates' accomplishments, for sophomore Maize Anders, the Mt. SAC meet was first and foremost "a learning experience."
"I think as a team we need to improve on committing to the race. I noticed at this meet a lot of people were nervous before their races […] and that's okay to be nervous, but you also can't let that interfere with your race," Anders said. "I think that we are improving as a team, […] but I think that if people had committed a little more into the race and not actually worr[ied] about it we would have been stronger."
However, Anders was still happy with her team's performance.
"I am proud of what we did as a team," Anders said, "and whether or not our times showed it I think everyone is putting in an amazing effort and that just makes me a proud teammate."