Occupy Ventura marches against top one percent (84 photos, video)
.
[dropcap size=dropcap]A[/dropcap]bout 200 people joined the Occupy Ventura movement in Mission Park today to show their support for the protests that have sprung up around the world since New Yorkers began rallying on Wall Street a month ago.
"Today signifies an international day of solidarity across the globe for what originally started as Occupy Wall Street, and I felt that I needed to come out on this day in solidarity," said Kyle Stewart, 42.
Though Stewart lives in Los Angeles, she decided to support Occupy Ventura with friends and family who live in the area.
Occupy Wall Street has inspired countless "Occupy" movements
across the world
, but some have not been as peaceful as others.
Today, about 70 people were injured in Rome, and more than 70 people were arrested in New York's Times Square. In Ventura, both the Occupy Ventura supporters and the Ventura police believe this weekend's event will remain non-violent."It's been a peaceful protest so far. We're just here to ensure that everybody stays safe," said Ventura Police Sergeant Hewlett, who declined to share his first name.
Janette Daniel-Whitney of Ventura, who manned one of the Occupy Ventura booths during the afternoon, described the protesters themselves as having already formed a security force to ensure that no participants become too loud or violent.
"The security is important and allows us to stay the night," Daniel-Whitney said.
The security volunteers will be wearing white arm-bands to identify themselves from the crowd of protesters that are spending the night.
"We have an official permit that lasts until 6:00 tomorrow evening, and that's the latest I have heard," Daniel-Whitney said. "There are definitely people that would love to make this a permanent occupation like New York and Los Angeles, but only time will determine what Ventura's Occupy will look like."
Though they may differ in size and duration, one thing that movements across the country have in common is that protesters of all ages and backgrounds have unified in protest of the gap between the top-earning one percent and lower-earning 99 percent of the American people.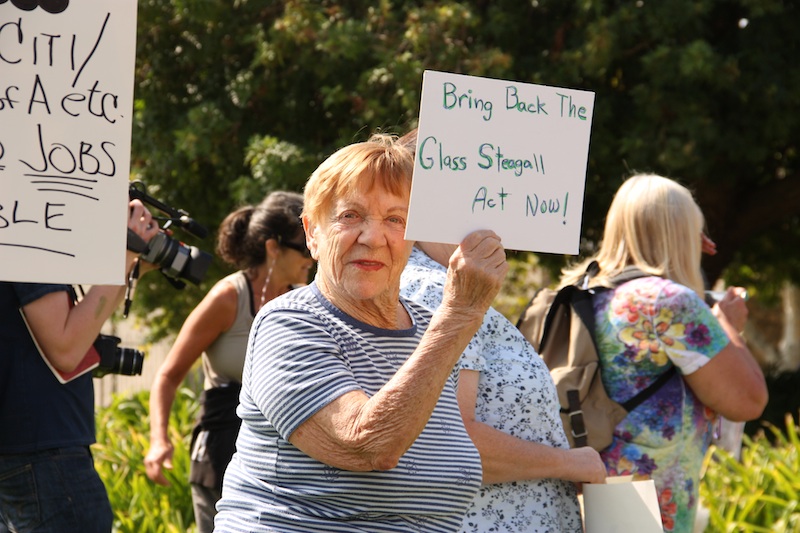 "I joined this movement because I believe all people, young and old, are fighting for their present and future lives," said Foothill junior Luke Ballmer, 16.
Betty Sherman, 91, of Ventura came to the demonstration because she wants to support young people taking an interest in what is happening around them."I hope we take control of the financial sector and have a little more open society," Sherman said. "If you do nothing [though], nothing happens."
Ventura physician Robert Dodge, 59, believes that "there's a tremendous concern locally and nationally about economic justice" and that "Occupy Ventura is tapping into that concern."
Ventura High School student Malcolm Lowe, 17, and Whitney Carver, 19, of Camarillo, joined the protesters with the hopes that movements like this will cut back the power corporations hold.
"We're all hoping for a better tomorrow, and we can help [reach] that better tomorrow by exposing the corporations for what they really are," Lowe said.
"The corporations are the biggest gangsters in the world, and they're getting away with it as the top one percent," Carver said. "Everybody is just trying to calm us down, but we just need to wake up and realize that we've been cheated for years."
Mary Haffner, 48, and a member of the Ventura Unified Board of Education, believes that the disparity between the rich and poor is one of the largest problems facing America.
"There is something wrong when Wall Street brings in huge bonuses and there are more homeless people everyday," Haffner said.
Many people expressed concern about not only how these problems will affect themselves, but future generations as well.
Oakdale resident Mariecela Reyes, 18, drove down to Ventura to protest with her family.
"My aunt is pregnant, and her son is going to be born soon," Reyes said. "I don't want her son to be impacted [by big corporations]. I want him to have the best future he can."At 1:00 p.m. protesters left the park to march up Main Street with their signs, cheering "Banks got bailed out, we got sold out!" as they walked.
When the protesters reached Bank of America, they discovered a poster at the front door, stating, "Due to circumstances beyond our control, we are temporarily closed. We apologize for the inconvenience."  
Some believe that the lack of federal regulation of banks has helped cause the country's economic problems.
"We need to get these laws back like the Glass-Steagull," said Carole Davis, 67, of Ventura, referring to an act passed in 1933 that gave the Federal Reserve System more power to regulate banks. The law was changed over the last 20 years by Congress, which many believe created the conditions that led to the sub-prime mortgage economic disaster.
Most of the Occupy Ventura protesters were optimistic that the global movement will have an impact on political decisions and will eventually lead to permanent change.
"This is a leaderless movement, which is where its strength lies," Harold Cartlidge, 70, of Ventura said.
Cartlidge believes that even though there are no specific demands being made by the protesters, the large number of supporters will make a difference.
"I hope that more people will wake up to the fact that our voices do matter," Adreeann Connor, 23, of Oxnard, said. "As our numbers grow, we will matter because though they have all the money, we have all the people."
Video Credit: Jackson Tovar and Rachel Crane/The Foothill Dragon Press

Photo Credit: Aysen Tan, Anaika Miller, Chrissy Springer, and Rachel Crane/The Foothill Dragon Press
Background photo: Though Occupy Ventura was centered at Mission Park, some people also lined up on Main Street to protest the movement. Credit: Aysen Tan/ Foothill Dragon Press