Occupy Ventura organizers meet with police prior to Saturday protest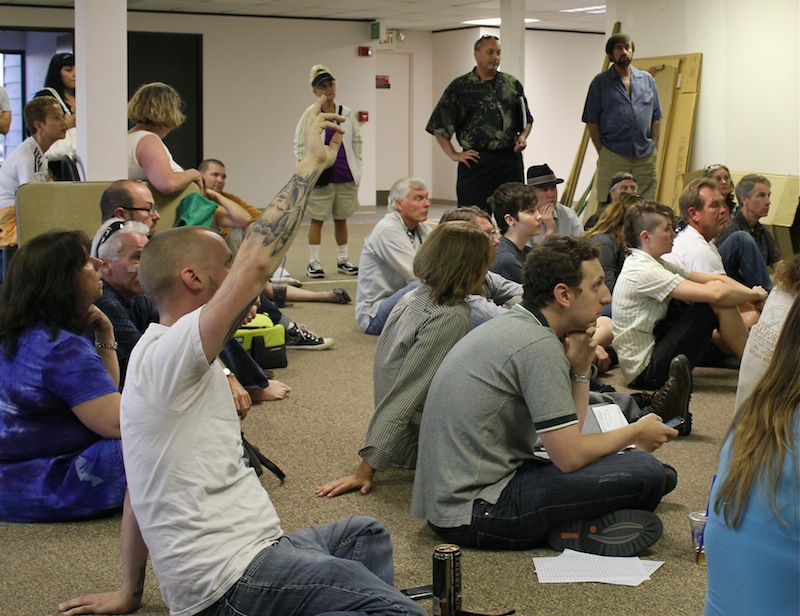 Organizers of Occupy Ventura met Wednesday evening at a local law office to talk about an overnight protest that begins Saturday at Mission Park on Main Street through Sunday evening. The meeting was attended by approximately 50 people, including the city's police chief and assistant chief.
"I am here on behalf of the police department to talk to the organizers and help make this event a success," said Ken Corney, chief of police for Ventura.
Starting in New York City, Occupy Wall Street has spread across the United States in a matter of weeks. Protestors call themselves the 99 percent, coming from no specific partisan background but instead a common goal of battling the greed and corruption of large corporations.
Earlier this week, organizers learned they would be required to move the event from Plaza Park to Mission Park due to scheduling conflicts with another group. Both parks are downtown, several blocks from each other. The permit issued to Occupy Ventura lasts from 7:45 am Saturday morning until Sunday at dusk.
The location change has caused several limitations to be added to the permit. Protestors must be quiet between 10 p.m. and 7 a.m. in order to avoid disturbing guests at the nearby Clocktower Inn. Other changes will be made to the permit in the next few days, including allowing amplification for music and speaking.
Several people voiced concern regarding the legalities behind possible arrests, mentioning police and protestor altercations that have occurred in Boston and New York. Organizers said they felt the Ventura police was better equipped and better trained to work with local protestors in a peaceful way.
"An arrest could be made if there is a criminal violation," said Assistant Chief of Police Quinn Fenwick. "But we don't want to arrest anyone."
Attorney and event organizer Jay Liederman of Ventura also emphasized the importance of personal behavior.
"When you see someone doing something destructive to the movement, they think they can hide in the crowd," Liederman said.
He proposed that all other protestors distance themselves from such behavior in order to isolate it and thereby disassociate themselves from it.
All proceedings at Occupy meetings undergo the consensus process. Participants try to make unanimous decisions in order to remain "non-hierarchical." When voting on a proposal, there are three possible responses: to affirm, to disagree with, or to "hard block," which means the they believe a proposal goes against the ideals of the movement. Each response has its own hand motion in order to make the voting process more transparent.
If the majority of voters answer in the affirmative and there are no hard blocks, the motion passes. However, if a majority of those disagree or if there are one or more hard blocks, they return to a period of discussion before voting again.
For more information regarding Occupy Ventura and the event, visit this link or email [email protected].
[Editor's Note: This article has been corrected. An earlier version stated the protest would start Saturday at Ventura City Hall. It will actually begin at Mission Park.]