Foothill tennis loses 7-11 against Nordhoff in final home match (14 photos)
The Ventura College tennis courts were filled with intense stares and focused faces as the Foothill tennis team faced their hardest league opponent: the undefeated Nordhoff High School Rangers.
…………..
The Ventura College tennis courts were filled with intense stares and focused faces as the Foothill tennis team faced their hardest league opponent on Thursday: the undefeated Nordhoff High School Rangers. In Foothill's final home match, there was a feeling of anticipation as the players were completely immersed in their game because every point counted. Foothill was eventually defeated by Nordhoff with a score of 7-11.
Foothill started with a disadvantage because one of their players had a prior commitment to a college class, which meant that Foothill had to forfeit two of this player's sets, starting the match off 0-2.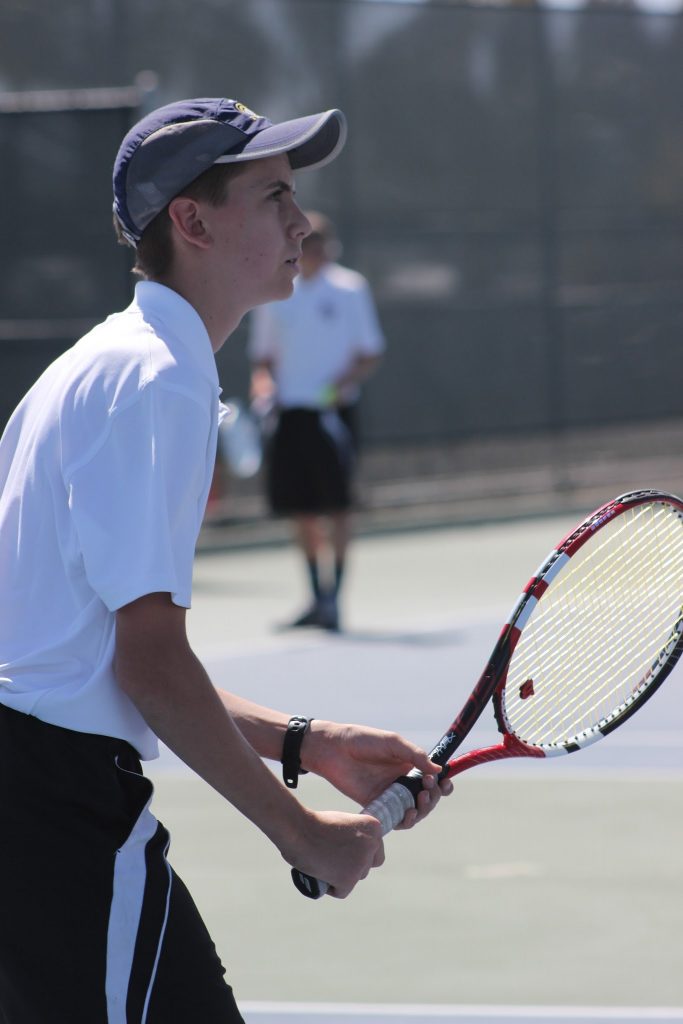 "I think if we'd had him here it would've made the outcome a little different," team captain and senior Kris Hendrickson said.
Nevertheless, Head Coach Brad McClain was proud of the doubles teams which scored five of the nine possible points for the doubles players.
Hendrickson and senior Grant Coe, and senior Josh Ren and sophomore Noah Colby, scored four of the five points for the doubles team. Senior James "Jimmy" Byrne and junior Austin Gama scored the fifth point.
However, McClain felt that the boys "came up short in singles. We took a couple of singles losses that we should not have taken."
Sophomores CJ Haberbush and Dominic DuMont each won one singles match.
Assistant Coach Anthony Unchangco thought that the boys played really well against the best team in their league.
"Today was our fourth match in four days so […] they did really well. You could see the fatigue coming into some of the singles players and some of doubles teams," he said.
"It's a lot to ask of a high school player to play four matches in one week. We came close to tying Nordhoff 9-9; we lost 7-11, and Nordhoff's the number one team in our league right now, they're 8-0."
The players agreed with the coaches in that they all played well, but said that there is always room to improve.
"I felt that we played pretty well, but [in] our second set there were definitely lots of easy hits, that if we just stayed consistent we could have done well and beat them," Byrne said.
"We went all the way to tie breakers and there were just some easy shots that if we would've stayed focused on getting those in, we could've won."
[soundcloud url="https://api.soundcloud.com/tracks/203664911″ params="color=c85014&auto_play=false&hide_related=false&show_comments=true&show_user=true&show_reposts=false" width="100%" height="166″ iframe="true" /]
Coe simply stated, "We played well, but they played better."
Foothill still has a shot at making it to the playoffs, even after their loss to Nordhoff.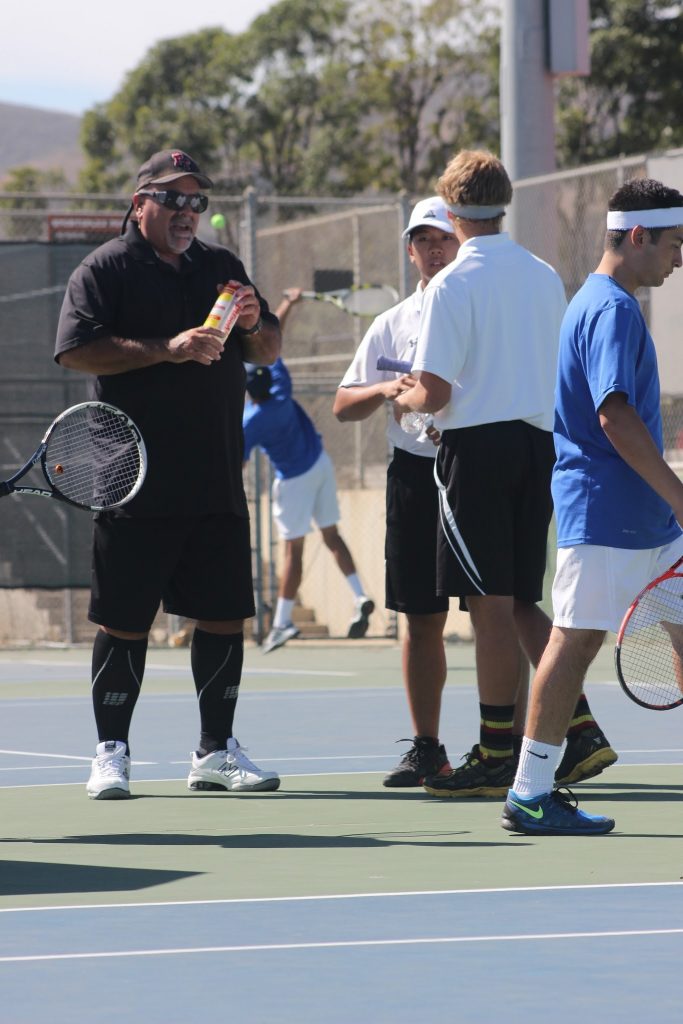 Hendrickson said that it is "up in the air at this point," which Unchangco concurred with.
"We have to wait on the Bishop Diego match today to see how they did and if they did not win then I believe we may have the third spot in league," Unchangco said.
Coach McClain said that he will be sending the best two singles players and doubles teams onto the league finals on May 5, but he has yet to release the details of which players exactly will be moving onto finals.
Their season is not officially over, yet the players and coaches were still able to reminisce on the good memories, lessons they've learned,and the challenges that they have already experienced throughout this spring.
Coe has been able to learn a lot from McClain after switching over from Buena's tennis team. He learned about the "importance of teamwork" and how important "being in sync with your teammate" is while playing on a doubles team.
Another reward he gained from playing tennis this season was friendship.
"I'm not a very social guy so tennis is just a great way to make friends and friends for life. They're all my really close friends," Coe said.
As a first year player, Byrne has gained a lot from playing tennis with Foothill's team.
"It's been a good change, because for the past four years I've done rowing and this is my first year playing tennis […] I think I'll definitely stick with tennis for the rest of my life. It's impacted me in a really good way," he said.
Byrne said that the intensity of tennis changes, but the sport is always about skill.
[soundcloud url="https://api.soundcloud.com/tracks/203664577″ params="color=b34712&auto_play=false&hide_related=false&show_comments=true&show_user=true&show_reposts=false" width="100%" height="166″ iframe="true" /]
"It's definitely a sport that you could either be laid back or you could be really intense," Byrne said.

"You could take it easy and still be okay or you could take it to the next level if you want and it's all about the skill, that's the good thing."
"Even if you're not very strong, it's a skill sport, so if you're skillful and willing to put in the practice then you could definitely get better."
Hendrickson agreed with both Coe and Byrne that this season has been packed full with memories, improvement and lessons learned.
He said that he has learned how to "hit better shots in tennis," and "better time management a little bit with our school work having four matches a week."
"It helps when you have a really good coach like Coach McClain and Coach Unchangco. Coach McClain especially really takes the time to make sure we grow as players and people," Hendrickson said.
"He basically tries to improve our game, we'll do a lot of ball machine work at practice and a lot of various other drills in order to make our serves better and stuff like that so, it really just helped me in all aspects of my game."
The coaches said they have also grown fond of the boys on their team.
"They're an amazing group of individuals and to have them come together on the tennis team is great because I don't think they would have otherwise," Unchangco said.
"It's great to see them come together with tennis as their common interest […] I'd say the most interesting thing is driving the van with them to different league matches. That's been fun and interesting and I'll leave it at that," he said with a laugh.
McClain also chuckled as he said, "Oh, I've lost a few more hairs! I didn't have many to begin with and now I'm down some more! And what I have are going more grey. Other than that, overall I do enjoy it."
"The guys do act like a team, they're quite tight […] it appears to me that student body at Foothill in general are a pretty tight knit group," McClain said.
Foothill has had to overcome the obstacles of academically ineligible players, the 30-day CIF sit-out period and being a new team to begin with, but McClain realizes how hard the boys are working.
"Even though we came up short today, I know the guys did the best that they could, it just wasn't good enough today- that's all," McClain said.
"But nobody quit out there so that's good and that's all you can really ask as a coach is that the guys give their best effort and they did. It's just, sometimes our lack of experience shows," he said.
McClain also said that tennis can be a tough sport to play because "even though this is a tennis team, you're responsible for your court," which can be very hard on some players.
After their final league game, Foothill holds an overall record containing seven wins and six losses and their league record of four wins and four losses has the chance to claim a third place title for the team. The coaches will be finding out shortly where they stand in playoffs and which players will move onto finals.