Binge-worthy sitcoms for cozy weather
In December 2022, Assignment Editor Ryann Lindell covered three sitcoms to lighten your day. With the chilly weather persistent as ever, now is the perfect time to curl up on the couch and binge watch more of these lighthearted and witty shows. Without further ado, here are three more sitcoms to brighten your life.
New Girl
"New Girl" tells the story of bubbly and awkward teacher Jessica Day (Zooey Deschanel) who made the spontaneous move to live with four new roommates. These included Winston Bishop (Lamorne Morris), a failed professional basketball player in Latvia, Nick Miller (Jake Johnson), a 30-year-old bartender with the attitude of a grouchy old man, philanderer Winston Schmitt (Max Greenfield) and Ernie "Coach" Tagliaboo (Damon Kyle Wayans Jr.), a health and fitness buff. This quirky group of unconventional friends grows into a family over the course of the show's seven seasons as they support each other through life changes and turbulent love lives.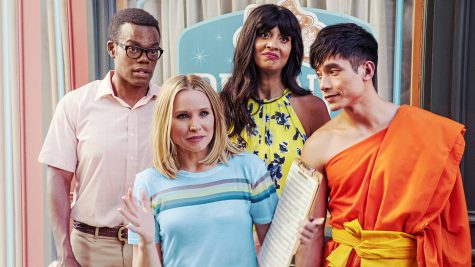 The Good Place
"The Good Place" puts a humorous spin on the existential question of "What happens when you die?" In this universe, it's not your typical heaven and hell — instead, there is a Good Place and a Bad Place. In the Good Place you'll find soulmates and frozen yogurt shops with unusual flavors, such as "full cellphone battery." The Bad Place, on the other hand, is filled with bees with teeth and fire squids. The main protagonist, Eleanor Shellstrop (Kristen Bell), comes into conflict when she discovers she was placed in the Good Place by mistake and must find a way to remain undiscovered as the literal universe is working against her.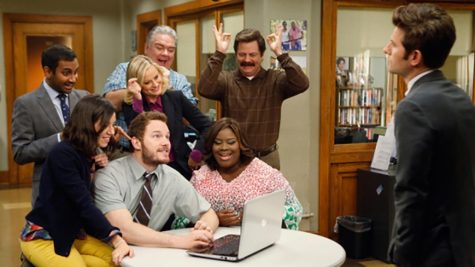 Parks and Recreation
Created by Michael Herburt Schur, producer and writer for "The Office," comes "Parks and Recreation," the story of local government in the fictional town of Pawnee, Indiana. Leslie Knope (Amy Poehler), a happy-go-lucky deputy director of the parks and recreation center, follows her passion of improving her hometown through the dull and tedious environment that is city government. She leads a team of unlikely co-workers, from the apathetic and angsty student intern April Ludgate (Aubrey Christina Plaza) to the animated and sarcastic administrator Tom Harverford (Aziz Ansari), and many more to help better their hometown.
Whether it be in the everyday workplace or the outlandish afterlife, these three shows are the perfect way to alleviate stress as you follow found families and eccentric characters throughout their humorous journeys.