Red (Taylor's Version): Fans are still dancing like they're 22
As autumn leaves fell down like pieces into place, the world became ready for "Red (Taylor's Version)" to be released on Nov. 12. The anthems of her fourth album, "Red", still ring in our ears the same as they did in 2012. The only difference is that Taylor Swift brings to them a new sense of knowledge and comfort that can easily be detected in her seasoned voice. 
After the release of "Fearless (Taylor's Version)" in April, millions of fans speculated as to which album Swift would re-record next. The only answer was to re-release the album that shapes the idea of love and heartbreak in autumn. 
Besides her albums, "Lover", "folklore" and "evermore", any part of Swift's discography is self-owned if it has "(Taylor's Version)" at the end of it. With an incredibly smart legal move, she was able to reclaim her works by re-recording past albums. 
Instead of letting someone else profit off of the songs that she wrote, Swift decided to advocate for herself by incorporating her updated sound into her classic works. Many artists—especially female artists—in the music industry struggle with legality issues such as copyright and ownership, but Swift has now set the standard for musicians wanting to reclaim their own work. 
Along with the release of "Red (Taylor's Version)", Swift also wrote and directed a short film to go alongside the awaited "All Too Well (10 Minute Version)". This was not her directorial debut; through this film, she reinvented the ideal for videography to accompany music. Starring Sadie Sink, Dylan O'Brien and Taylor Swift herself, All Too Well: The Short Film is a fifteen-minute glimpse into the relationship that the song was based on.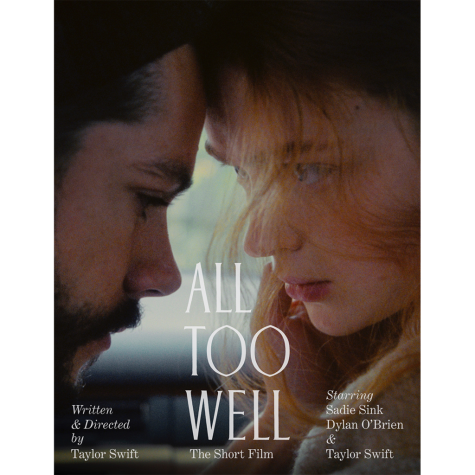 An additional music video for the track, "I Bet You Think About Me (Taylor's Version)[Featuring Chris Stapleton]", marks director Blake Lively's start in leading a project such as this. The video stars Swift and Miles Teller, in which she interprets her song through the eyes of a "crazy ex-girlfriend".
Along with the songs that received music videos and short films, Swift released a total of nine tracks that were yet to be released before Nov. 12. These songs were originally made to be on "Red" in 2012, but they did not end up making the cut. 
At the end of the album, "A Message From Taylor" can be found. Swift opens up to her fans: "Musically and lyrically, 'Red' resembled a heartbroken person. It was all over the place—a fractured mosaic of feelings that somehow all fit together in the end." 
"Happy, free, confused, lonely, devastated, euphoric, wild and tortured by memories past," is how Swift described the 2012 album. Now that the original 30 songs have been released, she can fully and properly represent the feelings of someone going through a similar experience. 
It can be argued that as Swift has grown, so has her wisdom with words. However, "Red (Taylor's Version)" proves that she has always been an incredible lyricist, as it takes a special person to have millions of people relate to the same words. 
Taylor Swift is an artist who is constantly proving those who doubt her wrong, role modeling for the world while simultaneously advocating for ending sexism within the music industry. Similar to the titular singer, "Red (Taylor's Version)" goes to show that a person can recover from heartbreak, create art from their experiences, release the art to touch the hearts of others and then release it again with a more nuanced impact.