Girls' volleyball served a loss by rivals St. Bonaventure
On Sept. 7, 2022, the gym at St. Bonaventure High School (St. Bonaventure) hummed with energy as the Foothill Technology High School (Foothill Tech) girls' volleyball team prepared for their first league game against their rivals, the St. Bonaventure Seraphs. The highly anticipated match up maintained its intensity from start to finish but lacked close competition as the Seraphs swept the Dragons 3-0. 
From the moment the buzzer rang signifying the beginning of the match, both teams matched each other in concentration, each putting 4 points on the board. After a few fumbled passes and miscommunication errors from Foothill Tech, the Seraphs were up 11-8 and ripped off an 8-point run, increasing their lead to 19-13. 
Following a fantastic block from Malia Gray '24, the Dragons battled back and attempted to close the gap, but ultimately lost the opening game 25-16. 
At the beginning of the second game, the Dragons seemed unbothered by the first game's outcome, displayed by impressive digs from Adrianna Rodriguez '23 and exceptional sets by Morgan Houston '25 which Head coach David Benedik acknowledges, "Our sophomore setter, it was her first league game and really good game for her. I was really proud of the way that she played and her performance today."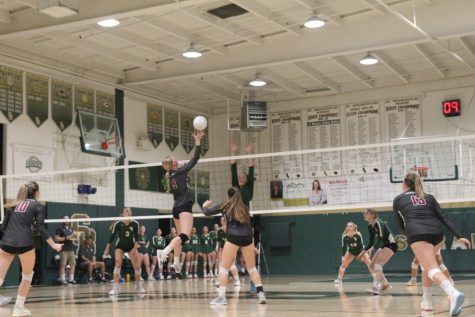 Despite this, nothing could prevent the ferocious front row attacks from the Seraphs' starting middle, who led the Seraphs to an 11-5 lead. In a burst of resistance, the Dragons made a startling comeback with a run to 24-20, specifically led by swings from Ashlyn Mullin '24 and Danielle Bishop '23. 
Benedik praised her for her play, stating, "Dani[elle] she went up against a really good middle on the other team and was able to really match her and I feel like she had a lot of good hits and provided lots of energy." 
Despite the comeback attempt, St. Bonaventure closed out the game 25-20 to lead 2-0.
The third game began with a rough start for Foothill Tech, who were unable to maintain the same level of vitality that they had held previously, and the score reflected this at 15-5. "I feel like we lose focus at times and it allows the opposing teams to get runs on us," Benedik said. 
St. Bonaventure continued their momentum and ended the game ahead 25-17, completing the 3-0 sweep.
Assistant coach Aubrie Cavallro concluded, "We have a very hard time finishing but I think the game against Bonnie really helped us." Her team proved her right on Thursday, Sept. 8, 2022 with a 3-2 win against Grace Brethren. 
Foothill Tech's next league competition will be a rematch against St. Bonaventure on Tuesday, Sept. 13, 2022 at Cabrillo Middle School.