"Just the Ticket": Contentment in being alone
Within downtown Ojai, under its triple-degree weather, there lies a small, air-conditioned theater. With its doors open and inviting, a crowd of bustling people are waiting to get to their seats. Playing in the Ojai Art Center Theater, "Just the Ticket" is spunky, entertaining and comedic, supplying each and every audience member with an abundance of laughs. The one-woman show, directed and produced by Tom Eubanks, features Lynn Van Emmerik as the main character.
The play, written by Peter Quilter, follows Susan, an eccentric and chatty 60-year-old getting ready to fly to Australia. Susan takes the same trip she made when she was 20, but this time on her own instead of with her old group of friends. Talkative and a little clumsy, she frequently goes off on tangents about all her struggles—whether they be her problems with loneliness or her phobia of flying. 
Frank Sinatra's "Come Fly with Me" blares through the speakers as she enters the stage, and her clumsy attitude is the first hint into her unorganized life. As Susan plops down into her chair, she delves into her first monologue—though it's more like a rant. Her words strike the audience deeply as she speaks of longing for change while also shying away from it, and living in the past but still being hopeful for the future. Her self-deprecating humor allows the audience a glimpse into her life and why she's been searching for something new.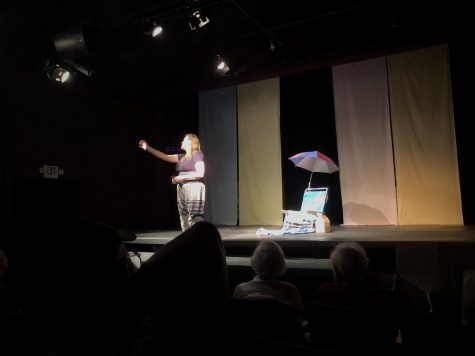 When she lands in Australia, she is immediately hit by the annoyance of her friends not coming along. The memories of her 20-year-old self come back, and the unbearable nostalgia causes her to go on yet another rant. She talks of their absences—going as far as criticizing their life choices as a whole. By taking a deeper look into her friends' lives and their seemingly poor choices of smoking and lip fillers, she becomes more content with her loneliness, realizing that it may be for the best. She starts doing the things she wants instead of trying to impress anyone or force unnecessary friendships. She finds contentment within herself, and finally sees the beauty in being alone. Susan shows the audience that no matter how old you are in life, you can still find yourself—even if it means having to travel halfway across the world. 
Lynn Van Emmerik, the star of this one-woman show, is an Ojai native who's played numerous other roles at the Ojai Art Center. As an actress, she was perfect for the role, willing to yell into the audience to prove a point or even jump on a table and dance to Earth, Wind, & Fire's "Boogie Wonderland" for a midnight disco party. Although Emmerik is the sole performer, her outgoing personality and commentary makes the stage feel full of life. 
To put it simply, "Just The Ticket" is about finding yourself without the pressure of those around you. When Susan finds herself alone on this excursion, she initially believes it to be a bad thing, but it is ultimately the best thing that could have happened to her. 
The play's reviews may differ from person to person, but our review is a solid nine out of 10. From the emotional acting to the simple yet effective set designs, "Just The Ticket" is the perfect thing for a weekend in sunny Ojai. You can catch this play at the Ojai Art Center until Sept. 4, 2022, or find different renditions of it online and at various theaters. Even though the target audience may be a bit older than the students at Foothill Technology High School (Foothill Tech), people of all ages can watch this play and relate to a coming of age story that can apply to anyone. Finding happiness in who you are is an important lesson—one best learned earlier rather than later.