Mild surf spots for the curious beginner
Surfing is a coastal novelty because only people who can gain access to a beach have the ability to try. Ventura, California is fortunate enough to have a plenty of beautiful beaches and many people that live here like to take advantage of that opportunity to surf. Especially recently because of COVID-19 quarantine everyone is looking for new ways to get out of the house and keep busy. Many people who would like to try to surf might not know where to start. Fortunately, there are many great beginner surf spots in the area.
Kimberly Fickerson
Surfer's Point
Surfer's Point is a local surfing hotspot. This area, located right next to the Ventura Promenade, is known for having easy waves to catch with long rides. Many beginners go to Surfer's Point because of the tame conditions and those easy waves. "The conditions are almost always perfect. Because of the way the waves roll in, it is better than most places," says Annalise Yenney '23, a local beginner surfer.
The Point has smaller waves during the summertime that make the atmosphere welcoming to beginners who are still learning. However, while the climate conditions are usually one of the best, this area does have a few cons. Since Surfer's Point is so well known it is almost always crowded with fellow wave-chasers. 
Before going to The Point you should make sure you are comfortable maneuvering around other surfers and know the etiquette, such as who has right of way to a wave and can avoid cutting people off. Yenney says, "it's crowded. As a beginner surfer I don't have to control maneuvering around people and there is also the constant fear of cutting someone off and taking their wave." It is important that you know you are able to safely surf in more crowded areas before going here, but if you are comfortable with these more crowded conditions Surfer's Point is a great place for amateur surfers.
Rincon
Rincon is one of the most famous and well-known surf spots near Ventura. About twenty minutes North on the 101 Highway from Ventura, this area has held many surf competitions and, depending on the season, is good for both beginners and well seasoned surfers. 
During the summer the waves are smaller which is good for beginners, however, it can also be flat. During the winter, however it is the exact opposite. The waves in the winter are better for more experienced surfers and could be intimidating for beginners. Whether big or small however, Rincon is known for the long rides you can catch. This makes learning easier since you have more time to get a feel for standing one the wave. "The longer waves make it easier to learn. The hard part about learning is standing before the waves hit the sand," said Yenney. 
This spot, like Surfer's Point, also attracts a bigger crowd. Depending on the day Rincon can be great for new surfers but under the right conditions it is much better for the more experienced surfer.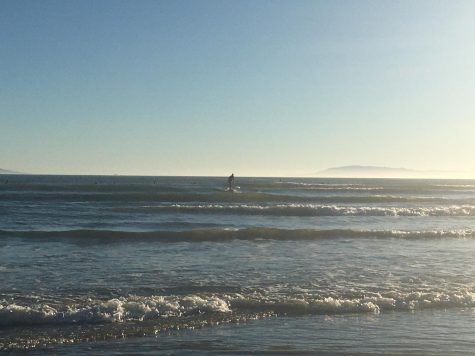 Mondos
Mondos beach is more of a hidden gem when it comes to the surf scene of the county. Especially compared to Rincon and Surfer's Point, Mondos is more mild-mannered when it comes to crowds and big waves. This spot is really good for extremely new surfers. When the waves are good they are not too big but still easy to paddle into. Unfortunately the waves at Mondos can be hit or miss. For example sometimes the waves break too close to the shore, while other times they crash all at once or are so small it makes it impossible to catch the face of the wave. 
This beach is also good for younger surfers. "The waves are closer to shore so it is better for kids. Because there is a beach, parents can watch their kids. It's good for swimming because there are not a lot of rip currents. It's a good place for kids and beginners because there's not much risk of drowning," says Charys Pyle '23, an experienced surfer of eight years. Due to the friendly waves as well as open space Mondos is great for people who are surfing for the first time or just beginning.
Surfing is a fun and enjoyable activity that anyone can try. The surf spots near Ventura are abundant and these are just three of the many places you can learn this thrilling sport.