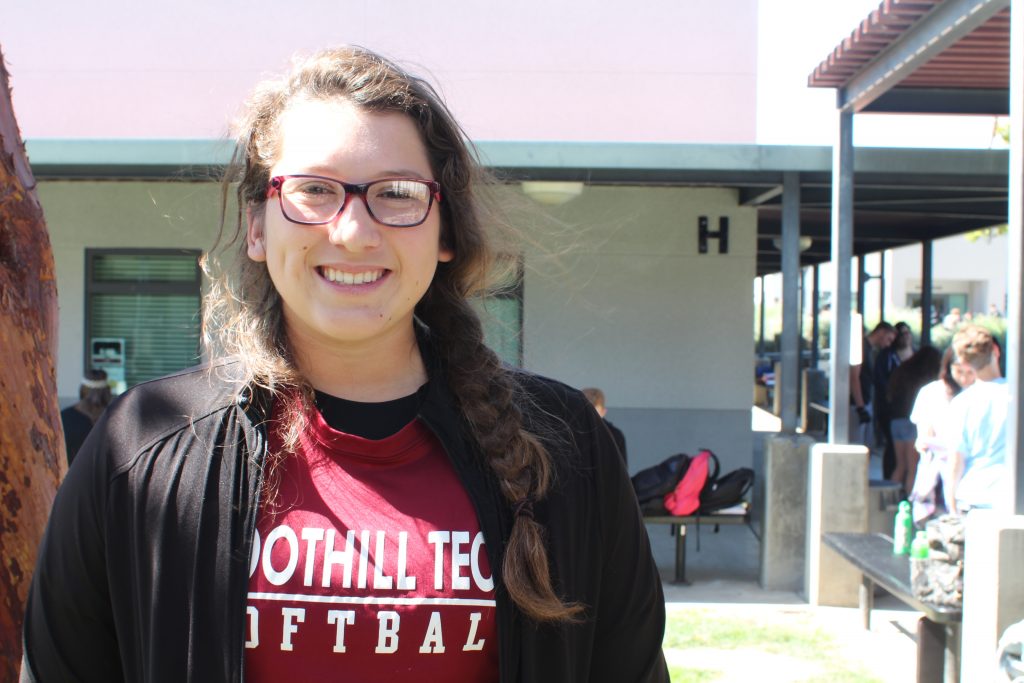 Winter sports have come to a close, and the spring season is just beginning. Seven new sports are on the rise, and are expected to uphold Foothill's newly established reputation.
Track
Junior Nyssa Torres, former track and cross country athlete for Buena High School, made the switch to Foothill athletics to join their premier cross country team. Fueling her decision was Foothill's smaller population, and award-winning cross country coach, Ken Reeves. One of his most known and respectable qualities is his dedication to his team.
"[He] makes specific workouts for each person based on their capabilities," Torres said. By contrast, Torres found that at Buena, everyone did "the same thing."
Torres stayed to run track for the Dragons, coached by University of Oregon alumnus Leonidas Watson. Watson looks forward to the new season,and hopes for all athletes "to be happy, enjoy themselves, and have fun."
Torres has faith in her new team,
"I think we already set our standards high with cross country," she said. "I think people know we're going to be good this year."
Baseball
Junior Josh Ellison, former Buena baseball player and son of Foothill baseball head coach Clint Ellison, is excited to start off the first of many Foothill baseball teams.
"Foothill being a new program, will be a better program," Ellison said. In comparison to Buena, "it's hard to change tradition. [In a] new program, you can do whatever you want to make it good right from the start."
He feels the pressure of creating their team's reputation for future generations to come, but based on their performance at practices, Ellison feels they will be "pretty good for a first year team."
Softball
Shelby Esparza, senior and one of the captains of Foothill's softball team, has 13 years of softball experience under her belt. She played on a travel team for Buena, and now has decided to play for Foothill. She was accepted into Foothill at the start of her junior year, but continued to play for Buena.
Esparza wasn't in complete agreement with Buena's coaching staff, because she got the impression that they believed in "equal play for all" rather than "letting the best play," prompting Esparza to cut all ties and fully commit to Foothill. She is happy to be playing alongside her fellow Dragons and to start the first of many softball seasons.
"It has been a fun experience," Esparza said.
As co-captain, she has been able to see the team's overall growth, and believes that the team is "looking up… with every win we get I expect more from the team."
Boys' Volleyball
Senior Aaron Hooks never had much volleyball experience, other than playing on the weekends at the beach with his sister. As a freshman, he played for Buena, and after a three-year break, decided this year he would play for Foothill.
"I kind of feel like doing sports at the school you go to kind of breaks you into a different community, kind of makes you part of the school more," Hooks said. He likes the coaches at Foothill, and says they're much nicer, as well as the students, who are "a better group to be around."
In comparison to Buena, Foothill still has a competitive feel, but also a "friendliness" to it, "since you see the people everyday, they become your friends, but you still have to think of them as like, your competitors and teammates."
Hooks is fearlessly heading into the season,
"I'm really excited. I hope we do really well. By what I've seen so far, I think we're going to be a pretty good team. We work really well together," said Hooks.
He has nothing but confidence in his team.
"I have high expectations because we've been working since last summer. We got to know each other really well, we got to know how we work as a team, and each other's strengths and weaknesses," he said.
[soundcloud url="https://api.soundcloud.com/tracks/192125600″ params="color=ff5500&auto_play=false&hide_related=false&show_comments=true&show_user=true&show_reposts=false" width="100%" height="166″ iframe="true" /]
Swimming
Kevin Waechter is currently a sophomore with experience in competitive swimming. Last year he swam for Buena, but left for Foothill because he "didn't really see an actual career at Buena. I wanted to go further than championships; I wanted to go to CIF. If I could do it here, then I may as well try."
In addition, since Foothill has a smaller team, "It's more like a family kind of thing, everyone gets to know each other," Waechter said.
He's looking forward to being on the first Foothill swim team, and believes Foothill swimming has potential.
"I feel like we can set the bar really high, and we'll just raise everything a little higher than we're supposed to," he said.
Golf
Trevor O'Keefe, senior and former Buena golfer, wanted to use his three years of experience to better Foothill's first golf team. The team is made up primarily of new players, whom O'Keefe says are improving through help by fellow, more experienced, teammates. He also claims a difference in coaching, believing that Foothill is overall "better" and that the program opens "better opportunities than Buena."
O'Keefe has high expectations for his team.
"I think we have potential to definitely go to CIF," he said.
Tennis
Senior Grant Coe played on the Buena tennis team for three years, but left this year to join the Dragons.
"I wanted to play for my own school, and I think the coach for Foothill is going to be more helpful," Coe said.
He sees a significant difference between the two teams,
"At Buena it was more relaxed, and you kind of did whatever you want most of the time, but with Foothill so far, it's more structured," said Coe.
He doesn't feel much pressure to perform well, knowing that this is the first tennis team and that there will be much room for improvement over the upcoming years. But based on what he has seen so far, Coe believes that "we have some good players on the team this year, so I think we'll do well. I'm excited and nervous; I think it will be an exciting season."
Background Photo Credit: Josh Ren/The Foothill Dragon Press