Colin Vallance: the "glue" of the boys' basketball team
In March of last year, the Foothill boys' basketball season was long over, with players and fans of the team moved on to other matters, but this season is no recurrence. As the team comes off of a CIF semifinal game and prepares for the CIF State Tournament, it's easy to wonder just what made this remarkable turnaround possible. As for the answer, all signs point to Colin Vallance, the junior, co-captain, and encouraging teammate who leads the Dragons in their postseason endeavors.
Throughout his three years as a varsity player, Vallance has worked to improve both his basketball skills and his leadership skills. 
According to head coach Dean Prophet, "he was able to add layers to his skill set" over the summer through attending basketball camps and working hard in practice.
"His game improved in all areas, not only his leadership capabilities, this season," said Prophet.
Vallance thinks this improvement stems from a change in role between last season and this one.
"Last season I was more of a scorer, but this season I started getting my teammates more
involved and being more of a traditional point guard, and I think that was beneficial to the team," he said.
Not only is Vallance a skilled player, he is known to go the extra mile for his team.
Prophet said Vallance is "regularly our hardest worker" in practice.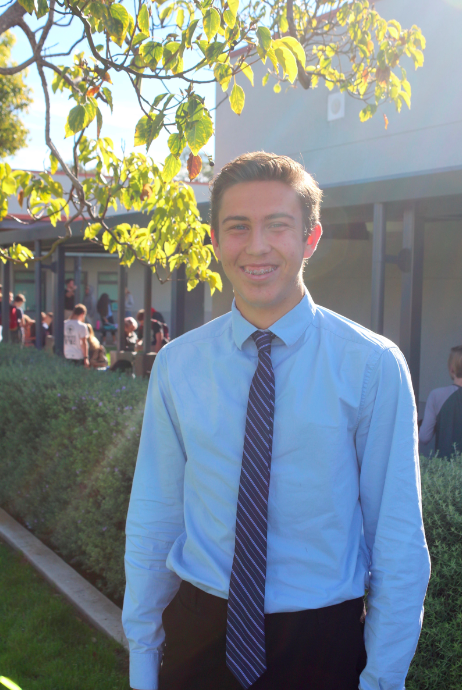 "Colin's biggest asset is his desire to improve and his driven work-ethic," Prophet said. "He has put the time in going to camps, attending extra shooting practices, being early to all scheduled practices and making every practice important."
Though he is only a junior, Vallance has earned the recognition of his teammates through his impressive efforts. 
Prophet noticed that "his teammates respected him," and being able to earn respect as a junior with six seniors on the team was "not a problem for Colin."
Teammate Devin Brown '17 also saw that "when he has something to say, everyone listens and respects what he has to say."
Brown thinks that because Vallance takes his position seriously and works so hard on his own, it helps to push the entire team to do better.
"He leads by example and everyone else follows his lead," Brown said.
As co-captain, Vallance does his best to ensure his teammates are "doing everything they can to help the team."
In this way, it seems that as Vallance improves as a player and as a leader, the team improves with him.
One of this season's biggest changes was the improvement of team chemistry, Vallance thinks. Because "we had four or five people who have been playing varsity for three years," he said, "we just had really good team chemistry."
Though Vallance is too humble to admit it, he may be to thank for this improvement, as well, seeing as he "was able to lead and still remain friends with his teammates," according to Prophet. "He was encouraging, provided reminders, practiced and played hard, [and] took responsibility for bad times as well as good times."
Brown acknowledges that Vallance is a strong leader, but said "the first thing that stands out about Vallance is his easygoing attitude," which may have helped to develop the team's closeness.
Though Vallance has had many successes thus far, he still finds room to improve. "I want to become a better shooter and also improve on my defense," he said. To work on this, he plans to focus on these areas as he continues in his basketball career.
He intends to continue playing basketball as long as possible because, when it comes to the sport, he enjoys "everything about it."
Prophet is confident that Vallance will be successful moving forward in basketball and in other areas. After all, as he said, "Colin can do anything he puts his mind to."