How To: Yarn hanging room decor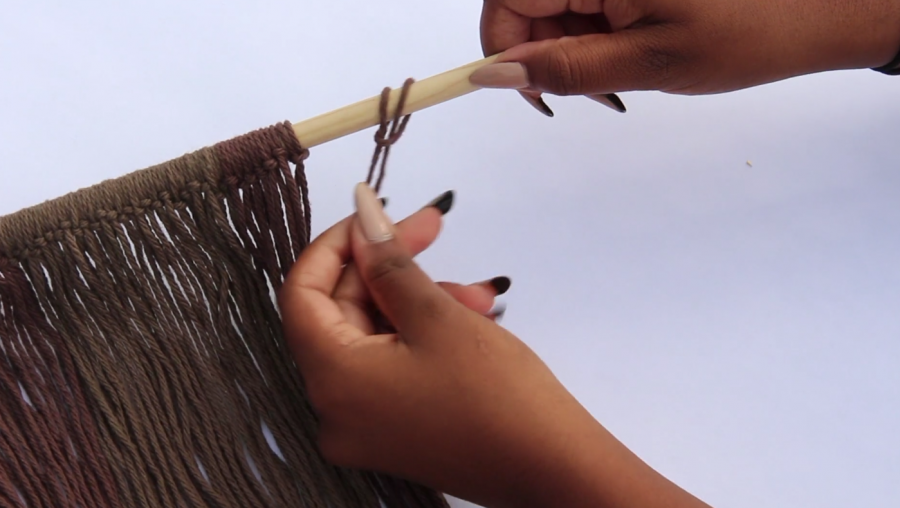 Suvee Ranasinghe
February 9, 2017
In recent years, these simple decor pieces have gained popularity on websites like Urban Outfitters, Anthropologie and of course Etsy. Prices get marked up anywhere from $20 to $50. However, they can be easily made at a fraction of the price.
What you will need:
Yarn

Wooden dowel

Sizzors
Like many DIYs there are a surplus of ways to create this decor item. Adding beads, twine, pom poms, or using hot glue, glitter and dye is all up to the creator. Instead of using a wooden dowel, you could use a stick, or even a ring of some sort.
There are multiple ways you could go about this project. One possibility is to wrap yarn pieces around the wooden dowel individually. Also, you could create tassels and tie them to the stick. The last method would be to take several pieces of yarn and wrap them around the dowel at once. The last option is the easiest, but creates the least chic look.
A lot of this DIY depends on the "vibe" you want, or the room the decor item will be placed in. Obviously use yarn in colors that match the room, but consider texture as well. Beads and feathers could add a bohemian look, while a blue ombre dip dye could add a beachy feel. In seek of a more modern appearance? Use monochromatic colors, and instead of wrapping the yarn around a wooden dowel purchase a large gold hoop or gold dowel.
To create the wall hanging in the video, follow these steps:
Cut the wooden dowel to the desired length.
Cut yarn at double the desired length when on dowel.
Take individual pieces, fold in half and lay over the dowel. Bring the open ends of the yarn underneath the dowel and pull them through the loop. Pull to secure.
Repeat steps two and three. Use different colors and textures of yarn to fit your ideal style.
Adjust ends of yarn so that they are similar in length.
Cut yarn slowly to desired shape. For the tapered look we achieved, cut opposite sides and work your way towards the center for symmetry. The less even the strands are with slightly varying lengths, the more bohemian. Adversely, the more the strands are cut for precision the more modern the piece will appear.
Now that the craft is complete, hang the DIY in your desired place. You saved money, and created a simple decor piece!